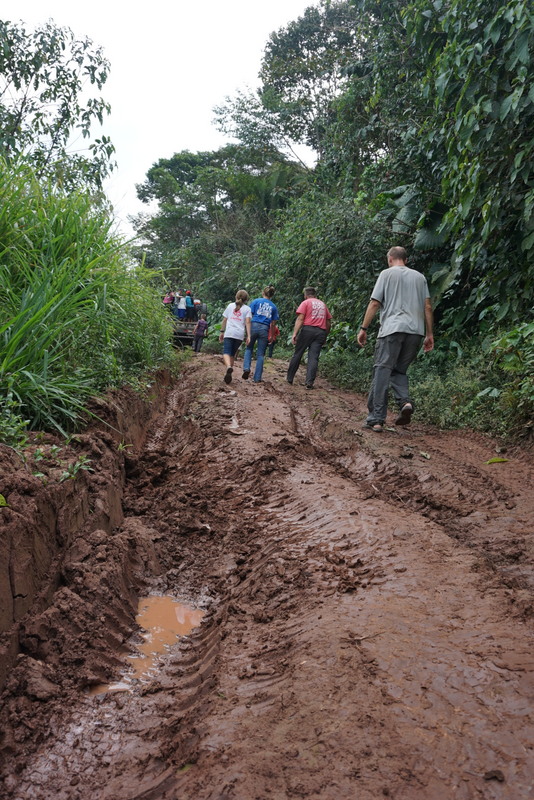 Deep Into the Jungle – Our Craziest Adventure Yet!
Tales had been told of trips deep into the jungle, but until this last weekend we had no idea what such a trip might entail for us: knee-deep mud? gigantic snails? over thirty baptisms? Who could have guessed?
Beep! Beep! Beep!
At 4:30 a.m. Chris's watch alarm announced the beginning of Day #1. We roused our brood and guided them to the jacked-up truck which is specially equipped for the rugged jungle terrain. We each found our space and attempted to get comfortable.
The roads leaving town are smooth by Peruvian standards, so Jack and Michael curled up and went to sleep. As we bounced from bump to rut, the rest of us enjoyed the sights. Although it is all beautiful, the most exciting time was seeing a flock of colorful parrots sail through the sky just above our heads.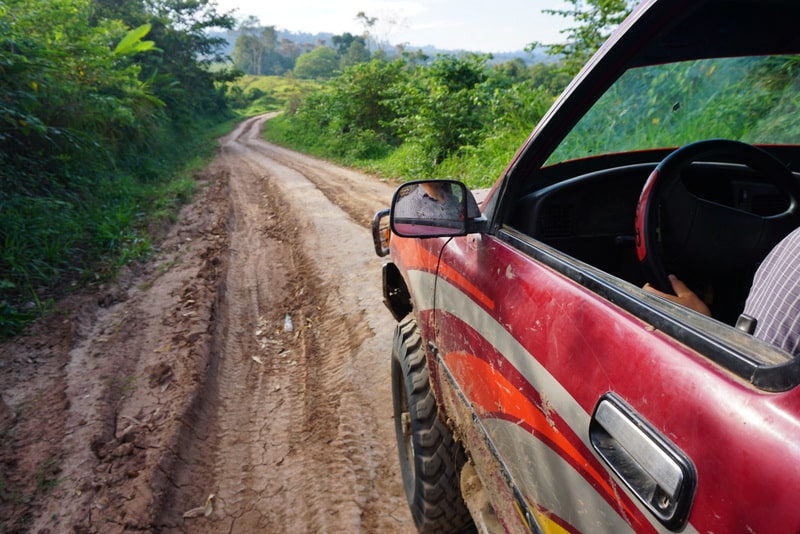 Our destination was straight up the mountainous trail between 4-8 hours away, depending on…well, everything. We got our first taste of what "everything" meant as we waited patiently for a young man to take a herd across the road and out to pasture.
As the roads got a bit bumpier, we had to stand up and brace ourselves against the truck's cage.
Our next stop was for some carburetor maintenance. "Wait, what is this Toyota Corolla transmission doing in here?" No wonder it was tough getting up those last hills! Thankfully, Chris was able to help the driver clean and adjust the components and we were back in action once again.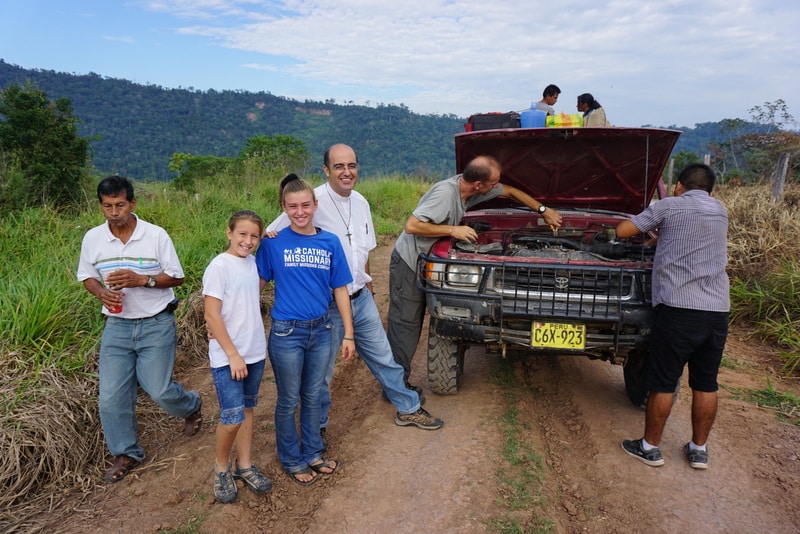 When the mud started getting deeper we assumed that these were the dreadful conditions people had described. It seemed, to our untrained eyes, that this was as bad as it could be while still being passable. Boy, were we wrong!!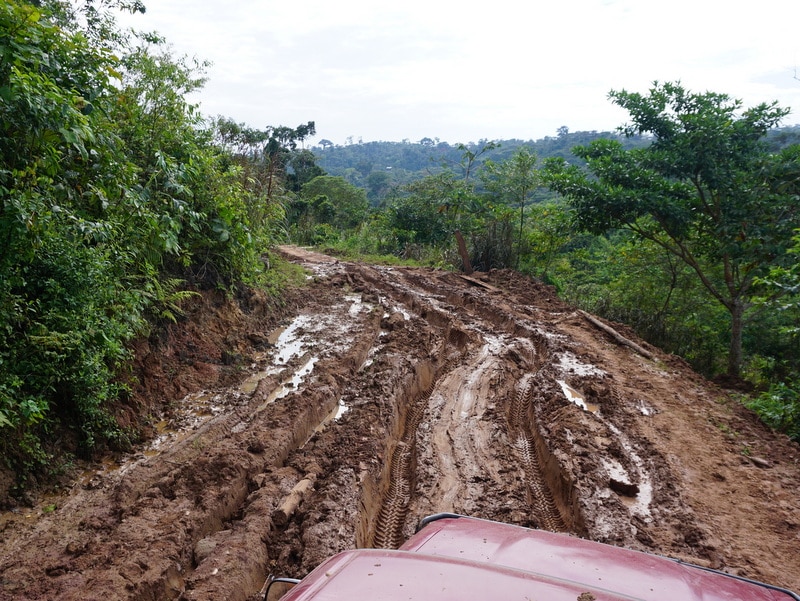 The roads got MUCH worse. Hanging onto the cage of the truck required every muscle God gave us. As we tossed and slid and spun about we wanted to take video footage, but used some basic risk/reward analysis skills to determine that our lives were more important.
We stopped for a much-needed rest and truck-change half way in. A wonderfully hospitable family allowed us to hang out at their home. We took the opportunity to raise our voices to the Lord and thank Him for the many blessings we had enjoyed so far.
In the early afternoon we arrived in the first pueblo: Nuevo Picota. The community was ECSTATIC to see Father Leo because (as far as I know) he is the first priest to ever visit them at their village. Father Leo went to this village last November, but everyone was gone harvesting coffee. When we drove in, the people were lined up along the road cheering. Some children even raised cakes that they had prepared in celebration.
As Father Leo got settled and prepared for the upcoming baptisms, we led the group in praise and worship. Father Leo baptized 13 people. Glory be to God! It was tear-jerking to watch the new members of the church raise their baptismal candles and sing to Jesus.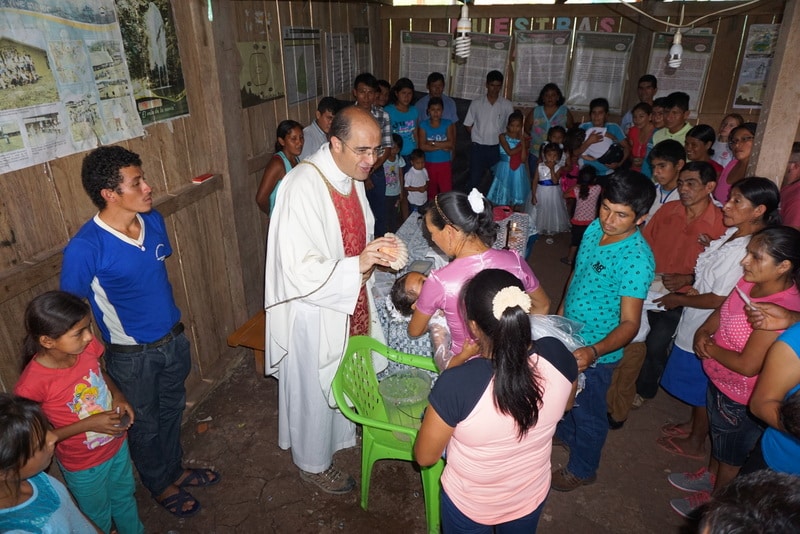 After Holy Mass we were welcomed into a nearby home for lunch. After lunch I went back into the building to gather our belongings. It was lifeless. I quietly prayed that the joy this community felt as their newly baptized were welcomed into the church would sustain them and fill this space.
We piled into the truck, ready to leave for the next pueblo, when we noticed several extra people squeezing in around us. Upon questioning, we learned that anytime a truck leaves town people jump in and ride for as long as they can just to get out of town. As we drove away, I turned and waved good-bye, sending my prayers and love to this beautiful community of God's children.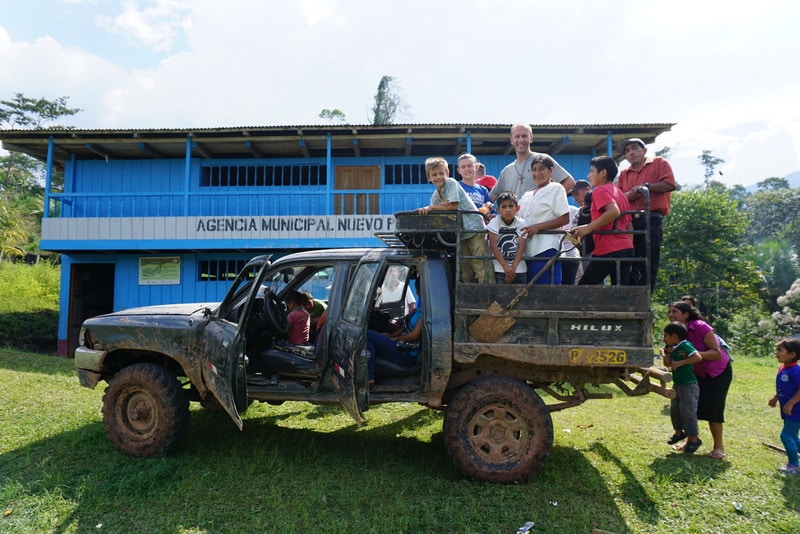 Given all the extra people that were tagging along, it was difficult for the truck to make it up some of the hills. As missionaries, we're the first ones to offer to get out. Little did we know that we'd be blessed with an afternoon work-out as we navigated our way through the muddy ruts.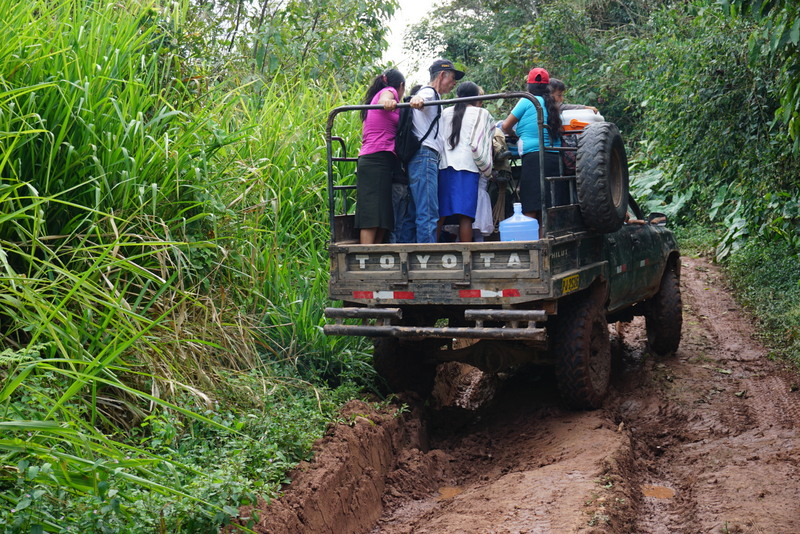 After traversing the difficult jungle trail we arrived in Juan Belasco. At first, it seemed empty. However, it didn't take long for people to find out that we had arrived. Jack and Michael helped make our presence known by their jolly yelps and quick-paced exploration.
Before long, the community building was filled with excitement as people eagerly anticipated the upcoming baptisms. Girls of all ages arrived in beautiful white gowns and the boys were dressed in new white shirts. I kept wondering, "Where did they get these beautiful dresses???" The truth is that it was very difficult for them to get into the city and buy such fancy outfits, but it's a small sacrifice to make for such an important day in someone's life.
Chris and our Peruvian missionary friend Max blessed us all with music once again.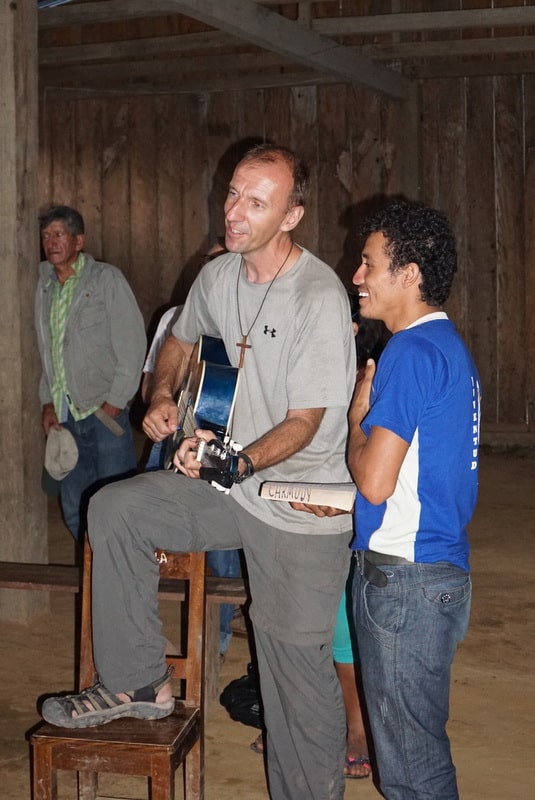 As we packed up we noticed the beautiful sunset on the horizon. It is such a priceless gift to the poor in this region of Peru.
After the celebration we were invited for dinner at someone's home. Chicken, rice and yucca were on the menu this night, but we realized that they enjoyed a broader range of cuisine other nights…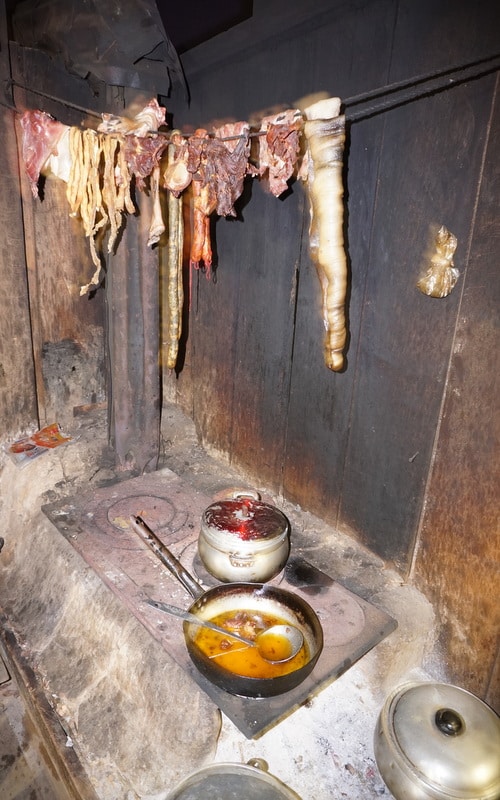 …Sometimes we thank God for what He gives us. Other times, we thank Him for what He doesn't give us.
As we traveled to the next pueblo in the back of the truck we enjoyed a planetarium-like night sky. It was hard to believe this was still day #1.
When we arrived, the folks were super excited and guided us to their chapel. As Father Leo heard confessions, we led the group in song. Their enthusiasm was contagious. Before long we forgot about our fatigue and lifted the roof in song to the Lord.
As our kids started slouching down and falling asleep, it became obvious that we had squeezed enough into this day. We were welcomed in for the night by a wonderfully hospitable couple and were given everything we needed, which – we've come to learn – isn't much, praise be to God!!
The next morning Chris's watch alarm sounded bright and early once again. After having "the best coffee in the entire world," according to Jack, we began walking to the next pueblo.
A truck driver agreed to bring our belongings later in the day, so we only took what we needed for our ministries…that's logical, right???
When driving along this road in the truck earlier, we had only caught a glimpse of the coffee plants that produce the world renowned beverage of choice. However, by walking, we were able to see them all up close.
We arrived in Chancha Mayo earlier than expected, which provided us with time for some bonus activities like playing with an enormous snail and getting a haircut.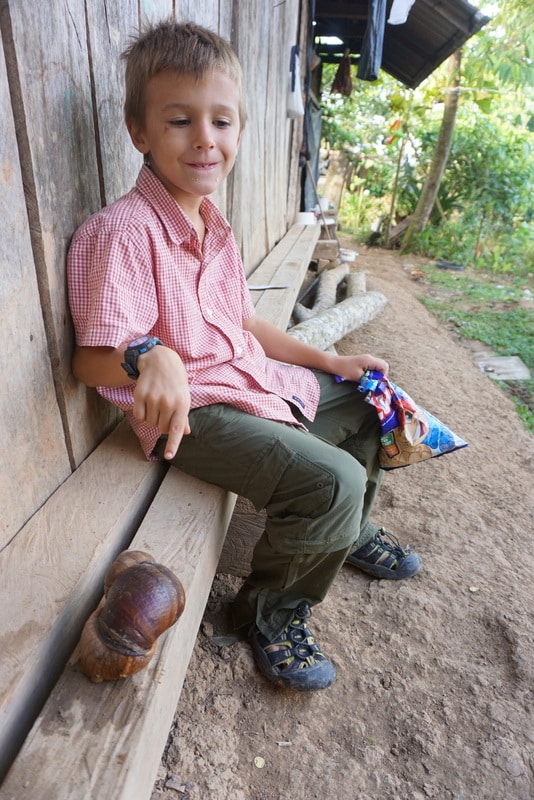 At church we were thrilled to participate in another baptismal Mass. This service brought the grand total to over 30 new Catholics in this remote part of the jungle…thank you JESUS!!!
Before Mass, one of the woman said that she had been praying for a lot of rain because she wanted us to stay longer. The road that connects all these little pueblos is comprised of a thick, clay-like mud. When it rains the roads become impassible. It was flattering for someone to want us to stay, but the blue sunny skies made her prayers seem a bit far-fetched….
…until the middle of Mass when the showers began…and continued. We planned to leave after lunch, but quickly realized that we would get to spend more time with our new friends in Chancho Mayo. We played games, talked, took naps, and just hunkered down waiting for the rain to pass. In the early afternoon we received a phone call from the truck driver who was supposed to be bringing our belongings informing us that the road between the towns was too bad to travel on. Plus, the logs which made up a bridge had fallen which made it even more unlikely to pass.
Think, think, think…. How do we get our belongings from a village up the mountain when the road is so slippery and thick with mud that it's dangerous to walk???
Horses!! We can borrow someone's horses, travel up the mountain to the other village, pack the horses, and ride back…GENIUS!!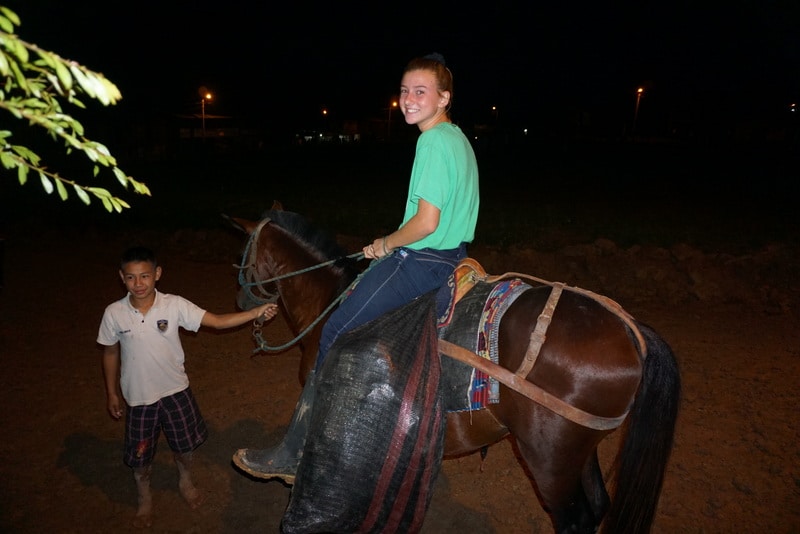 So, that's what we did. Katelyn, Anna, and I rode to the next village on horses that we borrowed, collected up our belongings, stuffed them into sacks, loaded up the horses, and returned – in the dark. It may sound crazy, but it was a blast!!
We stayed the night with another incredibly generous family who fed us and all but tucked us into their own beds with their own pillows.
Day #3 started at 3:20 AM when a truck driver arrived at the house with a bed full of coffee sacks. He was transporting them into the city and was willing to take us along IF we were willing to cram in. Moments later we were all engaged in a bizarre exercise of human-Tetris. As long as we made the right moves we'd fit…kind of.
As we were leaving, I remembered being told that when the roads are "really bad" it can take 8 hours to travel between this village and the main city. Praise God it didn't even take 4 hours… I'm not sure if we would have made it for 8. The ride out of the jungle made the ride in look like a Sunday drive in the park. It is impossible to convey the total craziness of sliding, tipping, and trudging through the knee-deep clay in the dark.
Now, we have our own stories to tell of venturing deep into the jungle. Please pray for all those we ministered to and all those that we'll minister to in the future.