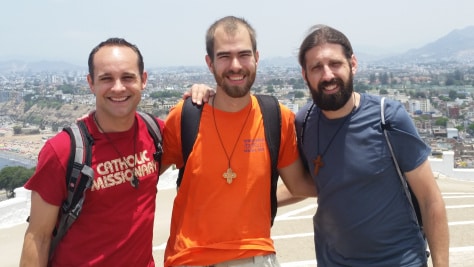 Humility and Purpose in Life
By Russ Gunter
Spanish school has been challenging, but it reminds me to depend on God more. It humbles me to communicate mainly in Spanish in a foreign country. Especially the first week, I had the language headache which is typical of learning a new language. I was brain dead after classes, but the headaches have resolved. I have finished 2 weeks of school, and I am starting to see my communication in Spanish improve. I still have a ways to go, so please pray that God gives me the gift of speaking Spanish fluently. Thankfully my teachers are very friendly, kind and helpful.
The beach is really beautiful here. It has a cliff about 150 ft above the sea with a scenic view. I sometimes make it down there to study or speak with some Peruvians in Spanish for practice.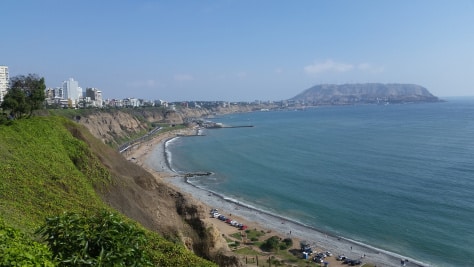 Yesterday, we took some time for our community day, and we traveled up to a small mountain, Morro Hill, that had a cross and a statue of Jesus similar to the one in Rio de Janeiro at the top. It is called Christ of the Pacific.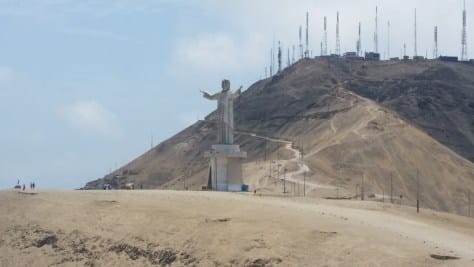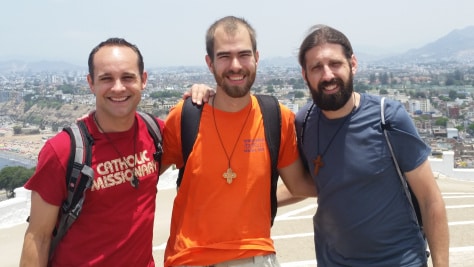 After traveling up and down on a motorcycle carriage, we made our way to a restaurant by the beach and had some of the best ceviche that I have had since being in Peru. A walk on the beach was enjoyable especially after a busy week of classes and working on resident visas for our team.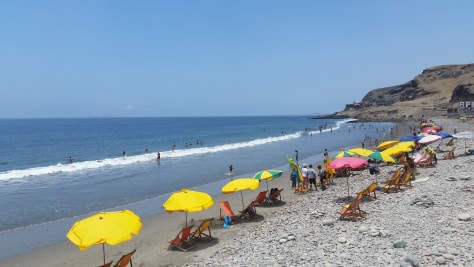 Although I am enjoying speaking Spanish, I am missing the missionary work because I really believe that mission work is my purpose in my life for now and for possibly longer. Purpose Driven Life by Rick Warren, says "Repeatedly the Bible compares life on earth to temporarily living in a foreign country. This is not your permanent home or final destination. You're just passing through, just visiting earth.". King David said in 1 Chronicles 29:16, "For we are sojourners before You, and tenants, as all our fathers were; our days on the earth are like a shadow…" I can relate to this especially being in Peru. It is so true that life on earth is temporary, and what really matters is what we are doing to get others and ourselves to heaven for the eternal life. Urgency is an important part in doing God's work. What if we only have one chance to save a soul? What if a person's salvation rests on us listening the will of God and doing something about it in that moment to reach out to that person? I pray that I do not get in the way of what God wants to do through me. I pray my sin, my selfishness and my pride do not hinder the work of God through me. For it is really not about me. It is all about Him who sends me. It is about His will for us because he truly knows what will give us the most joy and peace. He should know because he made us and designed every part of our being for a purpose. God even planned this moment in your life. Right now reading this blog, it was planned for a reason and a purpose. I pray that God uses this moment for you to follow His will in your life.
God is answering my prayers because I have had 3 opportunities to pray for people this week. Luke and I were able to pray for a guy who seemed like he was on drugs, and he had a lot of anxiety over a legal battle with his brother. His mother passed away a year ago, and his brother has taken away his inheritance through an attorney he hired. We prayed with him for God to help him let go of his anxiety, repair the relationship with his brother and to bless him at the cafe store where we met him. After we prayed, he said he almost cried. We left him with some meat, bread, and milk from the grocery store, so he would have something to eat. He has a faith, but my intuition tells me he has some other things going on that are preventing him from living out his faith with an internal peace. Please pray that he will turn back fully to Jesus and find peace in Him; his name is Caesar.
Please pray that we can get our resident visas here in Peru this week with ease. We will be spending the next two days working on our resident visas. The rest of our group, 17 more people, will be coming down in the next couple of weeks, so pray for safe travels for them and for the whole visa process.
God bless you!
Comments are closed