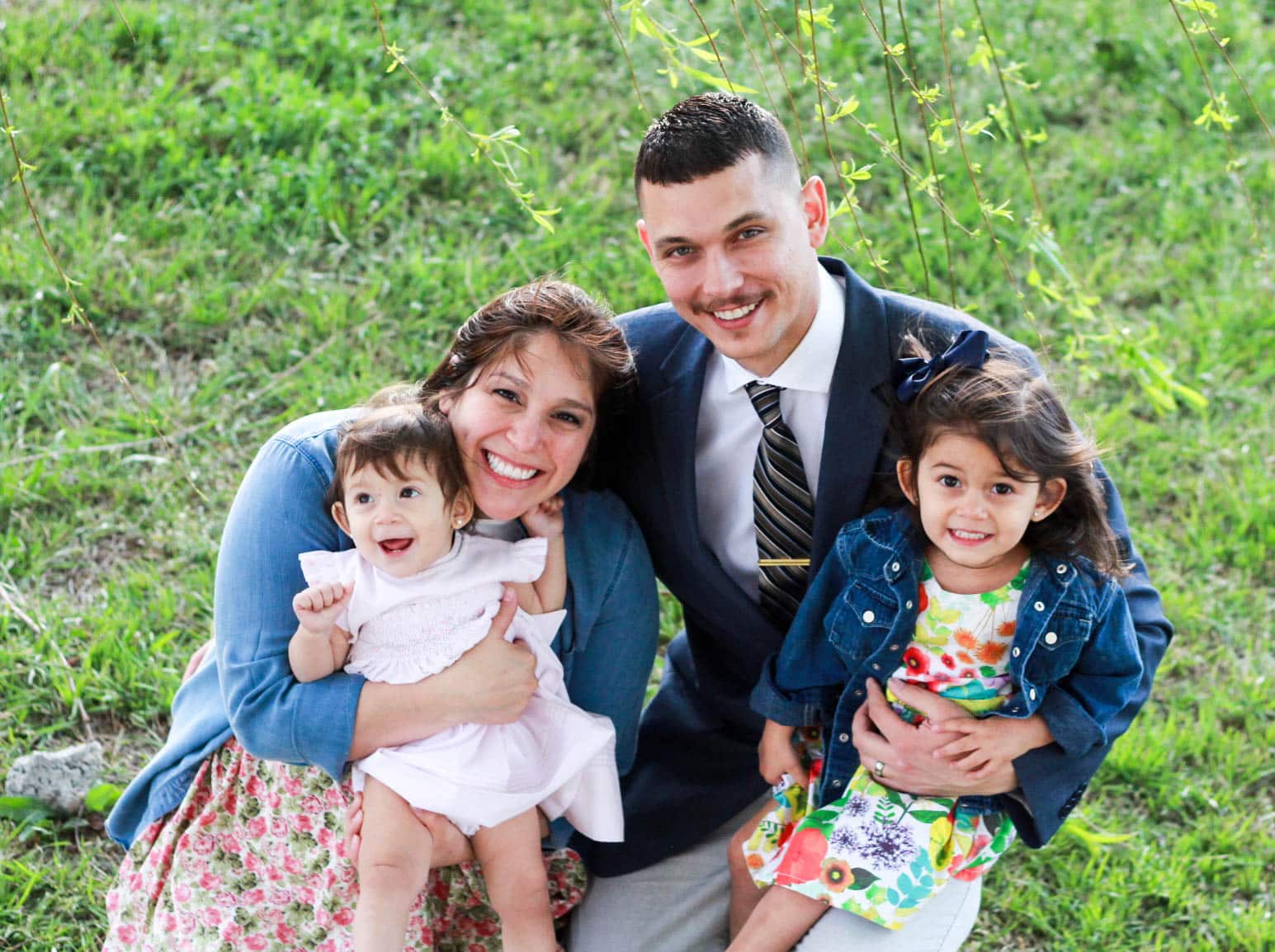 Isaac & Sabrina Sokolowski
Isaac and Sabrina were married January 2, 2016. They have two daughters, Siena and Gemma with another on her way in June (2019). Since being married and having children, the responsibility of assisting each other to heaven and forming their children in the same way outweigh all other worldly pursuits.
Before Isaac married Sabrina he wanted to give all to Christ. He became a Carmelite hermit for almost 2 years. Upon leaving the eremitical life, he still desired to serve God as well as live gospel poverty. Sabrina desired to go on missions with a non-denominational organization before they began dating but was asked to clear her school debt before considering life as a missionary. When Isaac learned of this, he did a quick google search to offer a Catholic alternative. Family Missions Company was at the top of the list. He felt in his heart that one day they would serve as missionaries. Isaac also trusted God would give him the desire of his heart, which was a super Catholic wife. After many discussions, prayer and study Sabrina was reconciled to the Catholic church soon after marrying Isaac. She has since fallen in love with the Fullness of Truth within Church Teaching, the Holy Sacraments and Holy Saints.
When they began having children there was a struggle to balance God as priority, home-life and work. Also, there was a lingering emptiness as they thought of living by the world's standards of success such as purchasing a home, cars and having a comfortable career. They were longing for a way to give all to Jesus, especially in the context of their domestic church.
They attended a Catholic conference (SLS 18) and came upon missionary Braxton Callen running the information booth for FMC. Isaac remembered his google search from 2 years earlier. They found themselves drawn to the FMC booth the remainder of the conference. Upon returning home, they began reading Genie Summers' books together. As they read about Frank and Genie's foreign mission experience as a family, they knew this was the life they wanted to live for Christ. Genie's testimony spoke to their hearts every time they opened her books. The Holy Spirit reaffirmed that all things are possible for God. Simultaneously they finished paying off Sabrina's debt. The Sokos were so ready to go!
They planned for and attended July 2018 Come and See which confirmed their desires. They were saddened and yet overjoyed to find out that Intake 2018 had reached full capacity for the first time ever! (Praise God for our brothers and sisters answering God's call and for FMC facilitating His will).
The Sokolowski family would love for you to join them on this amazing journey, as they take the steps in radical faith relying on God's gracious providence. Please keep them in your prayers!