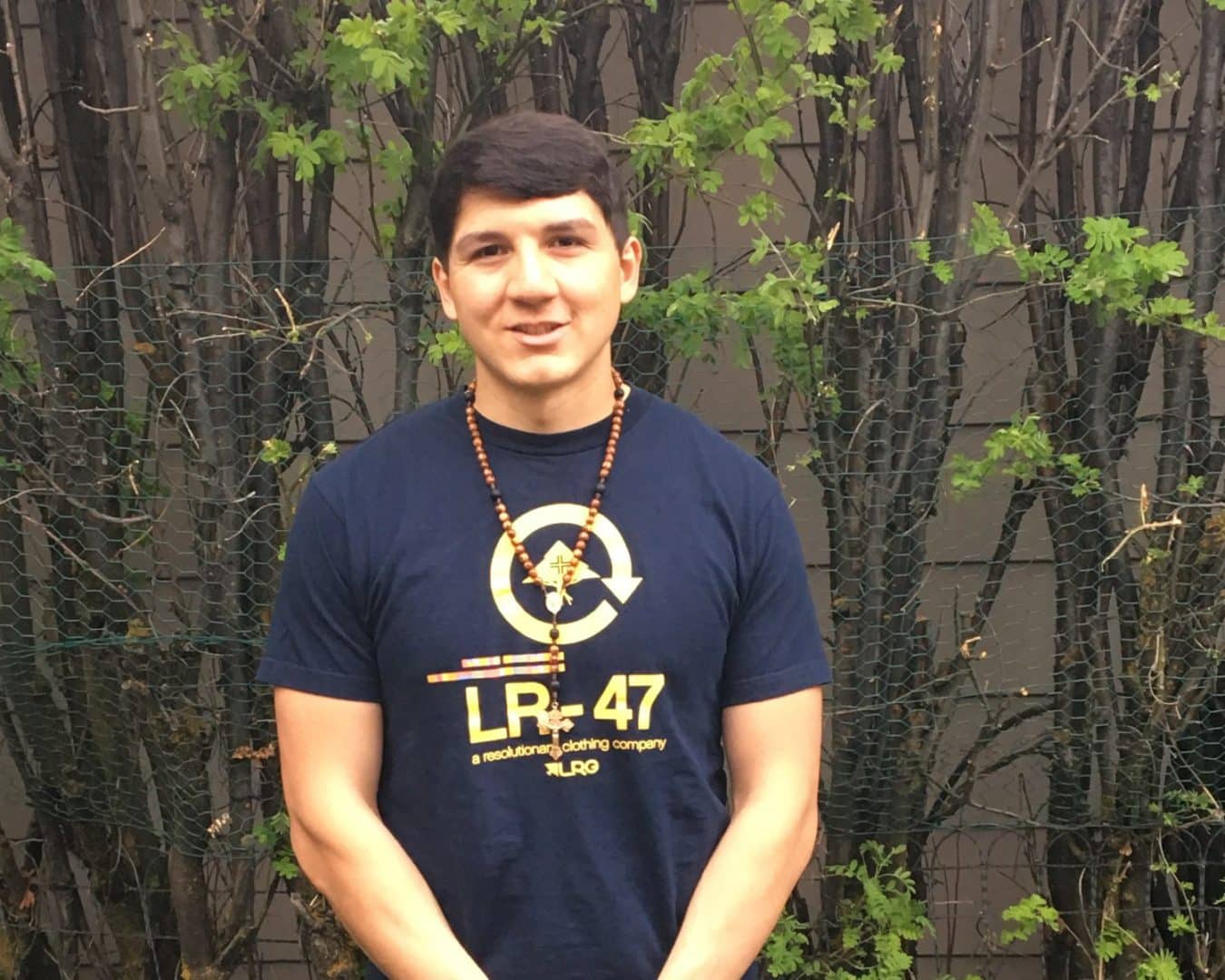 Marcos Herrera
I was raised in the Catholic Faith and was baptized as an infant but I did not receive the Holy Sacraments of Communion and Confirmation until my true conversion and coming back to the faith. I was blessed to receive them in the Jubilee year of Mercy on March 26, 2016 at the Easter Vigil Mass. Before my conversion I was really far from the Lord and I did not have a relationship with Him. I considered myself atheist/agnostic, I was really falling into the new age type of ideology and was falling into drug abuse as well. The summer of my junior year in high school, I really went through a dark point in my life and through it all God really worked on my heart and He truly shined the light of His love and mercy upon me and completely transformed my life! I am beyond blessed to even be alive, to be able to have come back to the Church, and to be able to have the ability to serve God and others!
When I came back to the faith I really dove in and truly wanted to know my faith and the reason for it. By the grace of God and all the work of His divine providence in my life, I have had a true conversion of heart and am now truly convicted in the holy Catholic faith and truly want to spread that same faith, the true and living Word of God and the message of His love and His mercy that truly saved my life with others! I want to be able to serve Jesus through the guise of the poor, the elderly, the sick, and the suffering; to be able to give back to God for all He has done in my life and to make the most use of my life which He has blessed me with and continues to bless me with every day.
Towards the end of my senior year in high school, I felt God calling me to serve Him as a full-time missionary with Family Missions Company, and praise the Lord I went to the "Come and See Retreat" in March of 2018. During the retreat I once again felt the Lord tugging at my heart and giving me clearer signs to serve Him in full-time missions, and by the grace of God I said yes! I'm very excited to see what the Lord has planned for me in these next few years serving with Family Missions Company! Jesus, I trust in you!
"And the King will answer them, 'Truly, I say to you, as you did it to one of the least of these my brethren, you did it to me." – Matthew 25:40
"So Jesus also suffered outside the gate in order to sanctify the people through his own blood. Therefore let us go forth to him outside the camp, bearing abuse for him. For here we have no lasting city, but we seek the city which is to come. Through him then let us continually offer up a sacrifice of praise to God, that is, the fruit of lips that acknowledge his name." – Hebrews 13:12-15
"But he said to me, 'My grace is sufficient for you, for my power is made perfect in weakness.' I will all the more gladly boast of my weaknesses, that the power of Christ may rest upon me. For the sake of Christ, then, I am content with weaknesses, insults, hardships, persecutions, and calamities; for when I am weak, then I am strong." – 2 Corinthians 12:9-10