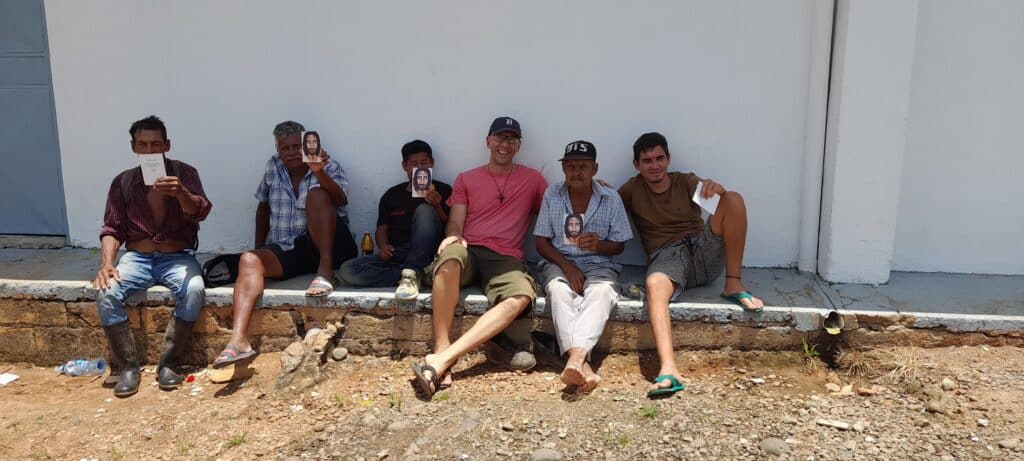 Street Evangelization
When The Holy Spirit moves and calls us to do something, we have to answer the call.  That is what happened last Friday when Karen and I felt called to drive up to a town near the northern border of Costa Rica called Los Chiles and to do some street evangelization.  What is street evangelization you might be asking?  Great, I will explain it to you in this post.  The way that Karen and I do street evangelization can take on many different flavors or varieties of activities.  On this particular day, we felt called to take with us some Bibles, some awesome painted pictures of Jesus that a member of Team Carmody provided us with, and some comfort crosses that are made of olive wood from The Holy Land.
Here is a photo of the picture of Jesus and what one of the comfort crosses looks like: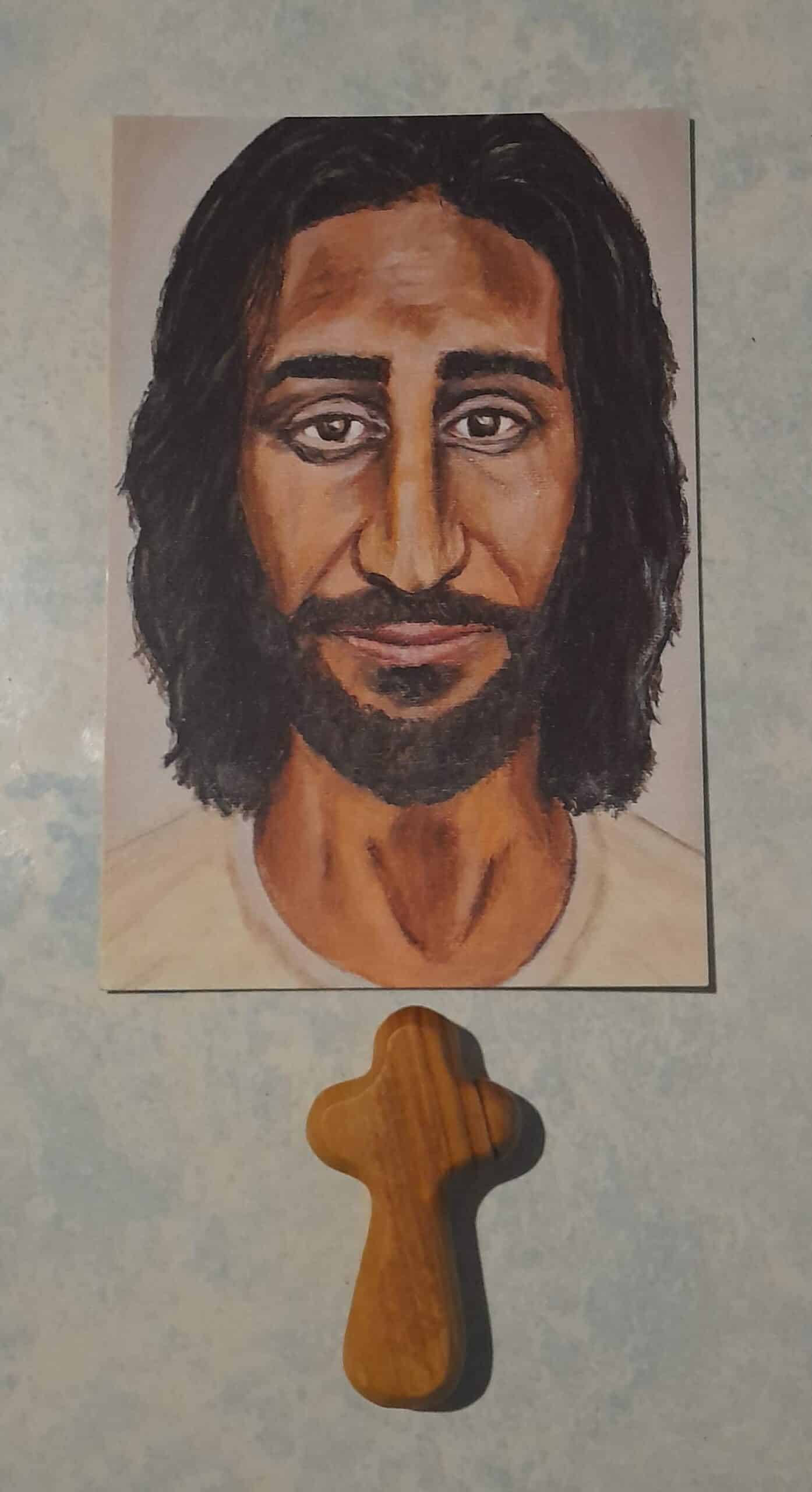 We headed out early in the morning after our kids left for school and during the one-hour drive up the highway, we prayed the entire way for all of the people that we would encounter.  We also asked our Guardian Angels to go before us to the Guardian Angels of the people that we would encounter and to make straight the path and ease the communication between us. 
We drove around the town a little bit until we found somebody that we felt called to.  We saw a young mother laying on the ground with a ten-month-old baby boy and an adorable little three-year-old girl.  We parked the car, and loaded up our Padre Pio bag that reminds us to "Pray, Hope, and Don't Worry!"  We approached the young mother and had a beautiful visit with her and her children.  I played with some modeling clay that the little girl had and we made all kinds of fun things and handed them back and forth while Karen shared a Bible verse with the mother and gave her a Bible, a picture of Jesus, and a comfort cross. 
Karen explained how the cross fits perfectly in the palm of your hand and that Jesus is by her side no matter what she is going through.  We then asked for their names and prayer intentions and we prayed over them all.  It was a very blessed encounter.  That is how we started.  We continued walking around town and allowing The Holy Spirit to lead us to whomever He wanted us to encounter.  We did our part and He did His.  
As you can imagine when you are having this kind of intimate prayer encounter on the street it can feel pretty awkward to pull out your camera and ask if you can take a photo.  For this reason, we only have a few photos from the day.  Along the way, we had some wonderful encounters with a couple that have met later in life and needed some encouragement about getting married in the church.  We were able to pray with a man whose eight-year-old son is due to have open-heart surgery in a few weeks.  He was brought to tears while we were praying.
Another man had a pretty suspicious air about him when we approached him. In the past, many people in Puerto Rico used to think that I was an undercover police officer.  Karen thought that this guy was probably thinking the same thing.  Over the course of our interaction and especially after we prayed together, his countenance changed completely.  The rough edges were smoother, the tough guy attitude melted away and he was smiling and laughing with us.  What a change over the course of twenty minutes!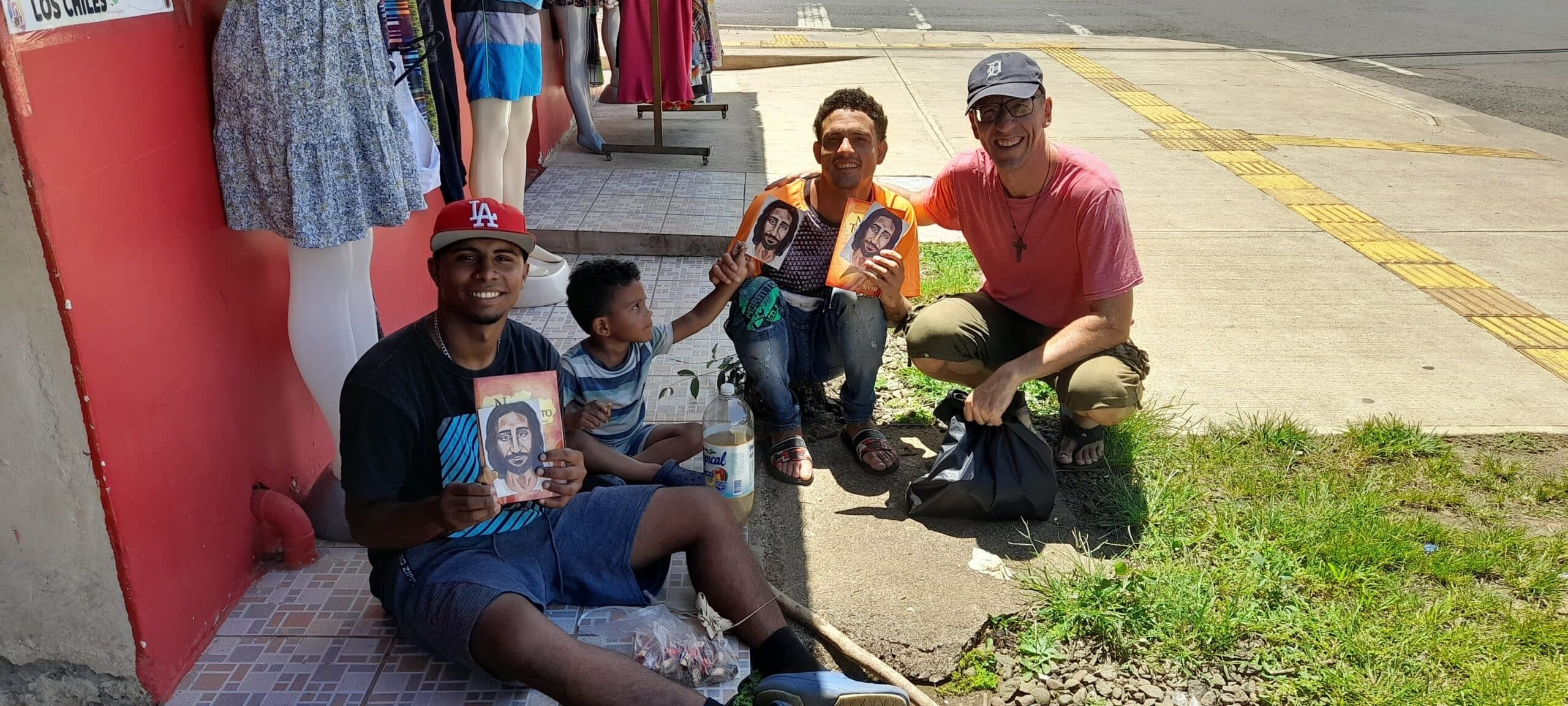 We even met a man that makes things out of palms (like the kind for the upcoming Palm Sunday).  He made a flower for Karen and a big 'ol grasshopper for me.
Karen and I had a wonderful time doing our street evangelization.  We are always very blessed by what The Holy Spirit has in store for us each and every day.  There are no two days that are the same in this life of missions which is great because we really enjoy the adventure and the variety of what we do.  Over the course of the day, we were able to evangelize almost thirty people and we had a blast doing it.
If you are interested in getting involved with street evangelization, there is a great organization in Metro Detroit that is called St. Paul Street Evangelization, you can click on the name which is a link to go to their website and to learn more.  Another great example is the "Treasure Hunting" that is described in the Encounter Ministries documentary called, "Fearless".  It is explained starting around the forty-minute mark of the documentary.  I am sure there are countless ways that The Holy Spirit could lead you to do street evangelization.  Why not pray and ask Him how He might be calling you to go about it?
Remember, we are all called to be missionary disciples of Jesus Christ in this world.  Each and every one of us has different gifts and charisms and are called in a different and unique way.  I hope you are putting your gifts and charisms to use as a missionary disciple wherever you live.  If not, it is time that you give it a try.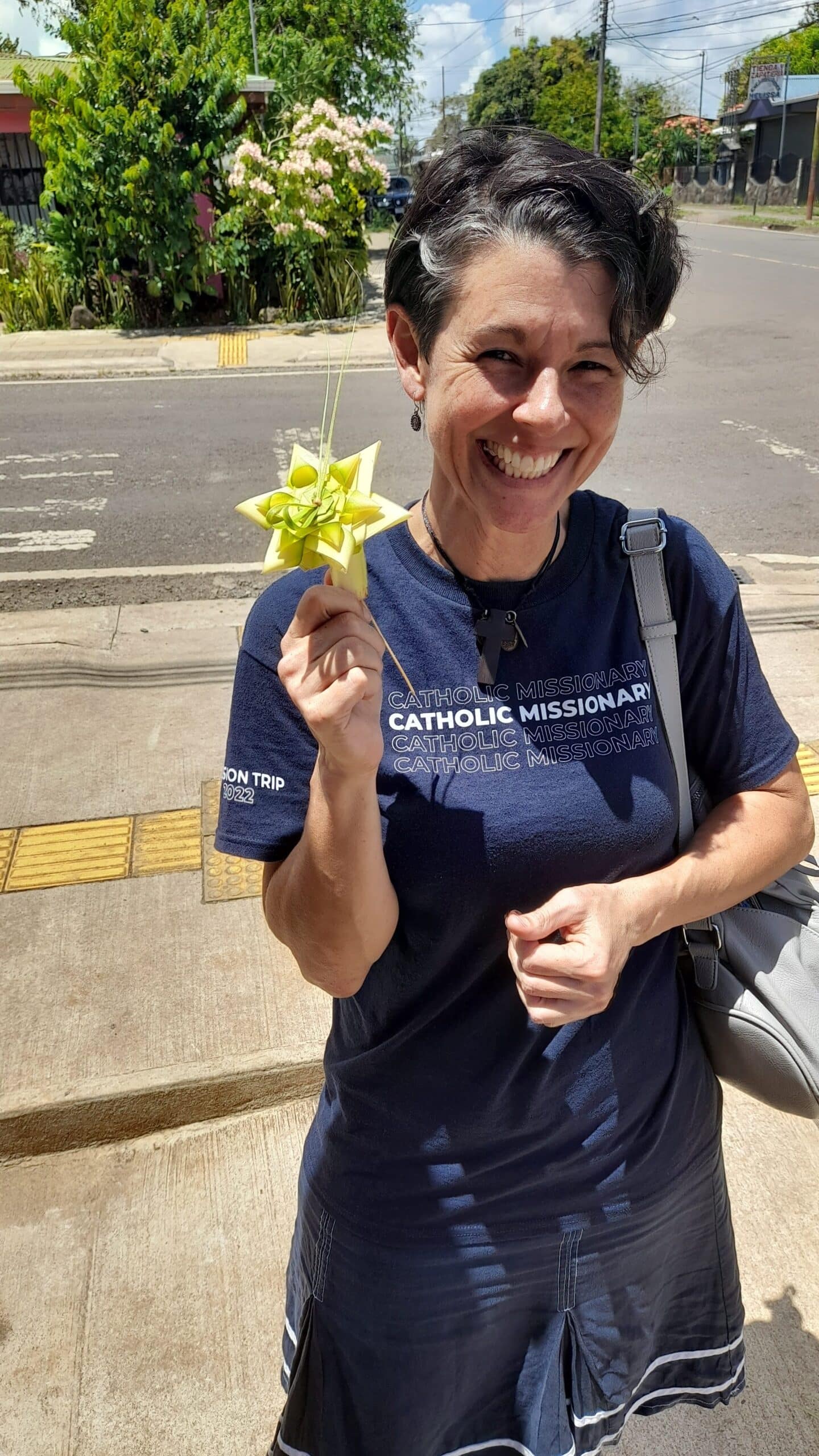 Comments are closed