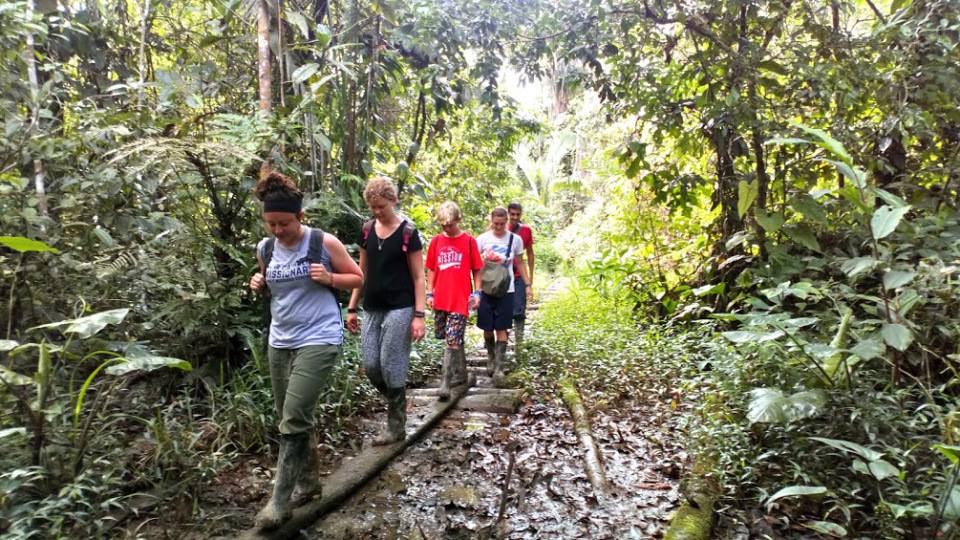 Summer School in Ecuador
Jonathan and I are so blessed to be able to share with you one of the greatest blessings to be bestowed on us since we arrived in Ecuador this past February. On July 6, 2018, we received a call from the FMC missions coordinator informing us that the Summer School of Missionary Evangelism (SSME), which was to be held from July 12 to August 6 in Haiti, needed to be moved to a new location if not canceled, because of violent riots prevalent in that country. She asked if we would be willing to host the group. Would we be willing???!!!!! I couldn't have imagined anything that could be a greater blessing! Fourteen on-fire missionaries-in-training living with us for almost a month! How fun! It must have been in God's plan as well because not only did we have just about a week to prepare our home for new arrivals, we also had to have beds literally made by a carpenter, buy mattresses, all kitchen supplies (we literally had just enough for our family and nothing else), screen windows in rooms we weren't using, practically wire an entire house and attempt to get some sort of water available in all bathrooms, and another billion details I won't bore you by mentioning. But it all got done, pretty much in advance, and fell into place with almost no stress or hassle. AND all the missionaries were able to get new flights to Ecuador!!!!!! I'm still in awe of how God pulled that off.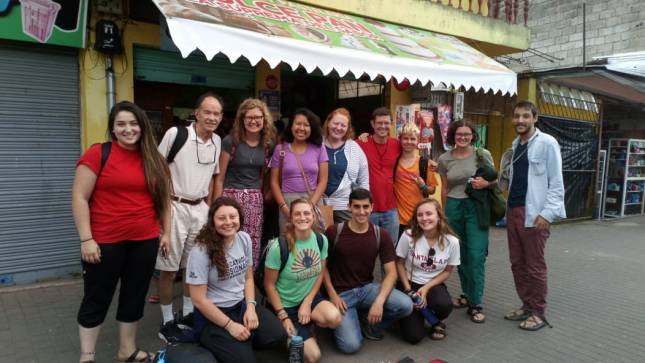 But not only that, He sent us the greatest group of missionaries I could have ever imagined! From the get-go they went with the flow and accepted what came their way. Since they arrived, they have had to–I could say participate in mission activity, but really– plunge into missionary activity would be a better description. Soon after arriving they were called to minister to a family whose father died and then the oldest son less than a week later, leaving the mother, Graciela, and her nine children at home to fend for themselves. The next day, which was supposed to be their day off, turned into a very long day of ministry after hearing of a nearby house fire that destroyed a huge family's home, tragically killing four children. Everyone thought that serving this family was more important than trying to enjoy a day off!
When it was finally time to leave the funeral of the four children, we had to wait for four hours for a canoe to bring us back to our vehicle 15 minutes upriver. The very next day after a beautiful Holy Hour, the tire blew out on our vehicle and the bolt to let the spare down was so rusted that no one could budge it. We had the opportunity to wait for yet another two hours to return home. And yet, they sang and danced and made the best out of such a frustrating situation.
Since then the days have been filled with teachings and visiting of the families and communities most in need. Regardless of the meals missed or delayed, the three-hour long hikes, the bugs, the chicha, the mud, the homesickness; these missionaries have stayed selfless and giving. I have NEVER seen such a large group experiencing such hardship with such ineffable calm and fortitude. We are so honored to share in this year's SSME experience. They call us all on!!!!
But, enough from us. Here are this week's experiences in some of our SSMErs' own words: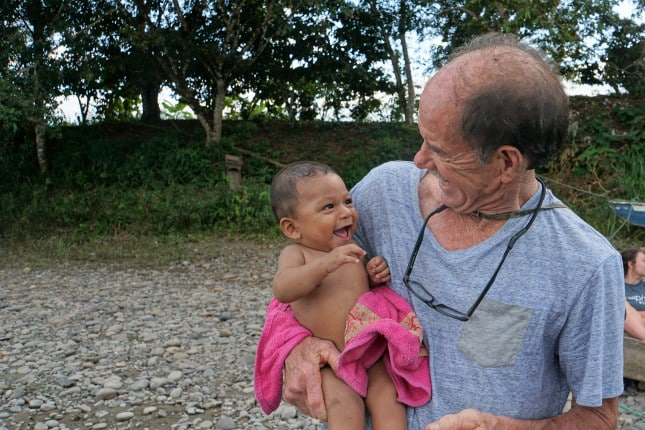 Cody Grisamore
We arrived on Saturday, July 13. Sunday morning we took a canoe to a village for a communion service. We prayed for a mother who tragically lost her husband and oldest son two days before. On Monday we went to a village to give a funeral service for two families who lost four small children in a house fire. We spent time with the families, praying for them and weeping with them in their grief. Two days later four of us returned with some supplies as the families lost everything in the fire.
The children are poor and yet pour upon us their laughter and affection. I am so humbly grateful to the Heavenly Father for allowing me to be with these wonderful people!
Praise the Lord, all you nations! Give glory, all you peoples! The Lord´s love for us is strong, the Lord is faithful forever. Hallelujah! – Psalm 117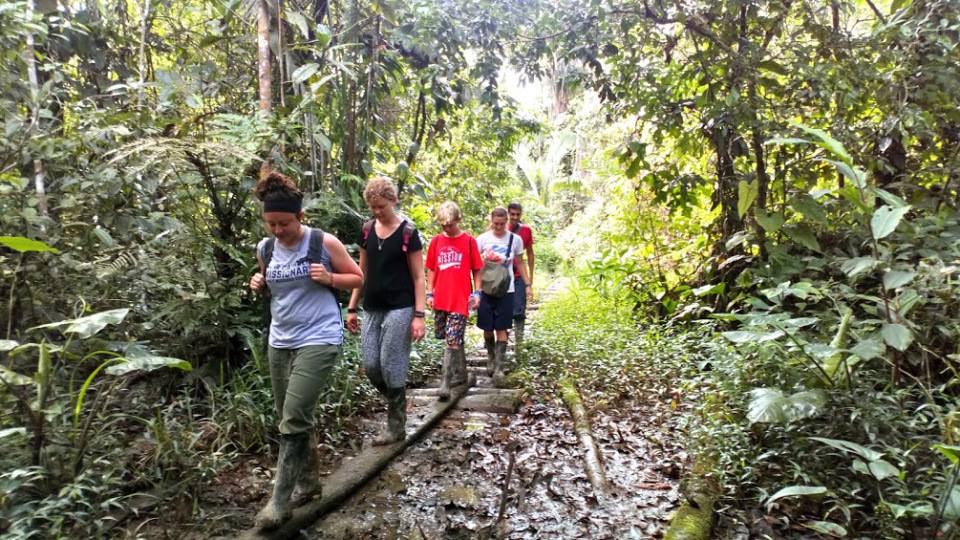 Lauren Dorsett
This time spent so far on mission in Ecuador has been such a tremendous gift for me in the most unexpected ways. It has felt very much like home to be back on mission in a Spanish speaking country again and has once again convicted me of the dire need for lay people to respond to the call to foreign missions. Especially in places such as this where priests are seldom able to say mass or administer the sacraments to the people.
The most beautiful moment for me so far was a day spent doing ministry in a place called Mango Playa. In order to get to this community, we had to canoe across a river and then hike two hours through the jungle. Once we arrived, the people were incredibly welcoming and receptive, excited to have missionaries share more with them about the faith. We held a celebration of the word for them, sang praise and worship, and had kids ministry and formation for the adults. During the celebration of the word, Teresa, a full-time missionary with FMC here in Ecuador, turned to me and asked if I would be willing to give a short preaching and testimony to the adults. At first I hesitated, knowing how much I was lacking in Spanish and having no time to prepare, but I gently felt a nudge by the Holy Spirit to trust that He would provide and that this would be a healing moment from past experiences struggling with the language on mission. With that "Yes," I was blown away by how the Lord did show up in a big way and gave me the words to speak in a language I was lacking in. What a good, faithful, and loving God we have, who truly wants to use us, especially in our weaknesses to show love to His people, and who desires to redeem every moment of our lives. He makes all things new. Gloria a Dios!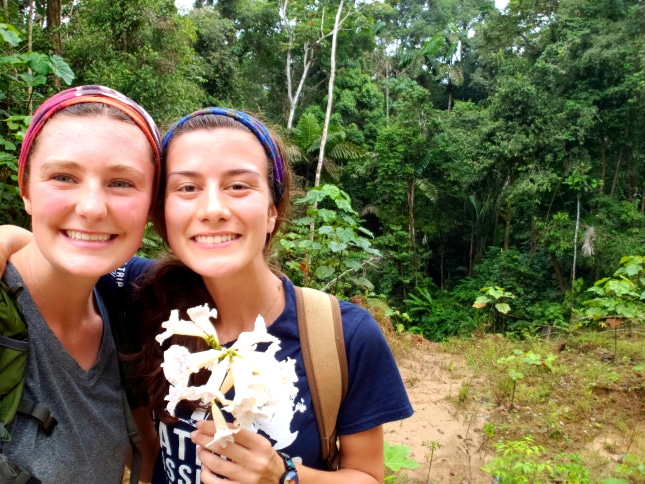 Bailey Smith
I have seen so much personal growth in myself this past week. Community life is not easy. You have to be able to share what's going on in your mind, heart, and soul to better work, serve, and live with one another and I have never been good at this. Every day I'm sharing more and more and I am so much more confident with myself.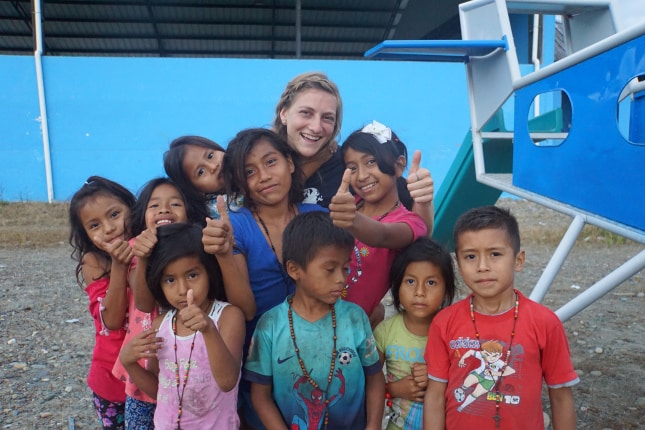 Meg Simon
The Lord has spoken to me in many different ways here in Ecuador, but the most prominent way is through the kids. We have gotten the chance to encounter so many local kids here in Ecuador and they have brought me so much joy! Not knowing the language can be really frustrating, but with the kids, we're able to cross the language barrier and fill the space with laughter. I see the love of God in each one of their faces and their smiles and laughter bring me more joy than I could even put into words. I thank God so much for them and the immense amount of joy they have brought me.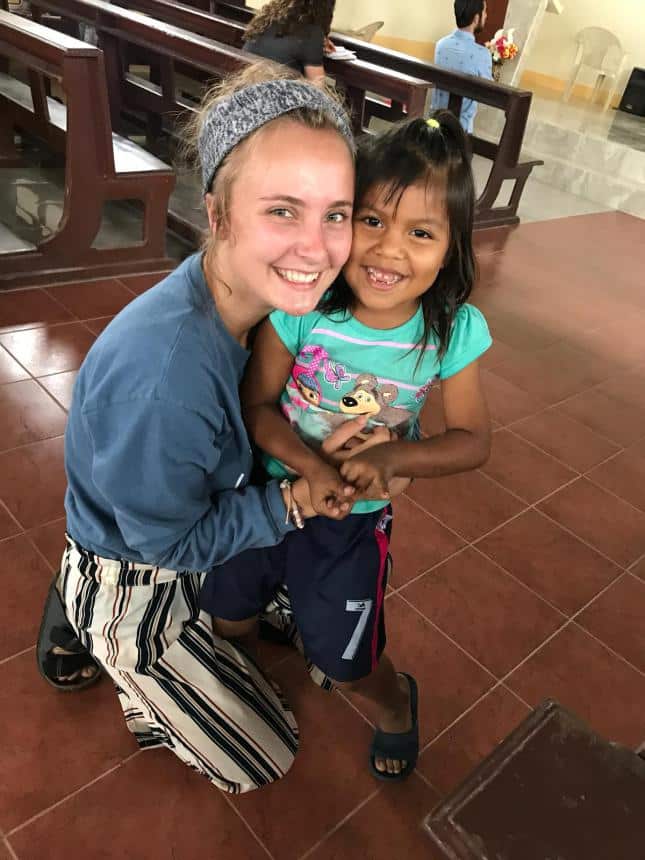 Ceili Lesnefsky
Ever since I arrived in the small village of Chonta Punta I have been trying to figure out my purpose here. My heart has constantly been asking God why He has sent me to the middle of the Amazon Jungle. What can I do here that anyone else wouldn't be able to? How can I have an effect on the lives of these beautiful people when I can't even speak their language? I found myself frustrated and so full of fear. I brought these questions to God in praise and worship and Jesus answered me right away, without hesitation as He tends to do when I question His motives. The words He put on my heart were: "My daughter, I have brought you here so that you may love my forgotten children."
I was struck by the simplicity of this. While I had been thinking about big, wonderful acts of mercy I could do to help transform the lives of these people, Jesus was just calling me to love – and moreover, to love in small ways, to love the forgotten. Coming out of this time in prayer, I was convicted. I was so full of passion and so empty of fear.
Since that night, I have been striving to do what Jesus has put on my heart. Instead of seeking ways I can do notable, recognizable acts of service, I have been trying to look for ways to love those who hide away from the crowd.
Every day, I wake up excited to see the children; I live for their voices as they yell out my name in their little accents. I am no longer fearful of rejection: I am excited to learn to love the way He loves.
I think we are all called to love His forgotten children. And through our love, we can remind them that they are after all not forgotten at all. We have the power to show them that they are treasured, precious gifts in the eyes of their Father. How honored I am to have been chosen to be here. And if I can touch only one heart with the love He has given me, my purpose here will be fulfilled.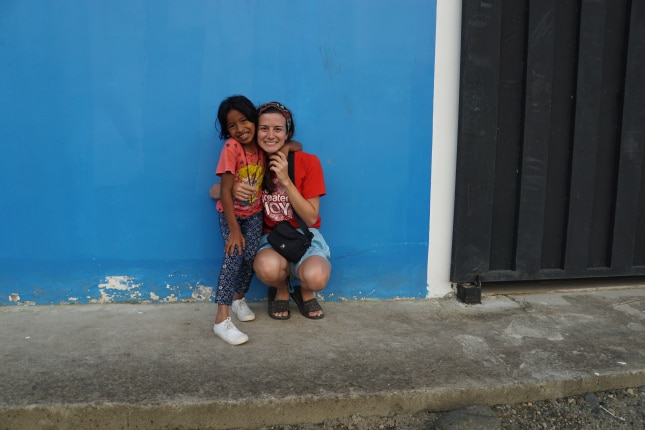 Sage Bischoff
My dear little friend, Fernanda, holds such a special place in my heart! She has a smile that can light up any room.
This past Sunday, I knelt before the Lord with tears streaming down my face. I felt such a longing to be nearer to Him. As always, the Lord knows our desires and what we need. I suddenly felt two little arms wrapping around me and, sure enough, I turned to see Fernanda smiling at me. She completely radiated joy and I know that the Lord sent her to comfort me. As little as my sweet friend may be, it is her who I look up to.
As my time in Ecuador passes, I love watching our friendship grow and the ways that she continues to bless my life. I pray that I can learn more and more from Fernanda and her sweet, holy example.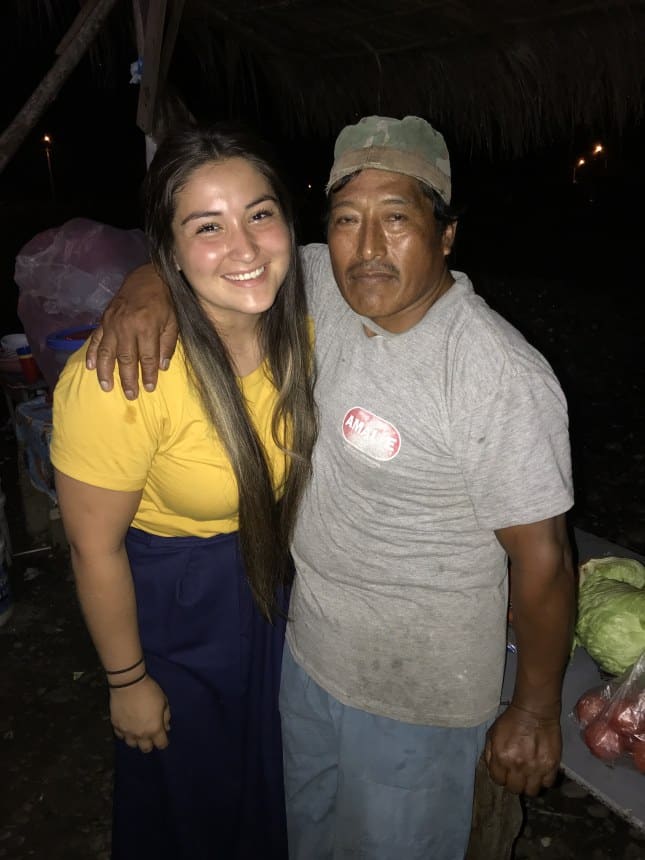 Anissa Wright
If I could write a million words about Segundo, I would. We don't speak much, since I only speak English and he only speaks Spanish, but his laughter and smile says a thousand words. Segundo, with the help of his esposa Carmen, has been cooking our meals everyday. Bread for breakfast; rice, chicken, and "salad" for lunch and dinner. The moment I saw Segundo, I looked at my friend Emely and said, "Look! Tio!" because that was exactly how I felt about him – tio, uncle. He is so welcoming and so SO giving! On Sunday night, after we had a home visit, Segundo cooked up a delicious dinner, as always. After we ate, everyone began to dance to the local music that Segundo plays at every meal! Segundo watched with a smile on his face. Though I don't speak much Spanish, I worked up the courage to hold my hand out to him and say, "Segundo, bailar!" And he didn't hesitate to grab it. We danced a very long and tiring song and in that moment I saw Jesus in Segundo. It was the most amazing feeling to be dancing with Jesus! When the night ended, Segundo left me with a very tight and loving abrazo and said, "Haste el ultimo dia bailaremos!" (Until the last day, we will dance!)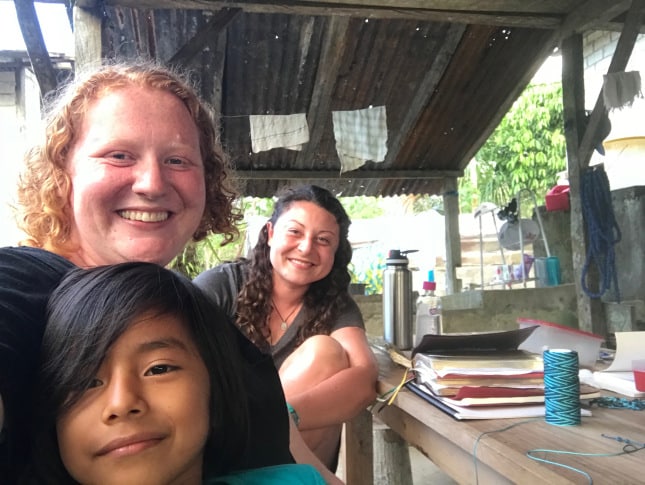 Elizabeth Dunbar
When I found out that our mission had been moved to Ecuador, I was most concerned about the language barrier. I do not know Spanish, and had desired to go to a place where I could more freely communicate with the local population. Yes, not being able to speak to and understand the people here has been a difficult reality for me, but I have been incredibly edified in the ways I have felt close to people despite our language barrier. God has instilled in us a universal language in shared human experiences, and I have felt this through the languages of laughter and tears. Whether it's laughing over a terrible miss with the soccer ball, or crying over the agonizing loss of four children's lives to a fire, we are able to connect deeply with our foreign brothers and sisters in a way that moves us beyond any necessity for words. I take to heart the words of St. Paul in his letter to the Colossians: "And whatever you do, in word or in deed, do everything in the name of the Lord Jesus, giving thanks to God the Father through him." (Col. 3:17). In this, I am reminded that we are able to give praise to the Lord and preach the Gospel in ways that transcend words.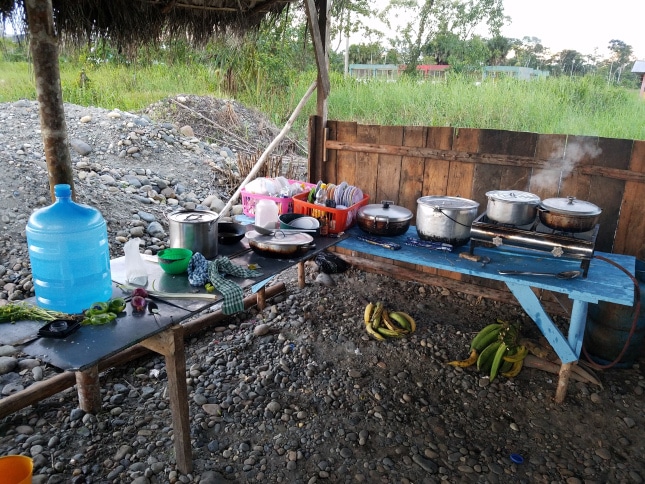 Vicente Garcia
One of the ways I've encountered Christ this past week is in our chef, Segundo. After thanking him for a typical Ecuadorian dinner one night, we entered into a conversation and I learned about his life, family, and occupation. He's a sincere, simple, and servant-hearted man providing for his expecting wife and their three other kids, and is going the extra mile by cooking two full meals for us, six days a week. Oh, and that's aside from him getting up at 2 AM to make breakfasts bread for us and his sellers. His providing for us mirrors that of Christ, which is in abundance, to all, even to strangers or estranjeros. Segundo's name means "second" as in "second one." His sacrifices and generosity make it such that we don't have to ask him for seconds. How much more can we trust in our heavenly Father to provide for us, His beloved children, through his own Son Jesus as we partake in His redemptive mission for mankind.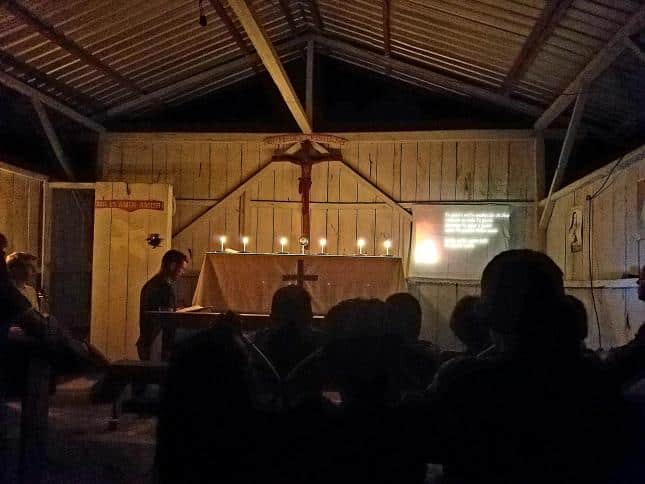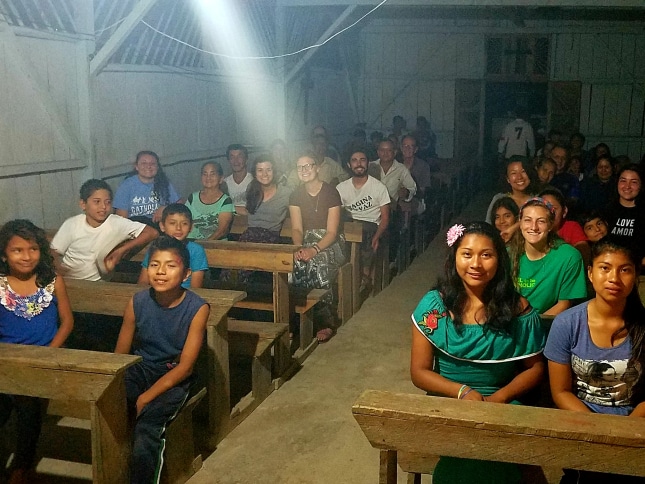 Kendall Koch
One of the times I felt near the Lord would be when we got to go out and invite people to adoration. A particular situation was when Vicente, Elijah Kiehl, and I went up to a house and Elijah asked a man if he'd want to come to adoration. The man then asked what we believed and Elijah went into apologetics and it was amazing. The people that came to the adoration Holy Hour were just incredible and the music, although in Spanish (which I don't understand) moved in my heart. With the Lord, in worship, the language barrier doesn't seem so difficult.
Comments are closed