Faith Camp is AWESOME:  a life-changing, fun-filled, action-packed time of making friends and growing in your faith.
For the last twenty five years, Faith Camp has been run by young people for young people. We want to share with you our excitement about Jesus and the difference He has made in us.
Come have the best week of your life!
Campers! If you will be in 7th, 8th, or 9th grade next year, Faith Camp is all about YOU.* Register to be a Camper now.
Staff! 10th grade and up—we need you to share the love of Jesus in a radical way. Sign up to serve!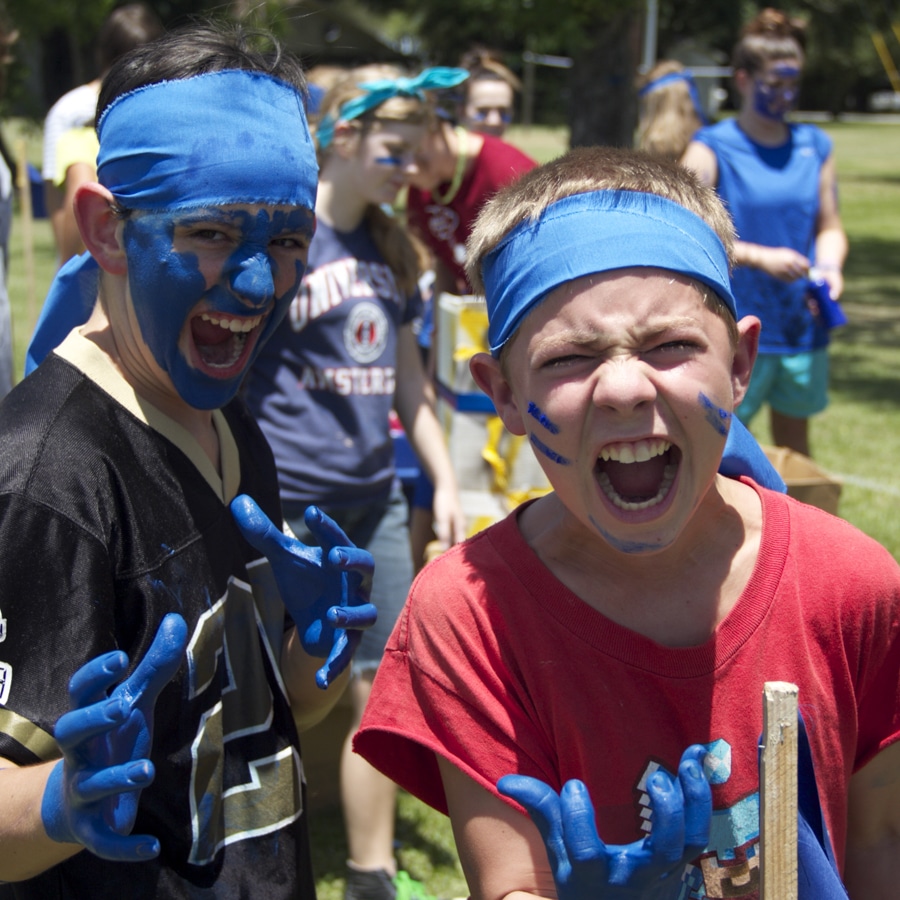 Camper
Entering 7th, 8th, or 9th grade this fall? Then it's your time to be a CAMPER!
Being a camper is what Faith Camp is all about, you get to spend a week at Faith Camp having more fun than you've ever had. You make a lot of new friends, and also get to learn more about your Faith.  All you have to do now is ask your parent or guardian to submit your registration by filling out the Faith Camp "Camper" Application online.
Remember: Applications are accepted on a first-come, first-serve basis, so get your application in as soon as possible.
FAITH CAMP:
JULY 10-14, 2023

COST:  $550
*Scholarships available
**All camp fees are non-refundable.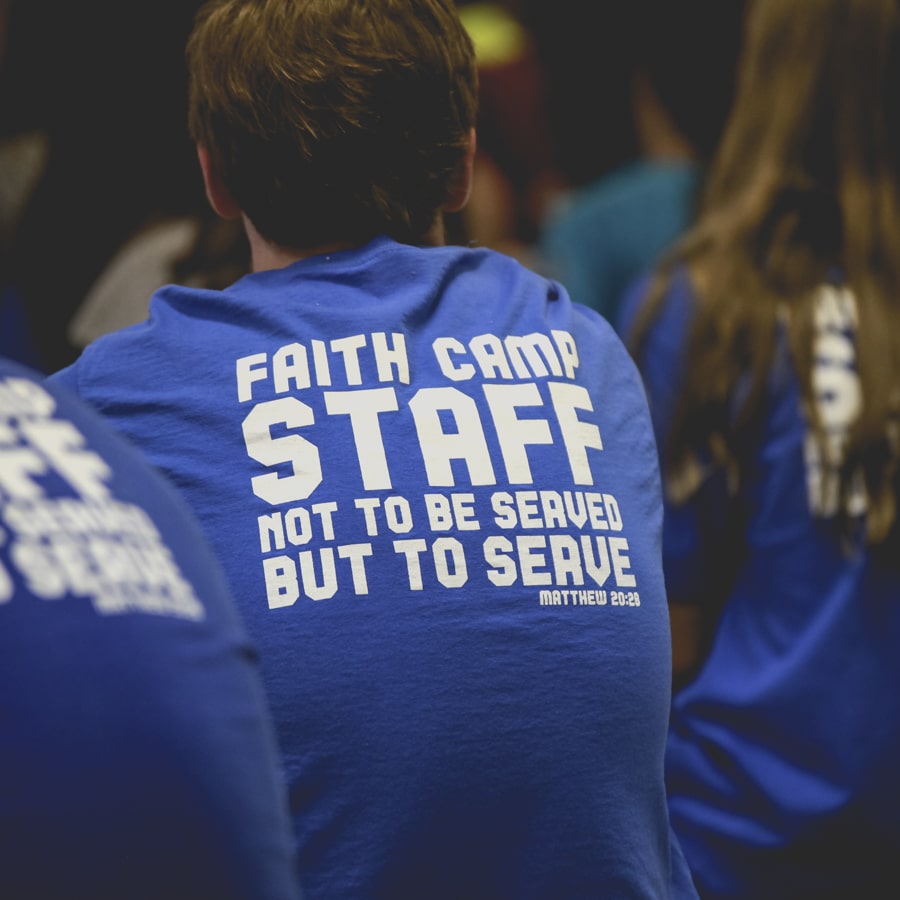 Staff

(Reminder: Staff Applications are to be filled out by the applicant themselves) 
10th Grade or up this fall? Faith Camp Staff is an opportunity for you to take your faith to the next level.
While Faith Camp is geared towards Junior High students, the thing that makes Faith Camp so fun and so effective is that the staff is made up of almost all High School and College aged people who step up to the plate and act as leaders to our campers.  If you want to have more fun than you thought possible while serving God and others, then serving as a Faith Camp Staff is perfect for you.
General Guidelines
The following groups will be preferred, but our staff applications aren't limited to these groups:
+ 18 years old or over
+ Available for work week, staff retreat, and the week of camp
REQUIRED Staff Retreat:
July 6 – July 9, 2023
FAITH CAMP:
JULY 10-14, 2023
Location
Once again, Faith Camp will be at Stillwater Catholic Retreat Center, 13407 Junius Road – just minutes from downtown Abbeville. Spread the word about Faith Camp, and let's get as many people as we can on fire for Christ!
We love our Faith Camp volunteers and are so appreciative of your generosity and willingness to offer your time and talents. Due to our current circumstances, only Faith Camp staff will be present during the weeks of camp. Please consider supporting Faith Camp in other ways, through financial support and prayers.
+

At Faith Camp do guys and girls sleep in separate quarters?
Yes, here at Faith Camp we are very firm on our policies regarding interactions between guys and girls. We want our campers to have healthy relationships, and so we teach that young Christians need to respect members of the opposite sex. To help foster healthy friendships, we do not allow any dating-type relationships during the week of Faith Camp, staff included. Girls are never permitted in guys' quarters, and guys are never permitted in girls' quarters.
+

Can my camper be assigned to the same cabin as his/her friend?
We are unable to accommodate this type of request. The cabins are organized by grade (and, of course, gender) to best serve all of our campers. As such, if your camper and his/her friend are in the same grade, there's a good chance that they will be in a cabin together. It's good to know that most of our time at Faith Camp is spent outside of the cabins. What's more, cabin time is an excellent opportunity to make new friends at Faith Camp!
+

Is Faith Camp a safe and healthy environment for my camper?
Yes, we can proudly say that in all the years of Faith Camp, there have never been any serious injuries. During the week of Faith Camp, we have a volunteer who addresses any health issues that may occur, and who helps to administer medication at the proper time. However, it is imperative that you send your child with any required medicine and inform the Camp Coordinators of any special health needs your child may have, including allergies and special dietary needs.
+

What religious beliefs will my camper be taught?
Faith Camp is a Catholic Camp, we align all of our teachings with those of the Catholic Church. We celebrate Mass twice during the week and spend time in Eucharistic Adoration. Still, the main focus of Faith Camp is to allow your camper to experience the fun and joy involved in really living out his or her life as a Christian. While we are proud of our Catholic faith, we happily accept campers of all faiths to participate in a week of Christ-centered fun.
+

Can my camper leave Faith Camp to attend another activity?
Sorry, but staff and campers are not allowed to leave the Faith Camp grounds for any reason during the week of Faith Camp.  If there is an emergency and your child needs to leave, that is fine, of course, but it is extremely important to the experience of Faith Camp that the campers and staff be present for all activities and sleep on the grounds with their cabin at night.  Therefore, if a camper or staff member leaves, we ask that they not return.
+

Can I bring food for my camper with special dietary needs?
Yes, you may. We hope that all of our campers have the best time at Faith Camp as possible, regardless of their dietary needs or restrictions. However, we are unable to ensure that all of our meals are suitable for your camper. As such, we ask that if your camper requires special meals and or snacks, please  bring them with your camper at the start of the week. We will happily store you camper's food and serve it to him/her at meal or snack times. Please note that we do not serve peanuts with any of our meals. As always, we'd be delighted to answer any further questions, or to respond to any concerns via email or phone.
Questions
If you have any questions about Faith Camp, please contact the Faith Camp Coordinators: