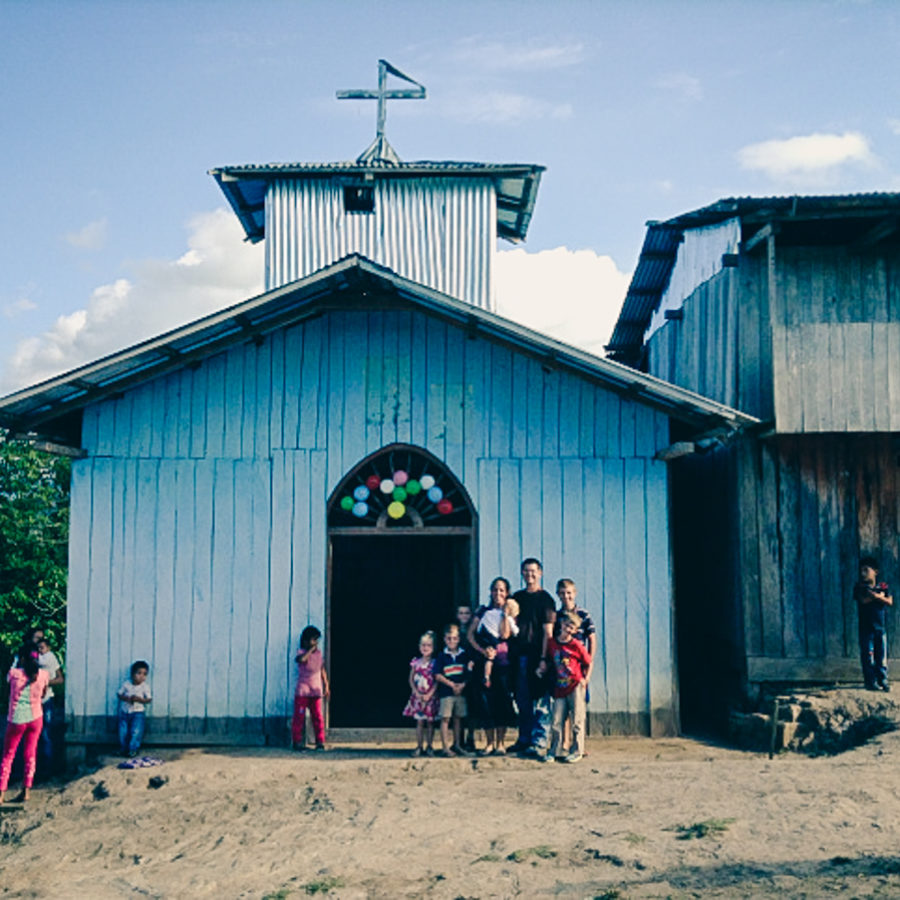 Spend one or two weeks with FMC's full time missionaries in Peru and experience a life that is centered around evangelization and service. In Picota, mission trip participants go out to share the Good News with Peruvians through their loving witness and sharing testimonies of God's grace working in their lives.
Missionaries will spend their mornings engaged in Christian service: work projects such as the building of a chapel; visiting the sick, elderly, and handicapped; and assisting in the material needs of the people. The whole experience is rooted in prayer and fellowship, giving the participants an opportunity to grow closer to the Lord. In the evenings, the team will travel to nearby pueblos, or towns, to celebrate Mass, hold prayer services, and share our testimonies.
Sundays are observed as a day of rest which allows the mission trip participants an opportunity to explore the tourist side of Peru. On this day, participants can visit the nearby cities of Tarapoto or Sauce. They can also explore the local markets or artisans, or hike to and swim under the breathtakingly beautiful waterfalls.
A "desert day," a time of prayer and silence with the Lord, is spent along the shores of the Huallaga River or in the beautiful outdoor area of the local Centro Pastoral.
Individuals and families can join any of our planned trips. // We also welcome church groups, school groups, prayer groups, youth groups, homeschool groups, clubs, and organizations. All you need is a group of 12 or more to schedule and plan a trip of your own. // Medical professionals are encouraged to check out our Peru Medical Mission.
The group will stay at Centro Pastoral, a dormitory setup with girls and guys bunks and bathrooms available. Bathrooms include running water with cold water showers. Meals are made by the caretakers of Centro Pastoral, Maribel and Calampa.
International flights land in Lima. You will need a separate flight from Lima to Tarapoto. Our missionaries will pick you up at the airport in Tarapoto. Then there is a one hour drive to Picota.
Cost
$800 per person
Please ask about our family rates.
Includes the following:
Room and Board
Work/Service Projects
Alms for the Poor
Airport pickup and dropoff
Transportation at Mission Site
* Prices do not include airfare.
Interesting Facts about Peru
The official language of Peru is Spanish although some native Incans speak Quechua. The third official language is Aymara.
The currency of Peru is the Nuevo Sol.
Peru's national religion is Catholicism, which allows us more rights to evangelize the people who do not understand what it means to be Catholic.
St. Rose of Lima and St. Martin de Porres are the patron saints of Peru. You can see their skulls in Lima.
Cuy (guinea pig) meat is used often in traditional Peruvian cuisine.
Peru is very poor monetarily, but rich in natural resources.