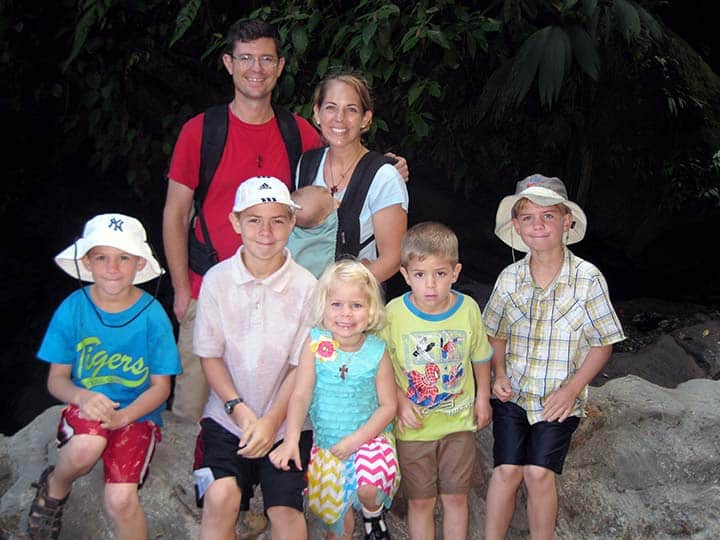 I May Be White, But That Doesn't Mean I'm Rich! // Lessons in Generosity
So, I'm white. My husband is blindingly white! All of my children take after my husband except for their hair, which is extremely blonde while his is brown. Needless to say, when we stepped off of the plane in Peru we really stood out as foreigners. Upon arrival, we quickly noticed a certain, how should I say . . . trend among the locals. Often when we needed to buy something (foods from the market) or receive a service (ride a mototaxi) we are charged more than the locals.  We call it "receiving the gringo discount". It's not all in our mind either.  We were told by friends from here that they are in fact charging us more because they think all white people are rich. Since experiencing this for the first time back  in Mexico, I have been tempted to expose to them all of our families finances and explain that in fact we are no where near rich. Our family of 8 lives on $900 a month (which includes money for alms to help the poor) compared to $3,407.50 that is the poverty line in our country. We almost always wear donated clothing and eat simple meals. And not only that, how dare they charge us extra when we are here to serve them! How rude of them to even think about ripping us off!
  As one of Family Missions Company's 12 Charisms, we try to live Gospel poverty so as to better live in solidarity with the poor whom we serve.  We have, until very recently, thought we did an exceptional job of living out this particular charism. We spend very little on ourselves, and if we get a treat, it is always a cheap one (15 cents can buy you an ice cream). We have been offended and aggravated at people daring to give us the label of "ricos"(rich people). If only they knew how much less we live on than the average person in our country.  They would be shocked! Or so I believed they should be…
But God has been revealing to us a new perspective since we arrived, and we have only now been able to put it into words. It began when we received our first electric bill. It was for $150 soles (Peruvian currency, which equals about $50 USD) and I was so excited that our electric bill was only $50 because of the hundreds it would have cost in the US. Even in Mexico our electric bill was over $100 USD.  But then my dear friend Teresita came by and told me that her electric bill that month was $28 soles (about $9) and she thought that was high. She explained that it was because she didn't unplug her refrigerator every night that month like she normally does because she had made popsicles to sell. Usually to save money, she would unplug her refrigerator so that her electric bill was only $8 soles (a savings of less than $7 USD a month!).  I was pretty shocked. In order for it to be that low, I mentally calculated, she must rarely use a fan (and it's pretty hot here) and barely ever a light in the house. I had seen a TV in her house so surely that would cause her bill to be over $8 soles, right? Come to find out, she doesn't even own a fan. She only has two lightbulbs in her entire house and the TV is in her house only because one of her nephews moved to Lima and needed a place to store his furniture (which is also where she got the refrigerator).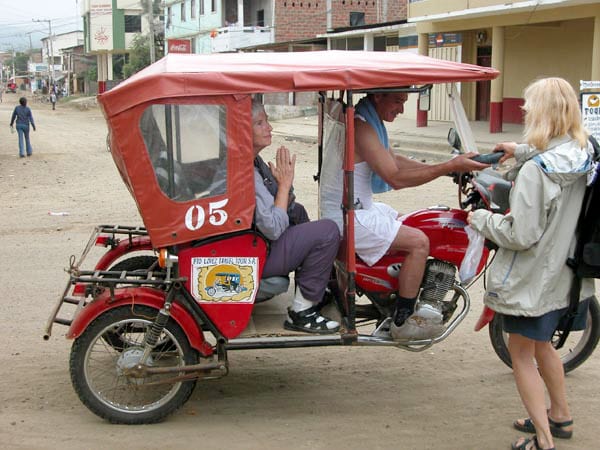 A mototaxi, our usual form of travel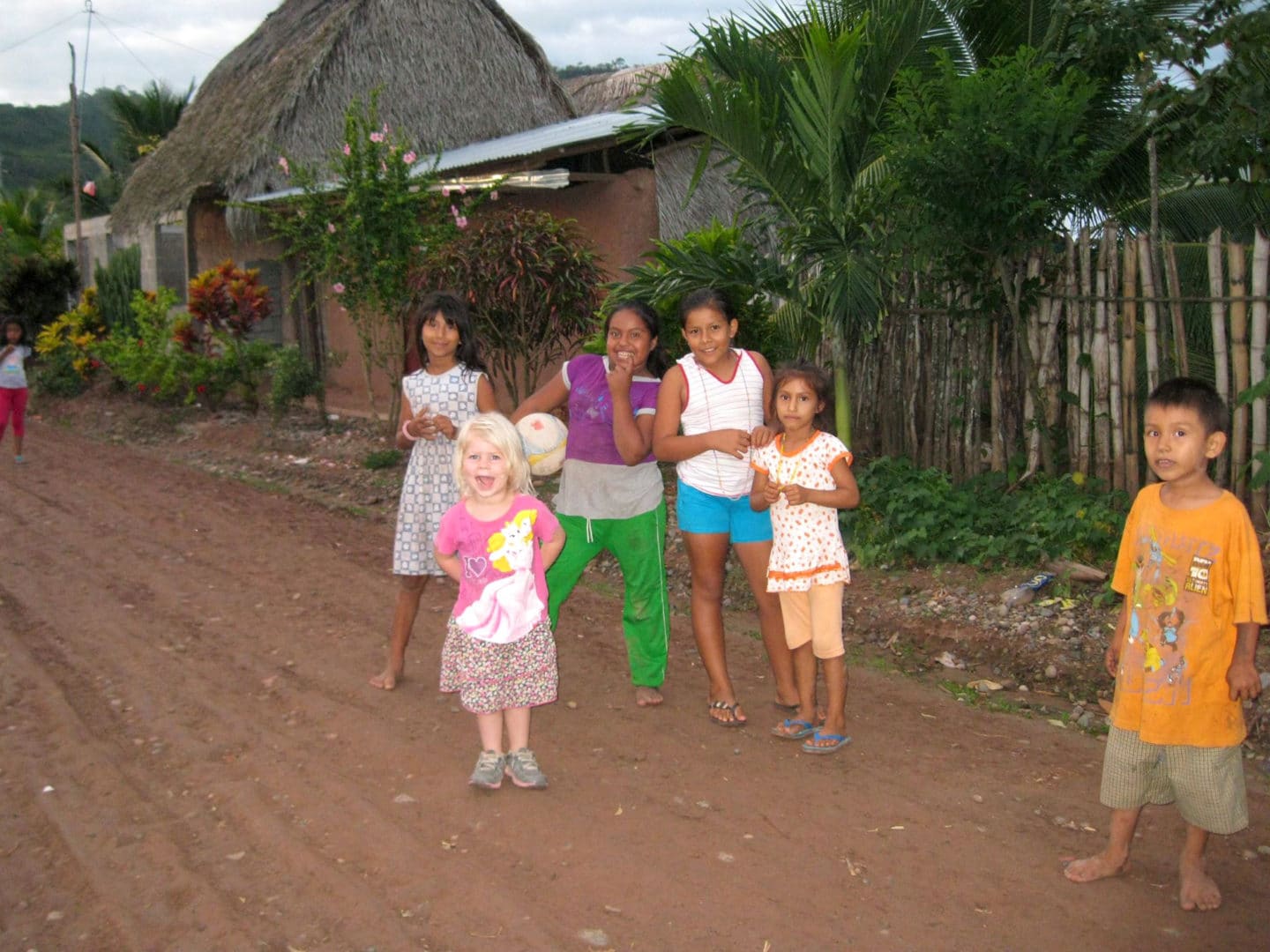 We stand out a little bit…
Later I met this same friend. She and I were both trying to travel to Picota, a town about 7 miles away. We both decided to catch a ride from someone traveling on the road. It was really hot and there was no shade where we were standing. Not long after I arrived at the road, a mototaxi (like a motorcycle that seats 4) showed up and I got in. Teresita said she would stay and wait a little while longer (even though there was room in the mototaxi). I paid my $3 soles ($1 USD) and arrived in Picota not long after. Teresita later informed me that she waited for 30 minutes for a truck to pass and caught the truck instead of the mototaxi. After I asked why, she explained to me that the truck only cost 1 sole (30 cents). But she had to wait out in the hot sun for 30 minutes to save 70 cents! I couldn't believe she thought that it was worth it!
During the hours we open Hogar Ezekiel (The Ezekiel Home is an educational, spiritual, and recreational center we started to minister to the youth in our village), a man rides a bike past our house honking a bike horn to let us know that he is selling ice cream cones. Each cone is 50 centimos (about 15 cents). Occasionally we like to buy ice cream for the children that are in our house at the time this gentleman rides by. On average we buy 20 cones and it "only" costs me a little more than $3 USD. Not much at all, right? And occasionally we like to pay for our motocar driver to receive a full tank of gas. It costs us the equivalent of $5 USD. Such a small amount for us, so why not surprise the driver every now and then when he pulls up to get gas on the way to bring me home? 
Why not, I ask? I'll tell you why. Because then everyone calls us rich. They think of us as being rich. They start to try to charge us four soles for a ride home, instead of three soles like it's supposed to be, and we can't have that now can we? By being generous to the people here we are risking our reputation of being poor. They may end up deciding that we are, in fact, rich, and  … and … and … what? 
I'll tell you what. They will think we are rich because to them and their wallets we are rich!  They will call us what we are! They live on around $17 USD a day — and that's if they receive the "good" workers wage. We live on double that. If you are an unskilled worker you earn $10 USD or less. That's why filling up their gas tank for them is a huge deal. That's why buying all the kids an ice cream may be looked on as extravagant. That also happens to be why happily receiving the "gringo discount" may be the best thing we can do! What's an extra 30 cents to me? Now here's the real question: what's an extra 30 cents to him?! 
After this revelation we have decided that we will, from now on, willingly accept the label "rico". If it allows us to freely help those around us, then we dang well will give more when we can. Such a little thing, and so easy to do, to bring a smile to many faces! The money we have isn't even ours, nor is it really the money of our benefactors. This is God's money and we are here as His hands and feet! It's just another opportunity to spread God's love around. And when people ask us why we do what we do, we will more than happily explain that it's not us, but our awesome God who created us, loves us, and provides for us who is doing this through us! Let the conversations begin!
Comments are closed