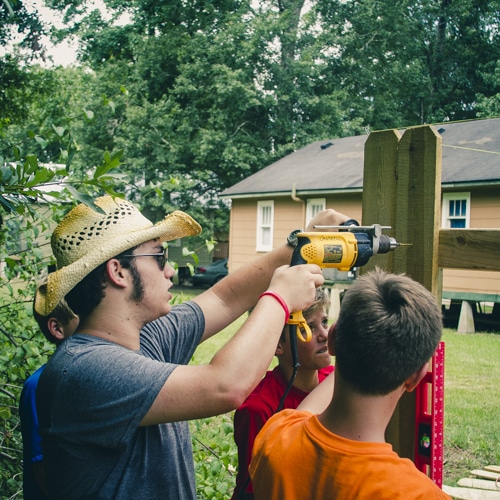 Work alongside FMC's staff and full-time missionaries at our stateside mission base – Big Woods Mission. Our work here is centered around supporting our missionaries preaching the Gospel and serving the poor in the foreign mission field. You will be assisting us in that effort, as well as other work projects at the base. We are also committed to serving and ministering to the poor in our local community; some common activities have included partnering with the Christian Service Center in serving the poor of Abbeville, going on nursing home ministry, joining prayer meetings with the Spanish-speaking community, and serving food to the homeless at St. Joseph's Diner in Lafayette.
Desert day, a time of prayer and silence with the Lord, is often held at a nearby state park. After prayer time, you can enjoy the splash pad, canoe in the Vermilion River, or hike through the woods at the park. That evening you will get a little taste of Cajun cuisine and Cajun music.
Individuals and families can join any of our planned trips. We also welcome church groups, school groups, prayer groups, youth groups, home school groups, clubs, and organizations. To plan a trip of your own, all you need is a group of 15 or more to schedule.
Your accommodations will be at Family Missions Company's retreat center, Our Lady of the Bayous, or at our newly acquired campground.
Drive your crew down here! Or fly: the closest airport is the Lafayette Regional Airport (LFT) in Lafayette, LA which is approximately a 30 minute drive from Abbeville.
Cost
$600 per individual
Inquire for family rates.
Interesting Facts about Louisiana
Louisiana, especially Acadiana or Cajun Country – where both Abbeville and our Big Woods Mission lie – has a deep French heritage. The Cajun French dialect is still spoken in the area.
Louisiana is divided into 64 parishes in the same way that 48 other states of the United States are divided into counties. The state was formed from French and Spanish colonies, which were both officially Roman Catholic. Local colonial government was based upon parishes, the local ecclesiastical divisions (French: paroisse; Spanish: parroquia).
The Catahoula Leopard Dog is the official Louisiana state dog. It is likely a cross of breeds raised by Native Americans and those introduced by Europeans. The Catahoula has unusual glassy eyes, webbed feet, a spotted coat, and is gentle with children.
Kim Krings // Mission Trip Manager