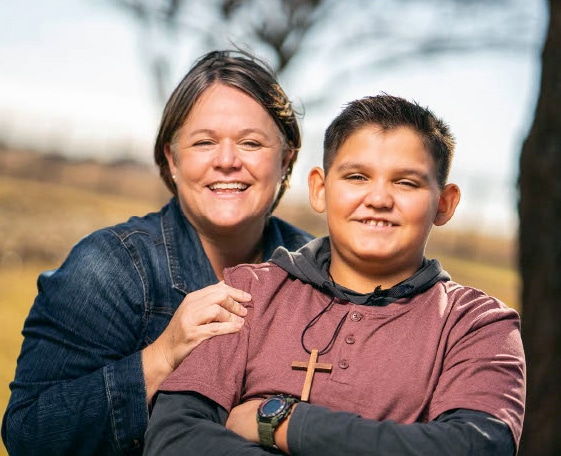 Karen Del Castillo and Family
We are the Del Castillos and we have served with Family Missions Company since 2017. We served our first two years in the San Martin Region of Peru. Since 2019 we have been in the northern part of Peru serving the poor in the Chachapoyas Diocese, located in the heart of the selva known as the Amazonas region. Through our own testimony of God's immense love and personal conversions, we have been guided by the Holy Spirit and have experienced doors swung wide open to the opportunity to minister to unwed mothers and children who have been abandoned. 
As a family, we are delighted that Jesus called us to testify of the miracles He is capable of performing within the hearts of families. Not ashamed of our own testimony, rather empowered by it and the Gospel, we have been called to live and serve Jesus's beloved poor, vulnerable, voiceless, and all-too-often forgotten women and children, who deserve to be treated with respect and dignity. 
The call to build a home for unwed mothers.
Santa Maria Magdalena's home was born out of fruitful and intimate prayer time with the Lord. Jesus has pursued me and desired to heal my heart and my soul, as well as the hearts and souls of my children, after a lifetime of severe sexual and mental abuse and broken marriages, which left me a single mother of 4 children. I found in Jesus's mercy and forgiveness the meaning of true love, a love that would last, a love that was unconditional!  
It was through my prayer time in front of the Blessed Sacrament that I heard Jesus tell me "get up my child, do not cry anymore, I need you to follow me." So I did! In 2017 My children and I became Catholic lay missionaries. Despite the fact that I was even asked by someone within the Catholic Church, "What do you have to offer in the mission field as a single mother?" And honestly, I had no idea at the time. But Jesus did! 
Since my family's arrival here in Peru, the Holy Spirit has led us to single mothers—and that's where my family's mission has been. We were sent by Jesus to truly live in solidarity with the poor! I can safely say that I now can answer the question I was once asked so many years ago about what I have to offer as a single mother in the mission field! I am here to love these beautiful women and their children, I am here to fight for their rights, their dignity, and their souls. I am here to give testimony of the miracles He is capable of performing. 
The cycle of abandonment is a real thing here in Peru. When you ask a mother or a child how they feel about it, they reply, "it is normal, its life." 
So that's where my family and I come in to play. Jesus wants to stop this cycle of abandonment and abuse! Jesus has revealed the mission to us and it is to bring His love to these beautiful women and their children. To allow them to know that they are loved, forgiven, and pursued by Him. It is my simple desire for them to encounter Jesus in the same way I did, and to provide a safe and holy place for them to heal their broken hearts and souls! I what to surround these beautiful broken families with his love and passion. It is simply my desire to bring them to the foot of the cross so Jesus can restore them and make them new! 
Through Jesus's Love our hearts are full and satisfied! 
Learn more about Santa Maria Magdalena's Home here.
"Spreading the faith is a task not only for bishops, priests, and religious—it is a task for all Catholics." – CCC 905
"Go, therefore, and make disciples of all nations, baptizing them in the name of the Father, and of the Son, and of the Holy Spirit, teaching them to observe all that I have commanded you." – Mt 28:19–20.
"The hunger for love is much more difficult to remove than the hunger for bread." – St. Teresa of Calcutta
Visit Karen's Facebook page.