Humility, We Need You
Since arriving here in Costa Rica we have attempted to learn how to live like those around us. As FMC missionaries we are called to live in solidarity with the poor. This started two years ago when we sold many of our things, or gave them away, as we prepared to leave our home, families and friends to move to Louisiana and become foreign missionaries.
In the Philippines we were humbled on a daily basis by the poverty that was all around us. A trip to the store was always accompanied by someone asking for food. Sometimes it was the children who lived on the street with no parents to care for them. We encountered people who couldn't even afford to buy a kilo of rice for their hungry family for less than what we would spend on a coffee or ice cream in the United States. Our decisions about what to buy for our family to eat or use was challenged by the knowledge of what our friends and community could and could not afford to buy for their families. It was a constant question in our minds (should I buy this?) and an opportunity to sacrifice and have true empathy for our brothers and sisters who suffer in poverty on a daily basis. There were days when we were asked to give what we had (even what we needed for ourselves) so that we could give not from our surplus but from our own need.
One of our most memorable experiences in the Philippines was the day we bought rice and some other things for our friend Maricel. As we were walking with her to her home, Donovan accidently dropped the bag of rice into the dirt and the bag busted open. Our immediate reaction was that the rice was ruined and we would have to go buy some more. But as we turned around we saw Maricel bending down over the rice gently picking up each piece of rice and putting it back into the bag. What I saw as a little inconvenience she saw as her entire weeks' worth of food in jeopardy. In her humility she wasn't willing to waste the food that had been provided to her.
Now in Costa Rica we don't see the poverty all around us in the same way as we did in the Philippines. But that doesn't mean that it's not here. It just looks different sometimes. Of course there are people here in great poverty living in makeshift homes and living off of very little. In the rural area where we live there are several different kinds of houses. Some are made from only wood slats with windows cut out. Others are made of cinder blocks and wood and others just cinder blocks. Some homes use fire to cook with and others have gas burners or even a full oven with stove top. Air conditioning is rare and many homes don't even have screens or glass windows.
I was talking recently with someone about the average wage for people who live in this area. It turns out that most workers find jobs working the local farms (palms & wood) and make a little under $1.70 per hour. They work 12 hours a day and 6 days a week if there is enough work. When work is slow they don't have a job and don't get paid. For those who have full-time work it comes out to about $525 per month! Now this sounds low and especially because in most families only the father is working. Then add the fact that food costs about double here than it does in the states. So, for example, a carton of eggs costs $3.20 and a quart of milk $1.
To better understand what kind of prices these are I thought about what it would cost someone in the states working minimum wage to buy the same items. So if you make $7.25 an hour and work the same amount of hours your monthly income is $2,244.60 before taxes. To buy a carton of eggs would be like spending $13.63 and a quart of milk $4.26 (a gallon would be $17.04), a loaf of bread $12.05 and a jar of Jif Peanut Butter $24.11! It makes sense why so many people eat mostly rice and beans with some vegetables, eggs, and meat added as sides. It also makes sense why many people in Coopevega don't have cars, and walk or take the bus. Gas costs about $5 per gallon so that would be like paying over $20 per gallon!
Again the Lord is humbling us by asking all of us: What choices are you making when you shop for food? Do you appreciate what you have? Do you really need that? What can you give up so that you can give to someone who is in more need than you? Are you only giving from your surplus? These are questions I ask myself and struggle with.
And most importantly:
Do you know how much I love you and will provide for you what you need? Can you trust me to take care of you?
Humility is realizing that I cannot control everything. Humility is turning to the Lord and knowing that He is in control of my life. Humility, we need you.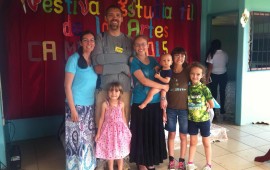 Comments are closed