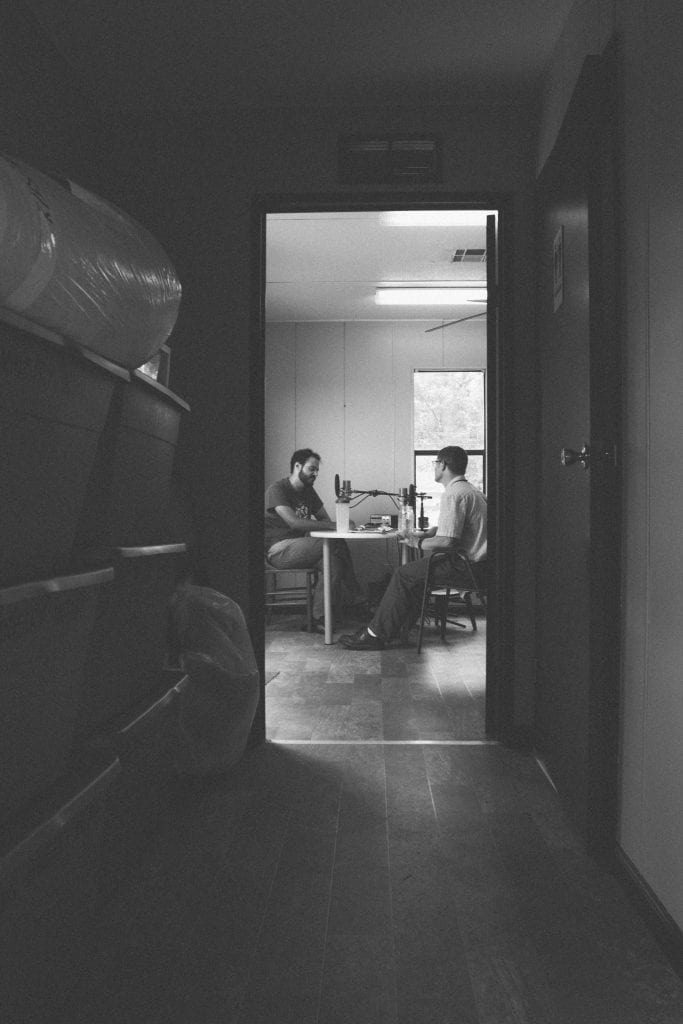 [The FMC Podcast began in March of this year, a new way for FMC to engage people with the mission of the Church. Kylie Dold caught up with hosts Jonathan Kiehl and Matt Spizale for an interview.]
Kylie – Have either of you ever done a podcast before?
Jonathan – We are utterly inexperienced in podcasting and brevity.
Matt – That's right.
K – What are your hopes or goals for the podcast?
J – We live in a time when, especially in our country, people pick and choose what they want to believe, practice, or at least emphasize, based upon political agendas or other extra-ecclesial sources. We really wanted to present the fullness of Catholic teaching, highlighting certain Catholic teachings that would challenge our listeners. We wanted to provoke the listener to rethink common assumptions. We try to find a centrist position, not right or left, but rather explaining our understanding of the authentic teaching of the Magisterium, Sacred Scripture and the tradition of Christ's Church.
M – We've tried to discuss hot topics from the position of the Church and from the position of Jesus. That has to be our first focus. Jesus informs our way of thinking about the world. So, in the podcast, we want to ask what that looks like and how we live it.
J – If we could achieve one thing through this podcast it would be that people would approach their lives – whether politics, society, family – receiving from God, through Scripture and the Magisterium, the tools to then go out and live a truly Catholic life. So often today I see Christians first getting their point of view from outside the Church and then judging the Church according to secular viewpoints received from Fox News or NBC, etc. One then ends up with a very limited receptivity to what Jesus is saying. We want to challenge that way of thinking and living.
M – We are just two guys honestly struggling to follow Christ and the teaching of the Church. The term "cafeteria Catholic" stands out. We're trying to be both St. John Paul II Catholics and Pope Francis Catholics.
J – We want to combat cafeteria Catholicism.
K – How does being a missionary influence this podcast?
M – Being an FMC missionary influences how I present my viewpoint; it informs the way I present things. Being a missionary changes the tone of everything. We try to avoid simply presenting all our gripes.
J – I would say that a missionary is a herald of good news, of joy. We aren't trying to criticize others. Our method has been to consciously avoid apologetics and simply proclaim the Biblical and Church teaching in joy. As missionaries, we are constantly thinking of ways to present the Gospel and this podcast is another way of doing that.
K – Jonathan, what does Matt bring to the podcast?
J – Matt brings a great sense of humor. He constantly encourages me. He has a great knowledge of politics and current events that I am wholly ignorant of. Matt is also so easy to get along with, which helps to balance my critical spirit. I can't imagine Matt angry: I think if I saw him lose his temper I would have a hard time taking him seriously.
K – Matt, what does Jonathan bring to the podcast?
M – He brings a wealth of knowledge about the Church and Scripture, things that I am really interested in but haven't had as much time studying as he has. He is also an experienced missionary. This has particularly helped with discussing Pope Francis. Jonathan has spent time in Latin America and that experience offers good insight into many of the Pope's comments and interpreting them. He has a great sense of humor as well. He has a certain charity in his ear. He is a good, open-minded listener. He tries to understand other opinions.
K – Why should someone listen to this podcast?
J – Listening to this podcast will help you become more informed about what the Church teaches and how it lives its international life. We try to give a more universal perspective derived from the Church's experience throughout the world.
Comments are closed