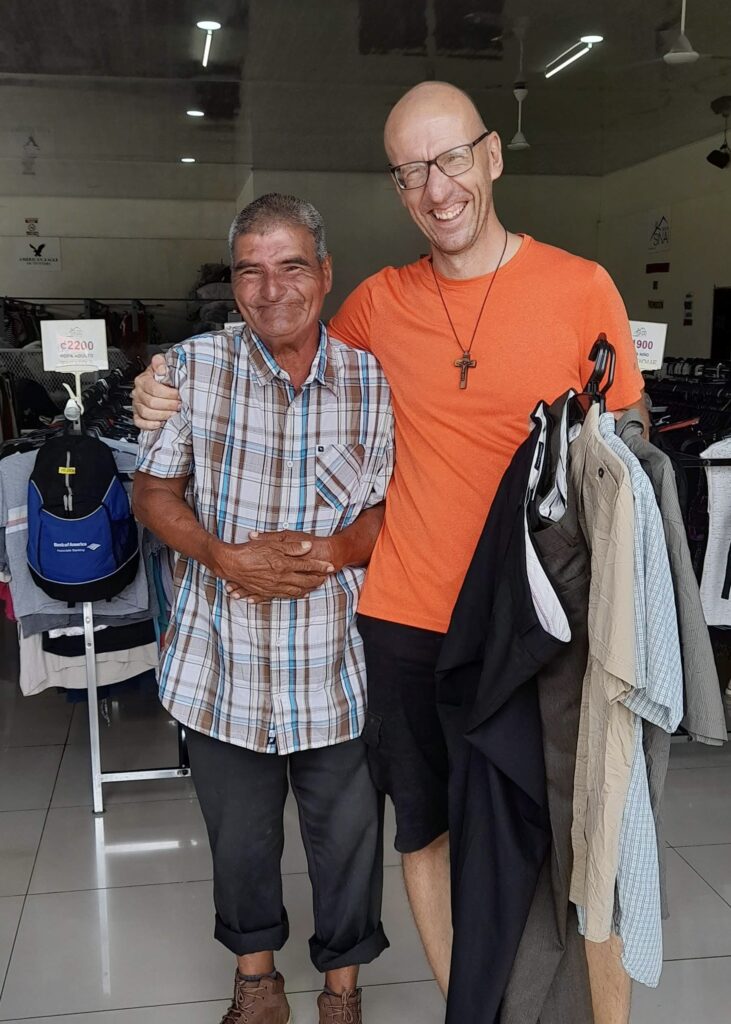 Valentine's Day Shoes for Edrin
In Costa Rica, Valentine's Day is called Dia del amor y amistad which translates to "Day of love and friendship." 
At our kids' school, the senior class, which is our daughter Anna's class, did a fundraising event of making bouquets of flowers for different people (best friend, boyfriend, girlfriend, anonymous, secret admirer, etc.). 
My wife, Karen, and I felt called to reach out to someone who probably hadn't felt love from others on Valentine's Day. We decided to take our friend Edrin shopping for some new shoes and socks and some new shirts and pants. We have a shoe store here where they import handmade shoes from Nicaragua, which are all leather and affordable.  
We managed to find Edrin's size in a pair of boots. I don't think I have ever witnessed a new pair of boots bringing someone so much joy. 
After we left the shoe store, we stopped by a secondhand clothing store that imports a lot of clothes from secondhand stores in Arizona, Georgia, Texas, Florida, and California. We were able to find Edrin some new shirts and pants so that he doesn't wear the same clothes each day as he stands outside of the National Bank here in Santa Rosa begging.  
The Lord is slowly softening my heart to Edrin at the same time that He is transforming Edrin. When I first met him, he was very bitter and angry. Over the last 15 months, the Lord has softened Edrin's hard edges and helped bring out the joyful and youthful man that has been inside of him all along. So, to sum it up, Edrin and I are still works in progress. We should walk around with signs around our necks that say "Under Construction."
Please pray for our mission work here in Costa Rica, and pray for Edrin and me, that Our Lord Jesus can continue working to soften up our hearts and to make us more childlike each day.
Comments are closed