A Filipino American Missionary
My name is Joshua. I was born in the Philippines. My mom died right after I was born. Me and my brothers and sisters lived with family while my Papa went far away to find work. We moved around a lot. I got kicked out of a lot of places. When I was 12 years old, I was sent to live with my dad in the mountains because I was getting into trouble. I was always skipping school with my friends, smoking cigarettes and marijuana, drinking alcohol, and stealing.
In the mountains I just found new friends to smoke and drink with. My Papa didn't want me to end up like him, unable to read or write, but he didn't know what to do with me, so he let me quit school and go to work in the corn fields. It was so hot, and it hurt my hands. I wanted to go to school and learn, but it was too late. I had not been to school in several years.
One day my sister called my Papa and asked for food, so my Papa sent me on the bus to bring her a sack of rice and money for milk. When I arrived the next morning, my cousin told me that some Americanos had moved into the house on the corner. So I ran to their gate to see them. I met their two boys first, Philip and Isaac; they were about my age. Then I met Emily and Olivia. And then I met Mom and Dad.
I did not know any English, but I knew how to say "work." They let me help clean the yard, pull weeds, and build them a garden. Mom invited me to eat at their house every day when I worked, so I asked for work every day. I then started going early and joining them for morning prayer. I went to the Bible study and met all the other missionaries. I finally started to go to Mass with them on Sundays, but I stood in the back for a long time before I ever sat with them.
One day, Mom asked me if I went to school. I had been lying to her, telling her that my teacher was absent so we didn't have class. I told her the truth, and she offered to teach me Math and English. I started going to their house every day to learn instead of work. Then I started sleeping at their house every night. One morning, Dad asked me if I lived in their house and I said, "Yes." Then mom said no more smoking, drinking, or stealing. I quit doing those things.
I felt really good. I wanted them to adopt me and let me live with them forever. One day my Papa came from the mountains to find me because I never went back. He came over to talk to Mom and Dad. After he left, they asked me if I wanted to be in their family forever. I said that I did.
They started the paperwork for the adoption and I started going to school. I had to work very hard in school and very hard to learn English. I also wanted to know more about Jesus and why the people killed him, so I asked a lot of questions. My new family told me the stories in the Bible and taught me how to pray. Later I started preparing for my first confession and first communion. I felt very happy after that. I learned to read and now enjoy reading my Bible. I like the stories about Jesus and His apostles.
My adoption was finished on June 13, 2017. I'm now a Filipino American missionary. I like being a missionary and meeting other street boys and telling them my story.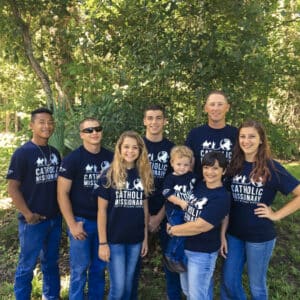 Comments are closed