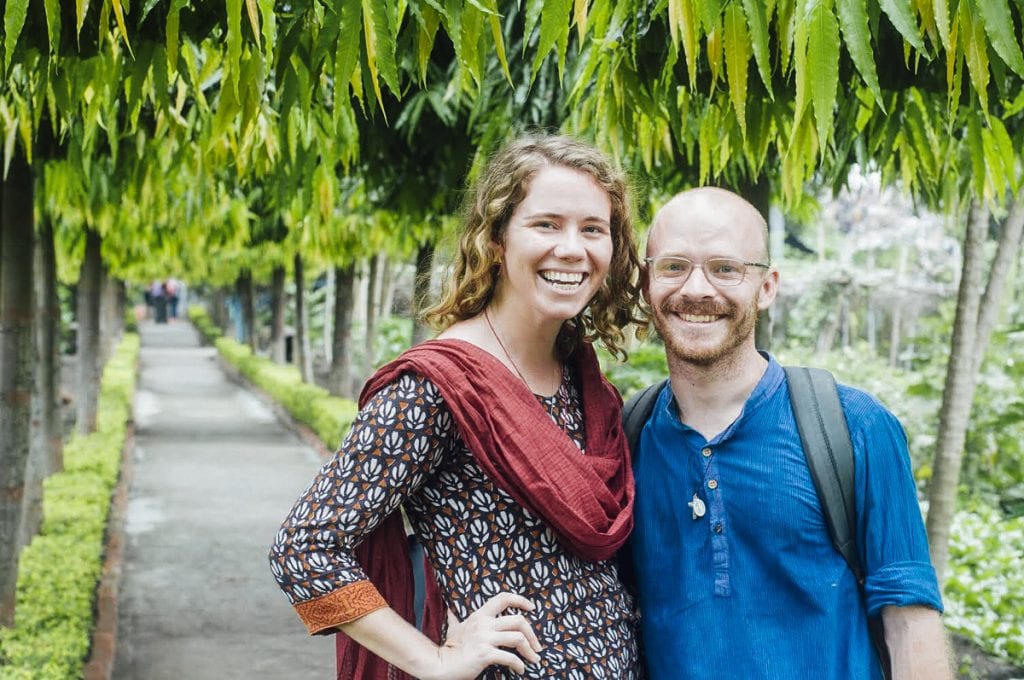 The Ultimate Matchmaker
When I joined FMC in 2013, my biggest struggle was the first-year "no dating" commitment. I had just ended a five-year relationship with the man I planned to marry. When the Lord called me to become a missionary, He asked me to abandon what I had planned for myself, to follow His plans. I said yes and let go.
As a single twenty-something serving the Lord on a tiny island in the Philippines, I worried about finding my future spouse. Instagram and Facebook constantly reminded me that I was missing out on prime husband-spotting opportunities. How could any great, young Catholic guy get to know me when I was going to daily Mass on the other side of the world?
"Lord, am I wasting my prime years serving You, building Your Kingdom?" Imagine His answer. I really wanted to take control: I wanted to find my future spouse or at least put myself in the best place to be found! This time in my life was not easy, yet through prayer and continual abandonment of my plans, the Lord spoke a promise to me through Scripture, in Jeremiah 3:15. He promised to give me a spouse "after [His] own heart," a spouse who would lead me closer to Him. Amazed, I knew the Lord was asking me to surrender my desire to Him in trust.
I did my best to let go of control, not stalk men on Facebook, and focus on my work in the Philippines. I poured my heart and soul into the mission, into our students and friends whom God gave me to love. And it was great: I was so filled by the Lord. I saw my purpose in serving Him. In my effort to trust Him, I put aside my desires and concerns for a future spouse. I figured that would come very far down the line.
But thankfully, God is at work even when we are unaware. During my time in the Philippines, our fellow missionaries from other Asian countries would sometimes visit. Unbeknownst to me, one of them, my good friend Thomas, really liked me. As I continued to feel hidden away from every good Catholic man, one was continually visiting and growing in a beautiful friendship with me. I remained clueless.
"God is at work even when we are unaware."
After two years of stifling his feelings, Thomas asked me on a date when we were both home at our mission base in Louisiana in December 2016. I was totally shocked and caught off-guard – Thomas?
After two dates and some long phone calls, I realized the Lord had been cultivating a deep friendship and preparing my heart for Thomas all along – a spouse after His own heart, a man far better than I would have ever found myself. One week after we became official in January, we left for our respective mission posts. I had found "the one," so leaving was hard, but we knew that the Lord had called us to seek first His Kingdom.
After dating for six months long distance, Thomas proposed to me on Camiguin Island at Holy Rosary Catholic Church, the very church where the Lord made His promise to me for my future spouse. While I had been tucked away on some small foreign island, the ultimate matchmaker was at work. Now I am not saying that God is churning out made-to-order spouses for missionaries, but God does have a happy ending for you. The Lord is trustworthy. We never need to fear in following Him, because His plans for us are good.
When I joined FMC, I thought the Lord was taking away my best option. How small-minded! My plans could not compare to His. There is great hope for each of us because we are loved so uniquely and personally by our Father in heaven.