"Encourage Each Other Daily While it is Still Today." (Heb. 3:13)
by Ryan Lawless | Ahuano, Ecuador
Being in missions, I am learning that encouragement can enlighten someone's perspective on themselves or their situation, and even soften their hearts. I would like to share a glory story of encouragement. When my mom was visiting me in Ahuano, I took her to visit a family, husband and wife, Luis and Marianna. They are an older couple about mid-70s. They have so much faith, and go to Mass every Sunday. They have been miraculously healed from cancer and other ailments because of their trust in the power of prayer to Jesus through Mary. They pilgrimaged to holy sites in faith seeking healing, trusting in the graces through our Blessed Mother to be given to us, His faithful. And they were healed! They give all glory to Jesus Christ. When we see them, they welcome us with hugs, sincerely concerned for our well-being. We talk and laugh. We listen to their struggles.
So, with my mom, we read from John 15. Certainly, Jesus encouraged the disciples as He revealed the persecution and suffering they would bear. And He continues to encourage us today: "It is I. Do not be afraid." He chose us. He chooses you. You are His! For you, He has plans of welfare, not of woe. Go to Him, He is listening. Look for Him with all of your heart. He is there, so that your joy may be complete.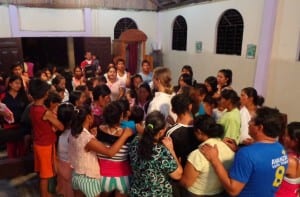 This joy is deeply rooted, not superficial, and will persist especially in times of persecution and suffering. This is our faith! So, I encouraged Luis and Marianna in their journey. I thanked them for their incredible witness of faith and their commitment and respect for the Mass, and their belief of the presence of our Lord Jesus in the Eucharist. I encouraged them to persevere in all faith, in joy, through the pains they are enduring now, knowing that what awaits them is eternal glory.
Then, they began to encourage me. They spoke about how they always pray for each one of us missionaries. They are so appreciative of our presence, especially for our visits. Then, Marianna said to me: "I have never seen anything like what you guys are doing. You are out there working and sweating alongside the people. You are helping them." That latent joy welled up from within me. What we do matters!! Their words illuminated my soul and gave me a new impetus to evangelize. I couldn't wait to tell the rest of the guys.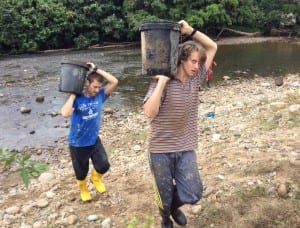 Pope Francis says in Evangelii Gaudium: "Evangelizers thus take on the 'smell of the sheep' and the sheep are willing to hear their voice." This is our desire. We are working side-by-side with the people cleaning in their fields with machetes, planting, seeding and harvesting crops. We are mixing cement, carrying rocks and materials on our backs to build a chapel. We are standing beside the defeated, after the loss of a loved one. We listen to the heartaches of the poor in search of their 'daily bread', and encourage them to put their faith in Jesus; He will provide. We enter into their very lives because Jesus incarnated into ours. And the sheep recognize His voice.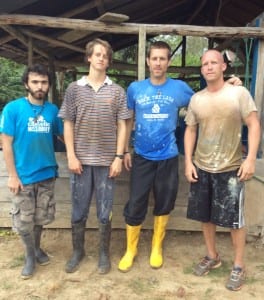 When you feel that your work goes unnoticed, or that your efforts for doing good have no effect… Don't despair. Remain in His love, you are appreciated. I encourage you, today, to encourage someone else in their journey and through their struggles. Jesus is with us. Hear these words from our Creator: "Because you are precious in my eyes and glorious, and because I love you." (Isaiah 43:4)  You need to hear that you are worthy. You need to know that you have dignity. You are a gift, and serve a very special purpose from the Lord, for His plan. You need to be consoled, affirmed and strengthened. Nothing can stop you, for you are no longer chained, no longer dead. You are ALIVE in Christ Jesus! AMEN!
Comments are closed