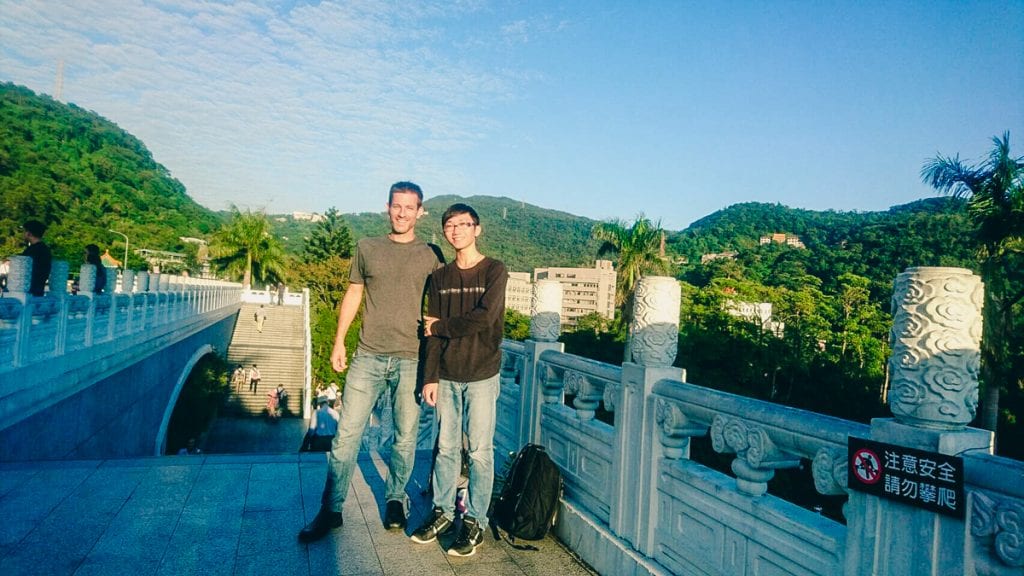 How can I fully express to you the love I feel for Taiwan? After living here for nine months, I call it my home. There are multiple reasons for this: the witness, love, and mercy of my team; the incredible experience of telling those who've never heard about Jesus; the culture and people of Taiwan; and my dearest friend here, Brian.
We've only known one another since August. Our encounter began on a bus because of the content of his shirt. His shirt said, "I am nobody." Thomas and I read it and approached him. We asked if he knew what his shirt said and what it meant. Brian said he understood it, saying it was just a shirt. We continued talking and invited him to dinner. This is how we met Brian.
      "His shirt said, 'I am nobody.'"
Soon I was spending a day with him every weekend. We invited him to many things, first the Holy Mass. So now for three months he has been coming to the Mass. I don't even have to invite him. Quickly, we became friends. We talk about normal life, and speak a lot about God, the Catholic faith, and Scripture. He is open and not afraid to ask questions, even if he doesn't believe in God. That first night at dinner we spoke with him about the inherent worth of our lives: how each individual person is precious and made for a greater purpose. Our identity is not formed by what others think or their expectations. But the culture here demands success in school, work, and life: without which it labels you a "nobody." The weight that the children, youth, and young adults bear is incredible, as parents and teachers reject mediocrity to the extreme of comparing the results of their children with their more "successful" classmates. With Brian, we discovered this struggle. Now, after three months of hearing about the love of God and that his identity is in God, his entire demeanor has changed. Brian, who once seemed reserved and hesitant to explore, now explodes with joy, ready to encounter something new.
      "This culture demands success in school, work, and life: without which it labels you a 'nobody.'"
I have been asking the Lord to provide the opportunity for me to help him to pray. Then, a week before I had to leave, we went on a small retreat. Brian came. The second day, the priest had us do an exercise praying over one another. It was to teach us how to listen to the Lord and then specifically pray over one person. Brian wanted to leave, believing he didn't belong because he didn't know how to pray. Praise God, this was the opportunity. "Brian, this is why we are all here; this is what the priest is teaching us… how to pray." He stayed. I prayed over him. Then, Brian listened to the Lord and told me what he received. The image was so intricate and profound. I believe it was from the Lord for it described what I was dealing with personally, which he didn't know about. Then, he began to pray over me: "Lord…" I was so moved.
I feel like St. Paul describing Onesimus in his letter to Philemon: Brian is my very heart and, in some ways, my child. I admire Brian for his humility and his willingness to take risks: trusting us enough to receive love from us and Jesus, and coming outside himself to love others and himself. I am moved with compassion for my dear friend, and am amazed how the Lord has worked in him. I am so thankful that at the heart, we are real friends. Now he is no longer "nobody" – he is my heart, my child, my friend and he is known, by the Lord and by us.
[Editor's Note: Due to possible religious persecution in some countries, names have been changed and certain references to countries and languages have been either changed or removed.]
Comments are closed