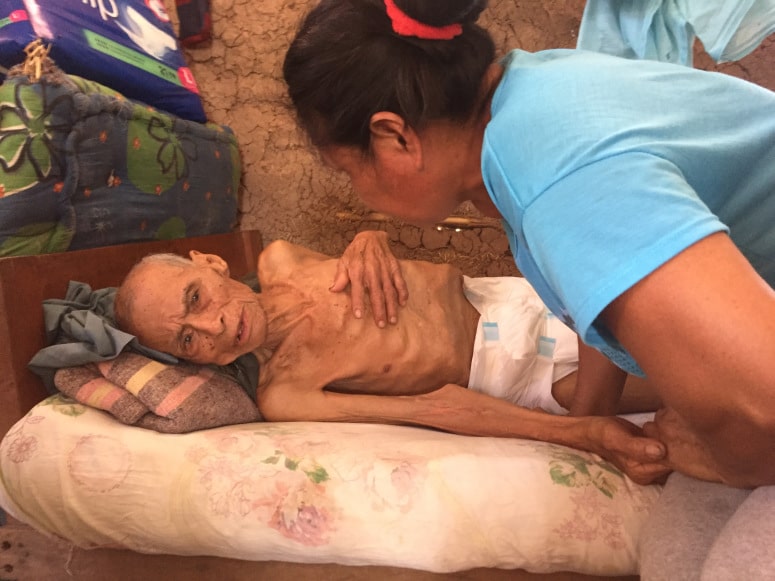 I Can't But Jesus Can
Within the first month of arriving in Perú, we visited a man, named Señor Segundo, who was dying. He was so sick that he no longer wanted to eat and barely drank water. As a result of his loss of appetite his boney figure was swallowed in clothes that used to fit him perfectly. We visited him and his family a few times before he died to pray with them and for him. The day we went to give our condolences to the family after his death, I felt a familiar weight over my heart and found myself unable to stay for a full five minutes. The deafening weight of grief was too close to home and with a panicked, tear-filled grip to my teammates I said I had to leave. With a quick goodbye, already beginning to feel the floodgates breaking, I nearly ran home, proceeded straight to the chapel and cried for hours.
Then, the Devil gripped my heart and began his accusing, "Are you kidding me? You're a few weeks in and you can't even give a family the decency of being with them in their grieving. How can YOU be a missionary? This is your life and you already fail miserably at it. You always do this, you always run away in fear."
But then the Lord's voice came, "My sweet, come here." And I felt the familiar hug of Jesus, knowing my heart, holding me close in the pain. There was no mention of the family, there was no accusing, there was no pressure, just His heart enveloping the hurt of my own. And I felt understood and safe to cry.
From that moment on visiting the sick and dying became the hardest chore of my heart. I felt called to go but somehow my own wounded-ness kept coming forth. I felt awkward and insincere. Holding the Lord's people at arm-length so I wouldn't feel the effects in my own heart, which has been known to attach easily.
Months passed and the state of my heart in this ministry remained the same. Forced. Insincere. Awkward. On one hand, I could see my teammates entering in beautifully with all their hearts, holding, caressing, embracing the people like a mother with her baby. Then there was me, like the unsure dad that didn't know how to hold the baby and was comfortable just letting the mom do it.
I told myself, it just wasn't my cup of tea. Day after day we continued our ministry, and the memory of Jesus' words in Matthew 25: 35-36 helped me to die to myself and walk out the door, "I was hungry and you fed me, thirsty and you gave me a drink; I was a stranger and you received me into your homes, naked and you clothed me; I was sick and you took care of me, in prison and you visited me." I knew that despite my blindness and awkwardness, Jesus was indeed present in the dignity and worth of every sick person we visited. As a missionary, I am embarrassed to say how much of a sacrifice it was for me to do this, yet that is the truth.
Fast forward nearly five months of the same thing with no change in how I felt about visiting the sick and dying, I got news that my grandmother, whom we called "Bushie" had a massive heart attack, was hospitalized and would not recover from it. Through a couple of God's miracles and providence in my life, I was able to fly to Illinois to be with her the day she died. This time, visiting the sick was personal. I flew in late the night before and was woken up early with a startling "We need to get you to the hospital or you may not see Bushie before she passes." Within 20 minutes of waking up on that heavily foggy morning, we were in the hospital. During the drive I asked the Lord for a scripture passage to share with Bushie, he gave me Psalm 71. It is the prayer of an elderly person for the Lord to come and receive them at the end of their life.
I've visited the sick and dying nearly every day this past year, but as I walked into Bushie's hospital room, I was caught up in the Spirit, and finally found myself doing something that was "second nature;" however, before this moment it never felt like second nature. We talked, we prayed, we cried, and I sang to her as she rested her eyes. As the hours passed, my family showed up and I watched with wonder at the way that everyone in my family loved, served and cared for Bushie. I was in the classroom of mercy as I watched them and could almost feel the scales falling from my eyes. As Bushie came closer to the veil of her wedding feast in Heaven with Jesus, her gaze was no longer on us but on the parting of that veil. There was a Franciscan crucifix on the wall and while she was entering into the last hour of her life, she would not take her eyes off of it. In the longest moment of silence, when we assumed her consciousness had left her, suddenly with every breath in her lungs she said "Pray. Hail Mary…" and proceeded to recite the whole "Hail Mary." We were amazed at the sudden strength given her to say this last prayer. We cried, and I thanked Jesus for His incredible mercy. I later found out, that half of the money that was given to our family in honor of Bushie's death, was donated to the mission here in Perú.
I returned back to Perú and we began bringing the Eucharist to the sick and dying. The first woman we brought the Eucharist to was Señora Victoria. We visited her for nearly a month before she passed away. One day during our visit, I went to kiss the 96 year old laying on her back, she grabbed my face on either side, looked me in the eyes and repeated the last words that my Bushie said to me. I froze in awe, looking into her beautiful brown eyes, and in that moment I finally saw Him. I saw Jesus. Señora Victoria was a missionary to me, she was so close to Jesus in her suffering that He broke through and spoke words that I would recognize as His own.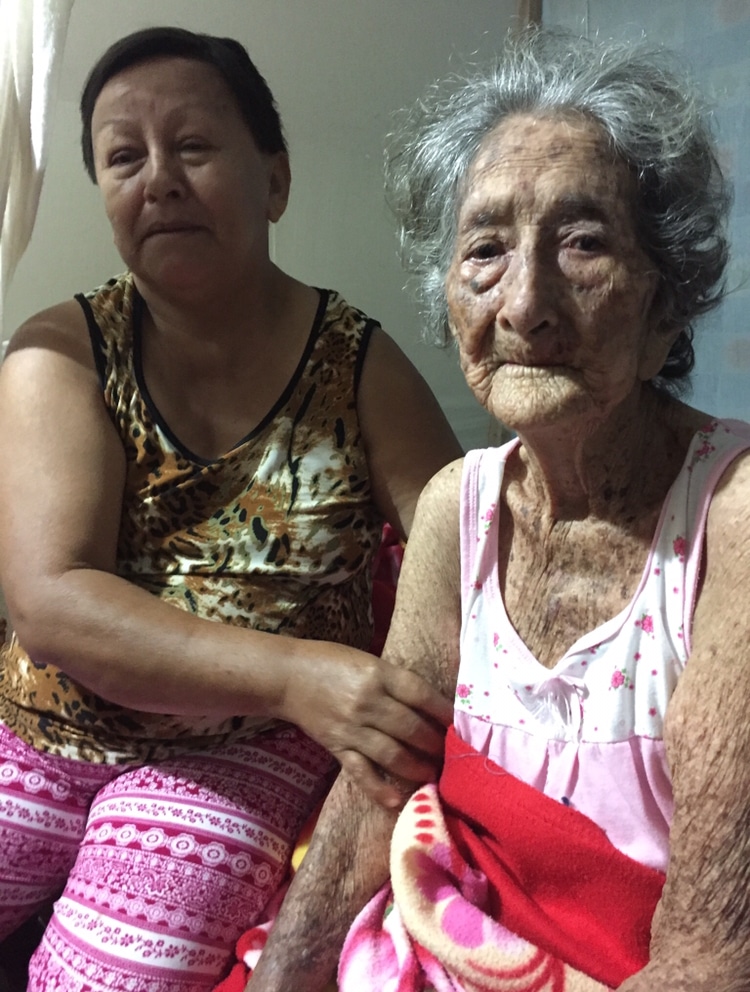 Most recently, we came to know a family whose father was dying. Señor David and his family are some of the poorest in our pueblo. When we first met Señor David, he was refusing food and drank a sip of water once a day. He was wearing only his underwear and was so skinny that I could count nearly every bone. He was groaning in pain and anxiously asking if Jesus would come get him. According to the family, he lived a sinful life, and now at his dying hour, was wondering if God could possibly forgive and receive him. Within a few days of meeting him Fr. Francisco came and administered the sacrament of baptism and anointing of the sick. It was incredible to watch the change in his state of being after receiving his sacraments. Suddenly there was no more writhing, just peace. This past Sunday, Jesus did come to receive Señor David with open, merciful arms.
The day we went to visit the family, Jesus gave me the grace to enter fully and without fear into their grief. Jesus was allowing me another opportunity to redo, with a healed heart, the moment at the beginning of the year when I fled in fear. As we talked with the family they told us that they could not afford to bury their father. My heart broke at the worry that filled their minds in such a painful moment. It was then that the Holy Spirit reminded me of the money donated in honor of Bushie. It happened to be the perfect amount to bury Señor David. On the day of his funeral, which we had to lead, I found myself praising Jesus for His work of mercy in my heart, in my family and in our pueblo. If you would have told me the day that I fled from Señor Segundo's house earlier this year that I would be co-leading a funeral 7 months later, I would not be able to believe it. But behold, God uses the wounded to heal. It took me entering awkwardly into that wound day after day to be healed. I couldn't but Jesus could. I can't but Jesus can.
Visiting the sick is still not my favorite ministry to do, but I have come to see that it is what I need to do, because Jesus has asked me to do it. And because of my obedience to it there have been so many blessings.
So, what part of Matthew 25 is hardest for you? Why?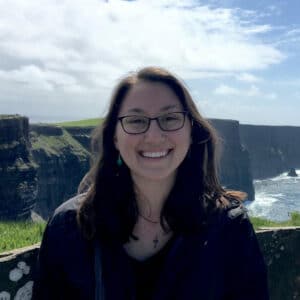 Comments are closed