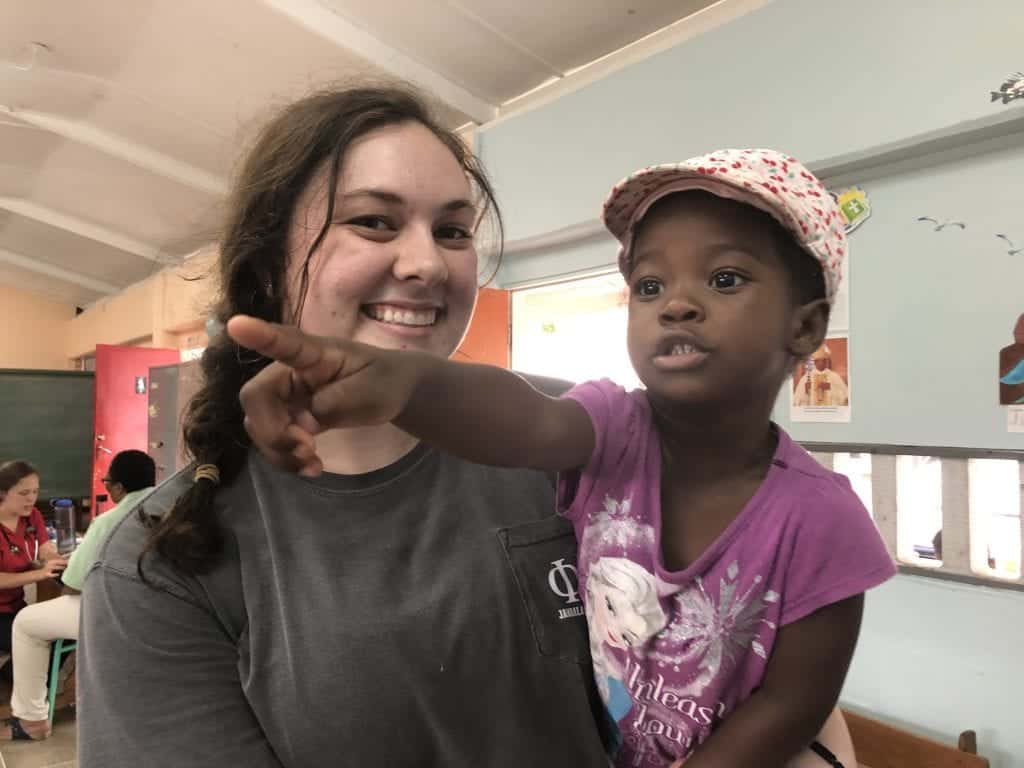 That Others May Be Praised, And I Unnoticed
Editor's Note: MacKenzie Thibodeaux recently traveled with FMC to Trinidad on a medical mission trip. Her blog is reused here with her permission.
I have a missionary heart, but I am also introverted. This makes going on mission trips an interesting experience for me, and this past trip to Trinidad was no exception. For as long as I can remember, I have loved helping others in any way that I can. However, being that I am introverted it is sometimes hard for me to figure out the best way to serve.
The day after Christmas, I, along with a group of about 24 people, left the United States to go on a medical mission trip to Trinidad. I would be lying if I said that this trip was an easy one for me. Leading up to the trip I had so much anxiety about going, but I could not figure out why. Now, I think that it was because I knew deep down that God was going to use this time in Trinidad to move my heart to welcome Him in and love Him more. It had been two and a half years since my last mission trip, and in that time I had gotten busy. I started college, and started to live a life that didn't always have Christ at the center. Sure, I was probably doing better than most kids my age with the whole "religion" thing, but in reality I was still trying to put my plan for my life above God's plan.
God really used my time in Trinidad to humble me, and make me aware of just how loving He is. At the beginning of the trip, I was struggling with trying to find my place. I would watch my friends engage with the patients as they were taking vitals, or play with the kids who would come to the clinic with their parents, but I felt as if I was on the outside looking in. Around the second or third day that we were there I began to have doubts about why I even came on the trip to begin with. I went into it knowing that it was a medical mission trip, and I am anything but medical, so I started to feel as though I did not have a place there. "Why did I even come?" "This trip could go on without me." "I have no importance here." These questions slowly crept into my head. All of these thoughts are things that I am all too familiar with from my struggle with anxiety and depression over the years. I felt myself starting to slip into that dark place again, and I was afraid that I would stay there for the rest of the trip.
About halfway through the trip though, we had a "desert day." On this day, we did not do any work, but instead had time to reflect on what had happened so far, and how God was trying to work in us. During the day, we had two hours dedicated to alone time with God, and we were encouraged to bring scripture and a journal with us. After my time alone with Jesus, and an extremely fruitful conversation with a friend, a line from the Litany of Humility was stuck in my head: "let others be praised, and I unnoticed." If you have never prayed the Litany of Humility, that line alone should let you know that it is an extremely humbling prayer. For the remainder of the trip, I made that my mantra. Anytime that I was doing anything, whether it be sweeping the place where we were setting up clinic, or helping the Missionaries of Charity cook for the rest of the team, that is what I was saying.
I am a strong believer that God works in mysterious ways, and throughout this trip, that way of thinking was reinforced. Through humbling me, He was able to let me see how every little thing that we do should be done for His glory.
This trip taught me to look for God in the little things. A lot of times when we think about mission trips, we think about the big things that happen there. We think about the pictures that are taken with the kids who are in awe of these people from America who came to help. We think about the clinics that get set up on medical mission trips, and the doctors and nurses and dentists who work hard and staff them. What we don't really think of is the Sister smiling as she tells you about her home country, or the women who were non-verbal and showed us the most love of all. Don't get me wrong, the big things are important, but so are the little things. I thank and praise Jesus that He used this trip to humble me. I thank Him that I now take the time to see God in everything, and that I now recognize that everything I do, whether it is ministering to the needy, or simply doing my homework, should be done for the glory of God.
This mission trip taught me so much, and I am so beyond thankful that I had the chance to serve God, and His people, in this way once again. Trinidad left a lasting impact on my heart, and I pray that I will be able to go back there again one day. God truly worked in me in big ways through the little things, and I am grateful to have had the opportunity to pray for the grace to want others to be praised while I go unnoticed.
Comments are closed