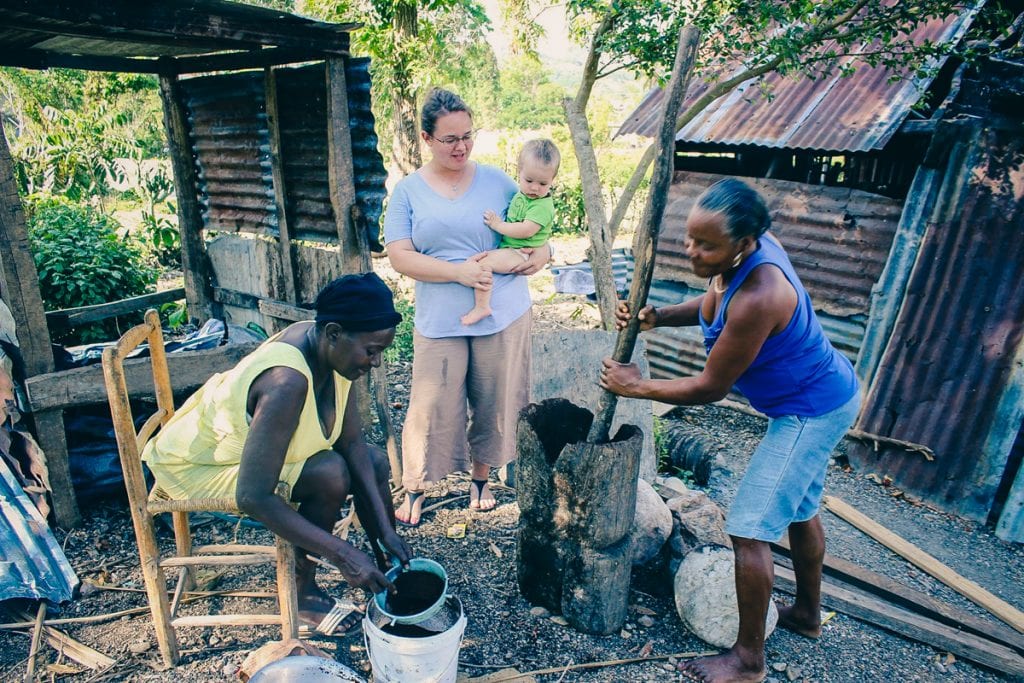 A Cold Coke in Haiti
The heat of a tropical island is something that just can't be explained. You can have someone describe it to you and tell you what it's like, but until you are there and living it, you just won't be able to understand it. I know this because it happened to me. Dave and Andrea, my mission partners, tried explaining the heat of Haiti, but for someone who has always grown up with air conditioning everywhere it just can't be understood without living it.
Haiti is a 4th world country. (I didn't even know that existed until I researched Haiti: it's the only one in the western hemisphere). A part of that is a lack of electricity. There might be some kind of electrical grid in the capital Port-au-Prince, I have no idea, but a very large majority of the country has no electricity. We do have access to solar panels, but they are very expensive and people mainly use them for charging phones and for a light or two.
A lack of power means a lack of air conditioning. A lack of freezers and refrigerators. There is nothing here to cool you down. You can go jump in the river, you can take a cold bucket bath, but even ice cream is unavailable here in L'Asile. No place here is air conditioned. The church is hot, the stores are hot, your house is hot… There's no respite.
But the one thing you can always find is a cold coke. A few stores here in town have deep freezers that they run with solar panels and they pack them full of cold drinks. Cokes here are $.50, and after being constantly sweaty for days on end, it is totally worth it to get a nice cold coke.
So every afternoon, usually while the kids are napping and the sun is high and hot, Beaux heads out to grab us two cokes. I am sure that as time goes on we will adjust to the heat better, but for now we need those cokes. We crave them! They are so cool and refreshing and are such a great morale booster in the middle of the day.
If it starts to get closer to 2pm or 3pm and we haven't had the chance to buy them yet, I start to panic a little. The heat gets a little claustrophobic because you can't escape it. I start thinking about days of heat and months of heat and I get overwhelmed really quickly. Yes, I realize this sounds dramatic, but I grew up in Colorado! I just don't know how to handle the heat yet! But as soon as the cold coke gets here and I take that first sip, I am comforted and refreshed and I start to relax just a little.
As I was talking with Beaux the other day about this, it suddenly hit me that my prayer time is a lot like that cold coke in Haiti. It's my respite in the midst of a crazy life. It's my calm in the storm of parenting. It brings me comfort and hope when I get overwhelmed by life. And when I miss it, I crave it! I panic and I get overwhelmed and all I can think about is running off to go talk to Jesus!
This is such a new feeling for me. I have never been diligent about daily prayer. I have always thought it was important and worthy; I've always strived to pray daily, but I honestly can't think of a time that I have been consistent with daily prayer. Until now. Nothing makes you need Jesus like mission life. Mission life has taught me that I am NOTHING without Jesus. I have nothing to offer without him. All I have is his love and his mercy that I want to share with others. But unless I take the time in the morning to fill up with his love, I don't have any love to give away. I know it's cheesy, but I need Jesus like I need a cold coke in Haiti.