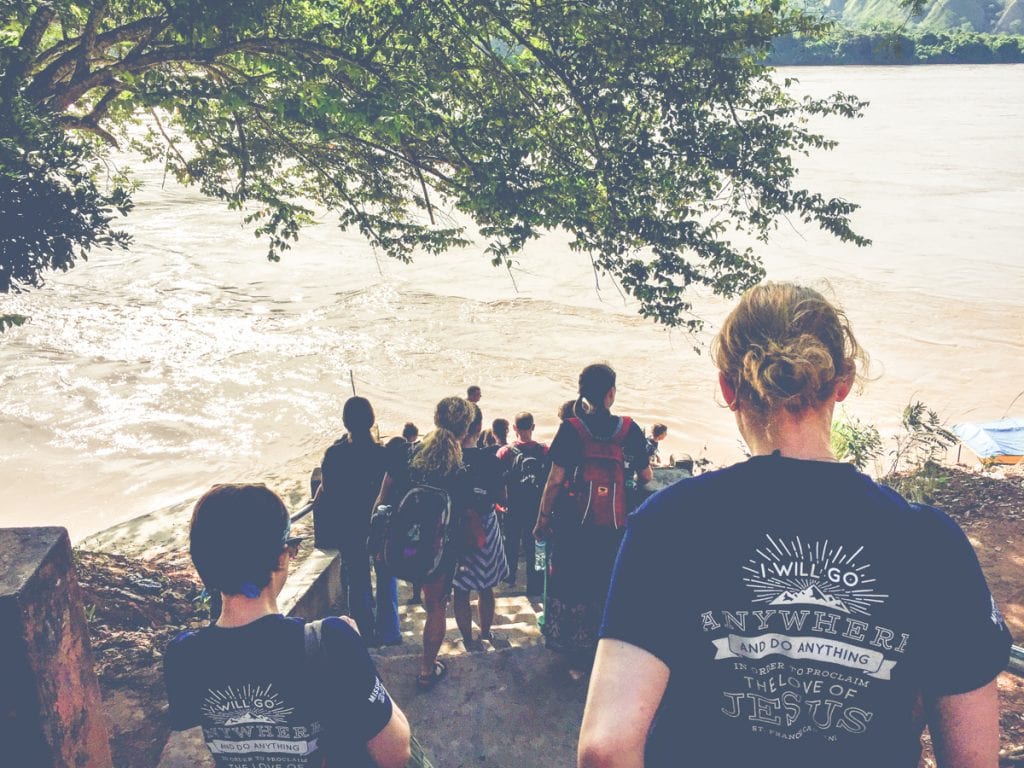 Hard Bends, Dead Ends, & Beautiful memories
[Annmarie Abeyesekera recently went on a medical mission trip with FMC in Peru. These vignettes and reflections are published here with her permission.]
The highlight of my mission trip would have to be the second day of the trip. We traveled to a pueblo called Tres Unidos. It was not easy arriving at the Pueblo, but it sure was a little heaven here on earth, hidden in the wilderness. It reminded me of our own journey in life. Life is not a road easily traveled, but a mix of hard bends, dead ends, and beautiful memories. All our hardships and toils are worth every bit of it because heaven is our final destination. There was so much of grandeur in the sceneries and in the mountains and in the valleys that the road we traveled to get to Tres Unidos and the time was worth every second. Life is hard but it has so much beauty in it that a good way to experience it well is to live it with a thankful heart and constantly remind ourselves that our God is so good… All the time! Herein lies the beauty of our journey.
///
What blessed me the most was the whole mission trip itself. God touched me through the people we were fortunate to serve, the people with whom I was able to serve, as well as the testimonies of the way of life the full-time missionaries choose to live. I've only heard and read that one will never be the same after going on a mission trip. I praise and thank God for letting me experience it firsthand. Part of me, I believe, is still in Peru and with the people we were able to serve. The simple way of life we were able to experience surely has something about it that still tugs at my heart wanting more of it. Right now what I can do is simply wait on the Lord to guide my heart and my soul in the direction he wills it. What I fear is this feeling and this longing for a life lived as a missionary will fade away after a while – but I pray to God that it stays with me to help me discern if this is a way of life he wills for me.
///
I had the opportunity to go on a home visit. It almost brought me to tears to see the lady bring out chairs from the inside of the house to the outside so every one of us who went on the visit could be seated in better chairs while she brought out a step stool for herself. As she kept going inside the house to grab one chair after another, I could tell she was worried that she might not have enough chairs. Yet she smiled, she laughed, and she gave us her best. I wanted to tell her, "Señora, this is more than enough, we can stand, please do not trouble yourself anymore," but I couldn't. She was happy to have us as her guests and I didn't want her to think that we thought she couldn't do it by herself. I received a chair to sit that day but I received so much more. I saw Jesus in her smile and in her laughter. I saw Jesus in her welcoming heart.
Her husband was paralyzed from a work related accident years ago and she seemed to be the strong-willed woman who took care of everything around the house. It pained me to think why her husband couldn't visit the doctor when the accident first happened… maybe that could have lessened the injury. But God is good… all the time! He surely must have healed both of them from within and given them inner peace that today both the wife and the husband are able to show us the love of Christ living in them through their genuineness.
///
I thought it was really neat that our lunches were provided by the local families in the community. It was such a humbling experience for me to be their guest for at least one day. Each and every one of them opened up their homes to us and welcomed us with a smile. I wish we could have paid them back for their generosity but maybe our presence and our smiling faces expressed our gratitude. They gave us their best and it was heartwarming.
///
Looking back, this whole mission trip was such a blessing that I cannot recall anything negative because at first, what was seen as something needing more work or organization, was wonderfully taken care of by the grace of God working in and through us.
Comments are closed