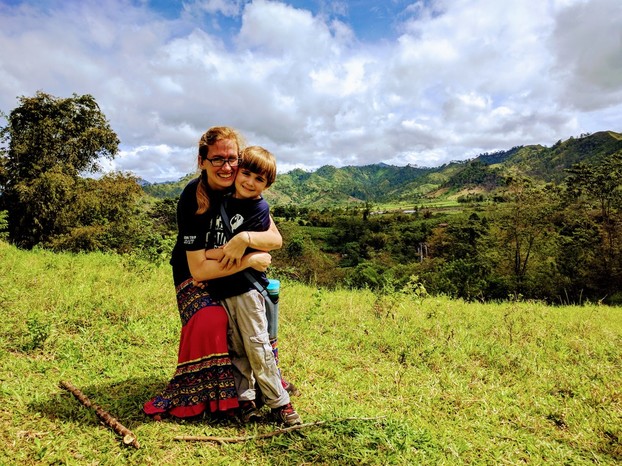 The Gospel of Matthew, according to Alex
[Jason and Jessica Wilde, and their children Grace (10), Brecklyn (8), Alex (7), and Chi Yu (4), recently went on a medical mission trip with FMC in the Philippines. The following post, published here with permission, is from their blog.]
The dim hospital room was packed full of 15 or 20 Filipino families, each huddled around a bed or crib holding their sick child. The windows were open and a single oscillating fan in the corner provided some airflow to keep the room bearable. Our small group of missionaries had introduced ourselves and were tasked with sharing a testimony – a personal story about when each of us saw God in our lives.
Each testimony was unique and shared a story of enlightenment, hopefully providing a little bit of God's light to an otherwise scary and tiring time in the lives of these families. Brecklyn shared a story from when she gave her own stuffed animal to a poor boy on the sidewalks of Mexico City and how she saw God in the little boy's smile. Grace's story was about seeing God's love and compassion in a volunteer who comforted her on our pilgrimage to Lourdes when she was afraid of the baths. But it was Alex's testimony that shocked everyone in the room, including his parents. Earlier in the morning, while the girls were planning their testimony, Alex shrugged us off when we tried to help him prepare. He told us that his inspiration came from his beloved Lego Bible at home and that he had his testimony ready.
It turned out that Alex's testimony was reciting from Chapter 25 of the Gospel of Matthew…by memory.
"When the Son of Man comes in his glory, and all the angels with him, he will sit upon his glorious throne, and all the nations will be assembled before him. And he will separate them one from another, as a shepherd separates the sheep from the goats."
Throughout each testimony, Junar, one of the full-time local missionaries, would translate into Vasayan, the local dialect. At this point, I could see the shock on his face as he stumbled to accurately recount what Alex just said.
"He will place the sheep on his right and the goats on his left. Then the king will say to those on his right, 'Come, you who are blessed by my Father. Inherit the kingdom prepared for you from the foundation of the world. For I was hungry and you gave me food, I was thirsty and you gave me drink, a stranger and you welcomed me, naked and you clothed me, ill and you cared for me, in prison and you visited me.'"
By now, the room was still with suspense. A few cell phones were trained on Alex as he continued to preach.
"Then the righteous will answer him and say, 'Lord, when did we see you hungry and feed you, or thirsty and give you drink? When did we see you a stranger and welcome you, or naked and clothe you? When did we see you ill or in prison, and visit you?'"
Junar again did his part, but I could not honestly tell if anyone was listening to him. Everyone seemed to be in shock and amazement, but Alex continued.
"And the king will say to them in reply, 'Amen, I say to you, whatever you did for one of these least brothers of mine, you did for me.' Then he will say to those on his left, 'Depart from me, you accursed, into the eternal fire prepared for the devil and his angels. For I was hungry and you gave me no food, I was thirsty and you gave me no drink, a stranger and you gave me no welcome, naked and you gave me no clothing, ill and in prison, and you did not care for me.'"
I began to question how he was going to wrap this up. Were we just finishing the chapter, or were we in for the long haul – were we going to hear Jesus' persecution, crucifixion, and resurrection as well?
"Then they will answer and say, 'Lord, when did we see you hungry or thirsty or a stranger or naked or ill or in prison, and not minister to your needs?' He will answer them, 'Amen, I say to you, what you did not do for one of these least ones, you did not do for me.' And these will go off to eternal punishment, but the righteous to eternal life."
At the end of his testimony, everyone cheered and clapped. Alex said that this was why he loved to serve God's people.