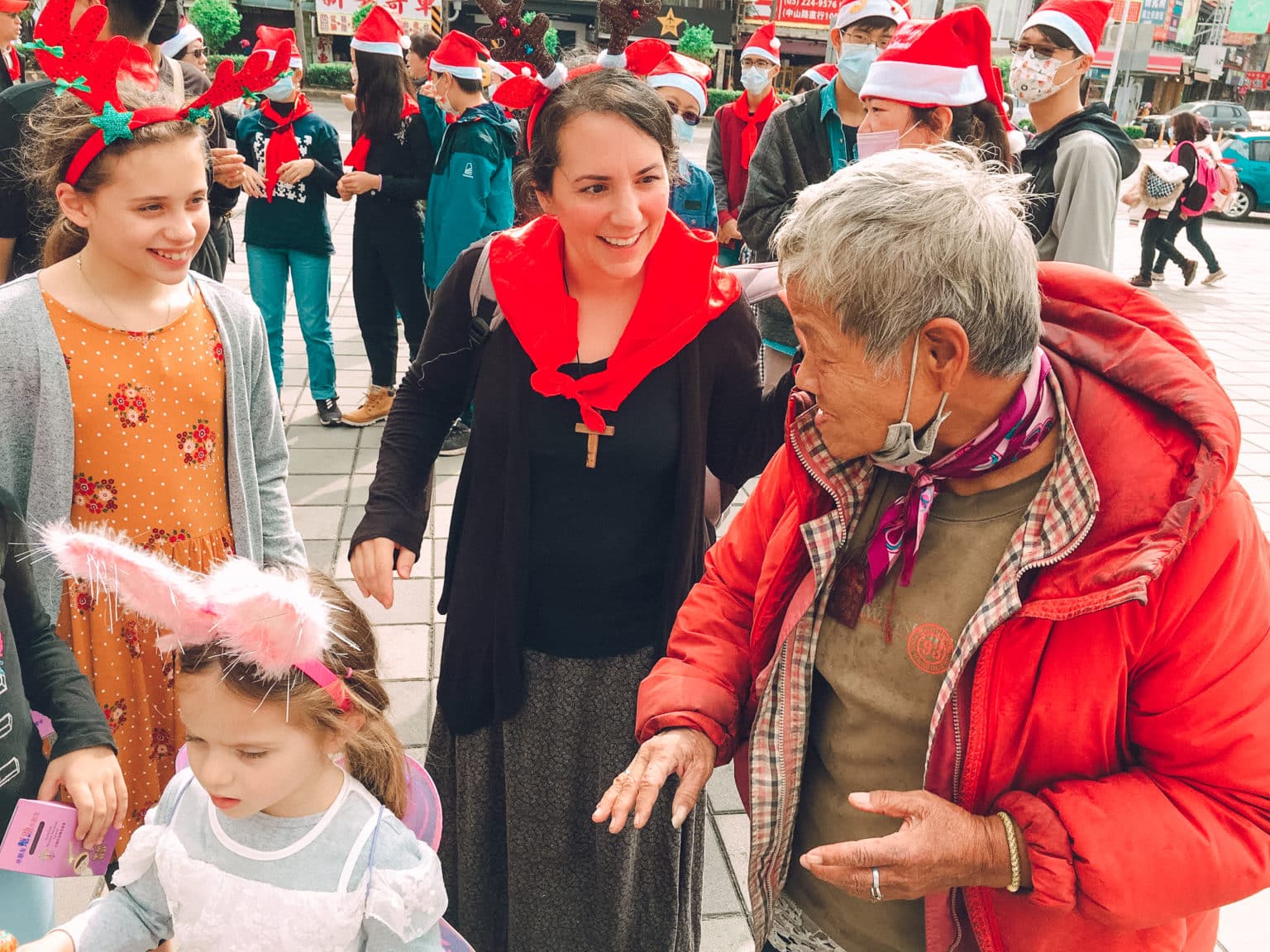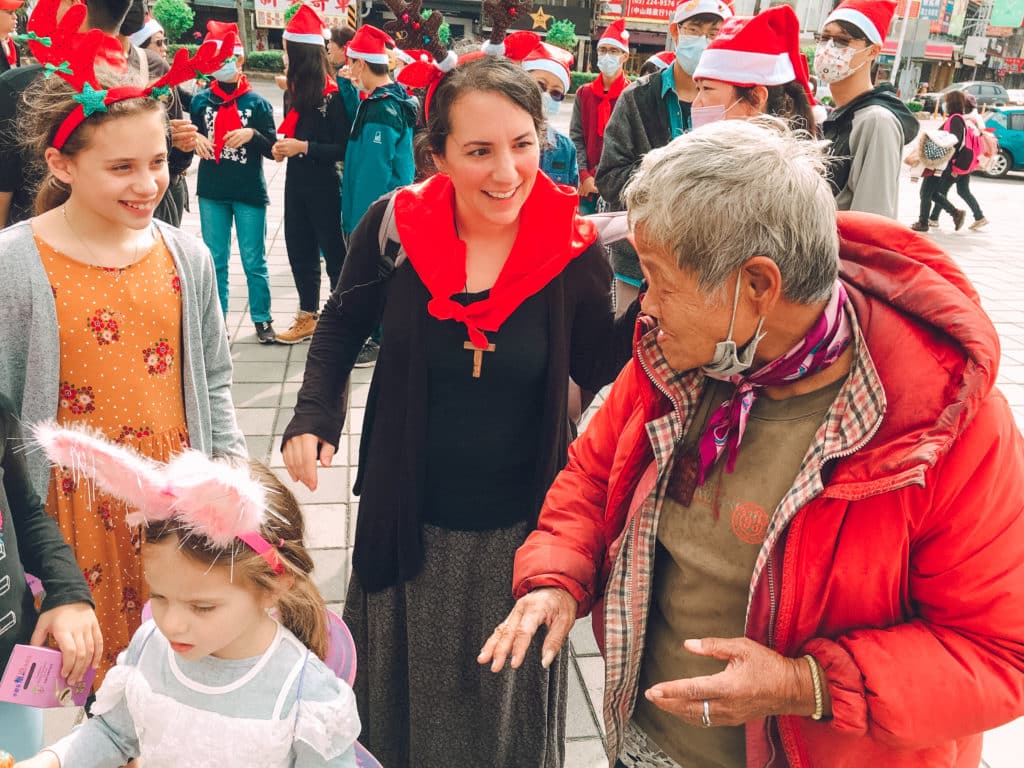 A Christmas in Taiwan
What a Christmas! 
About a week before Christmas Day we went to several places around the city of Chiayi where we sang carols and gave candy and a Christmas blessing to those we encountered on the street. 
There were a few opportunities to dialogue at length with people, which was super cool. The conversation often starts with questions like, "Why are you here in Taiwan?" or "How long have you been here?" These simple questions invariably lead to a brief discussion about Jesus.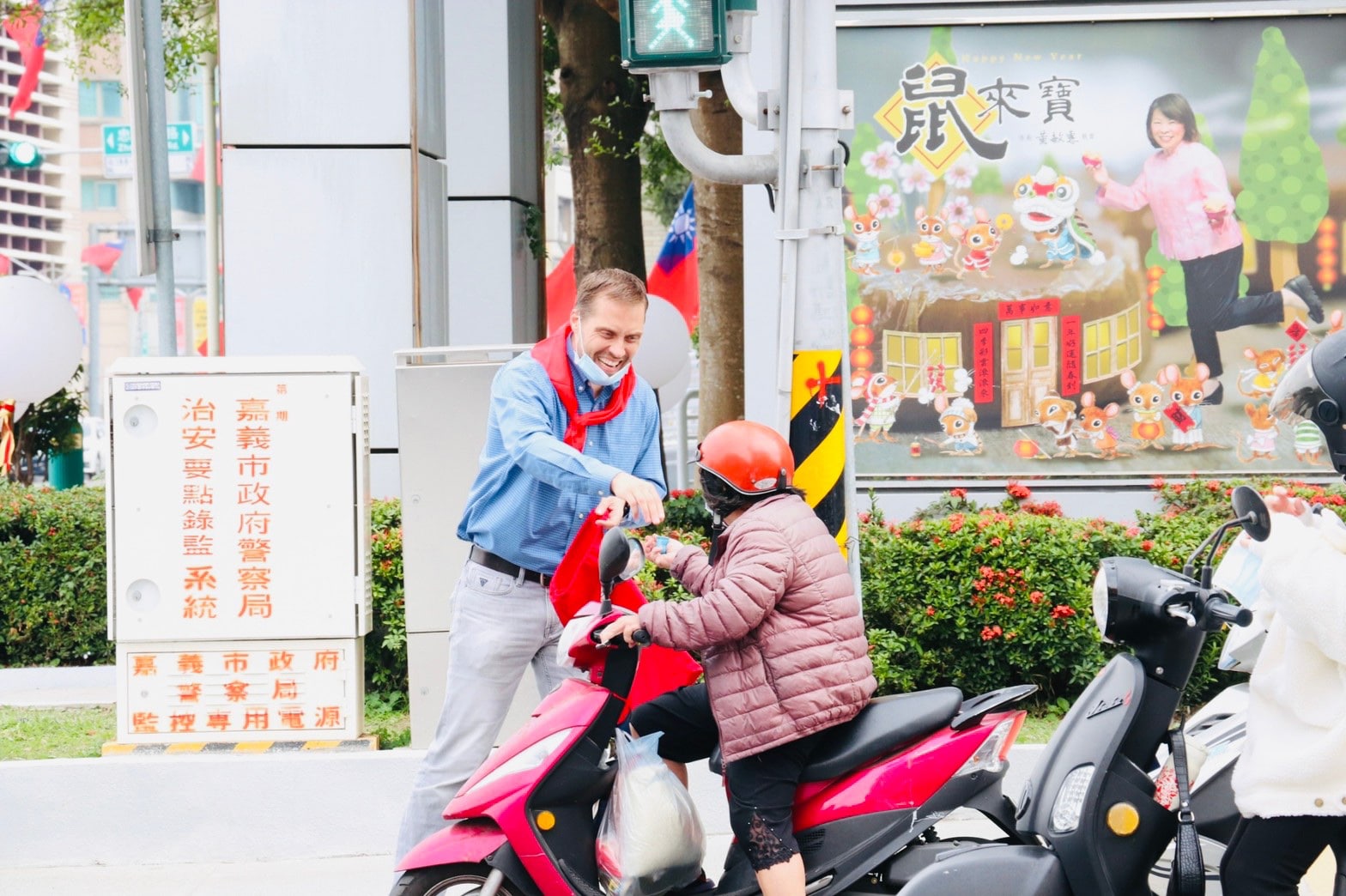 It was awesome to be there in solidarity with 30 or so people from our parish. Mind you, our parish is not that large. If you exclude the nuns and religious, we have about 60 attendees at each of the two weekend masses. But the parishioners are vibrant! In the US, oftentimes the 80/20 rule holds true, whereby 20 percent of the people (maybe less) do 80% of the ministry.
But at our parish it's a little different. More than half of the parishioners are active in ministry. And being there on the street with them singing Christmas carols in Chinese, I was overwhelmed by a few people in particular who have an awesome evangelical spirit! Their life has genuinely been touched by Christ, and you can see the desire they have to share that.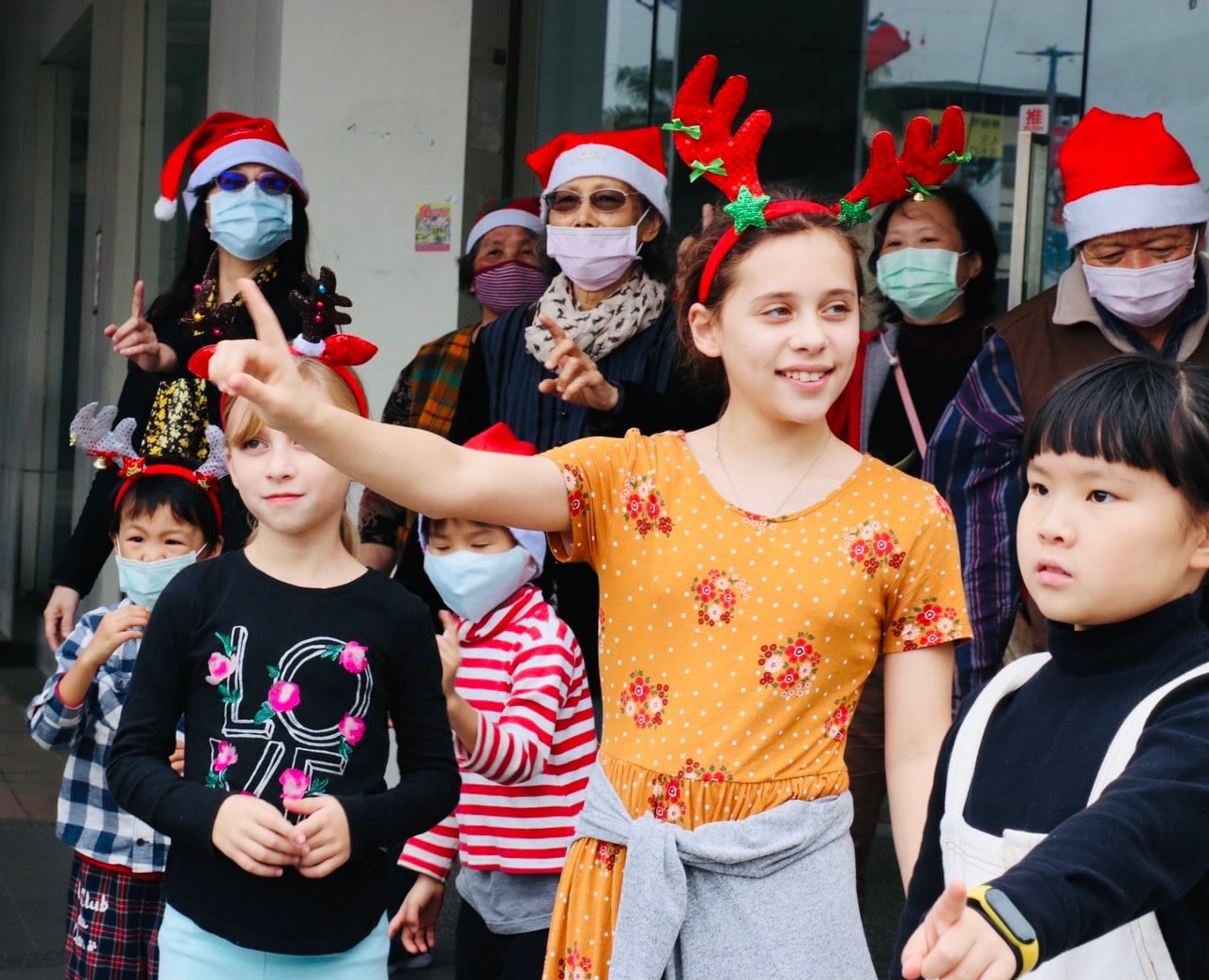 What a witness they are to our family. It gave me, on that day in particular, a renewed appreciation for street evangelization. It's awesome how once you get out there and start talking to people, the Spirit takes over. Your courage grows with each person, your comments become more precise, and your encounters become more vibrant.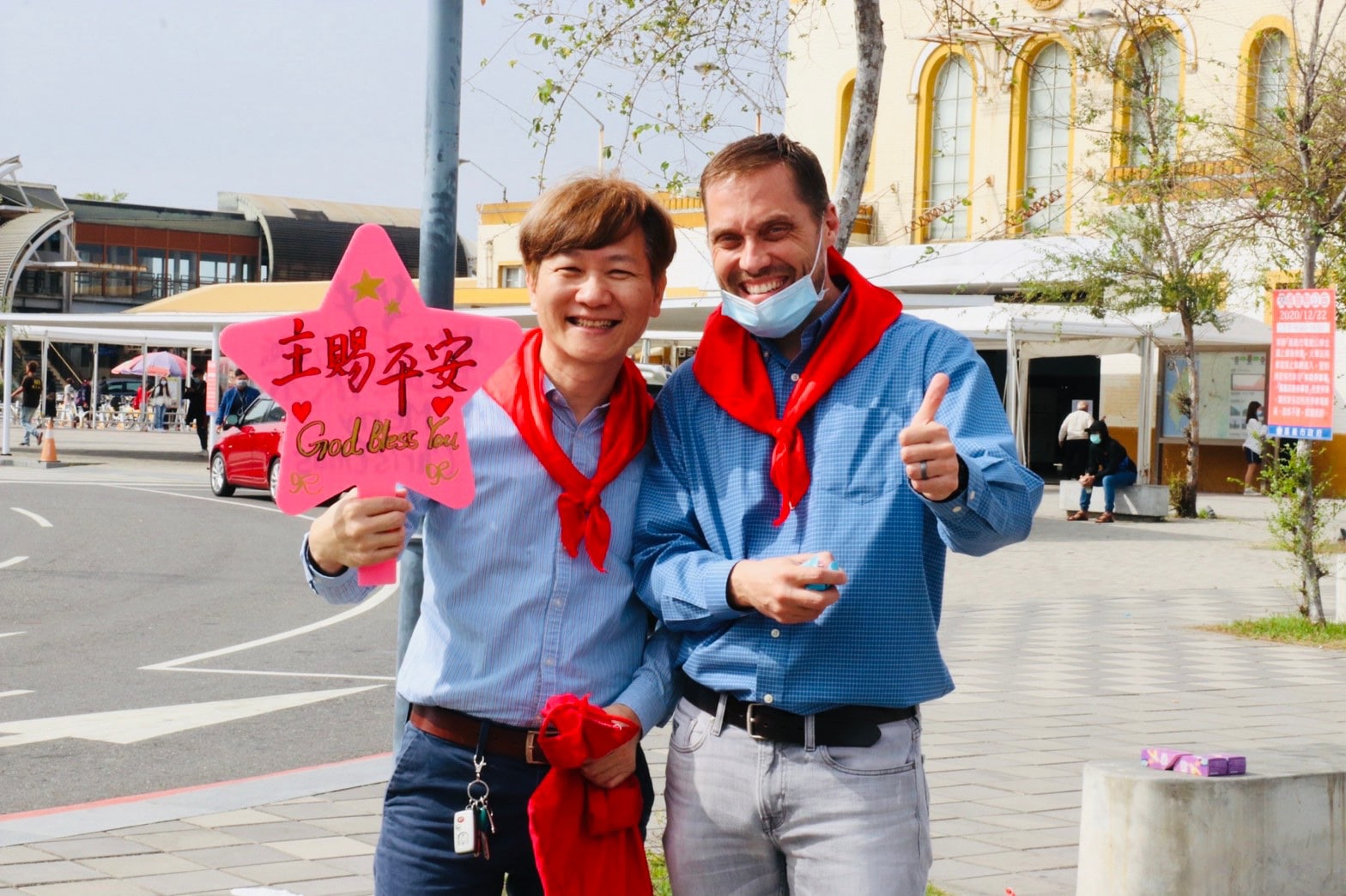 The week leading up to Christmas, Kelly and I were given the opportunity to share the nativity story with classes at the English school. We taught 4 classes where there were a total of about 50 kids. Like most things, I think we got better as we went along and certainly the experience for the little kids was different than the experience with the older kids who were naturally more attentive and inquisitive.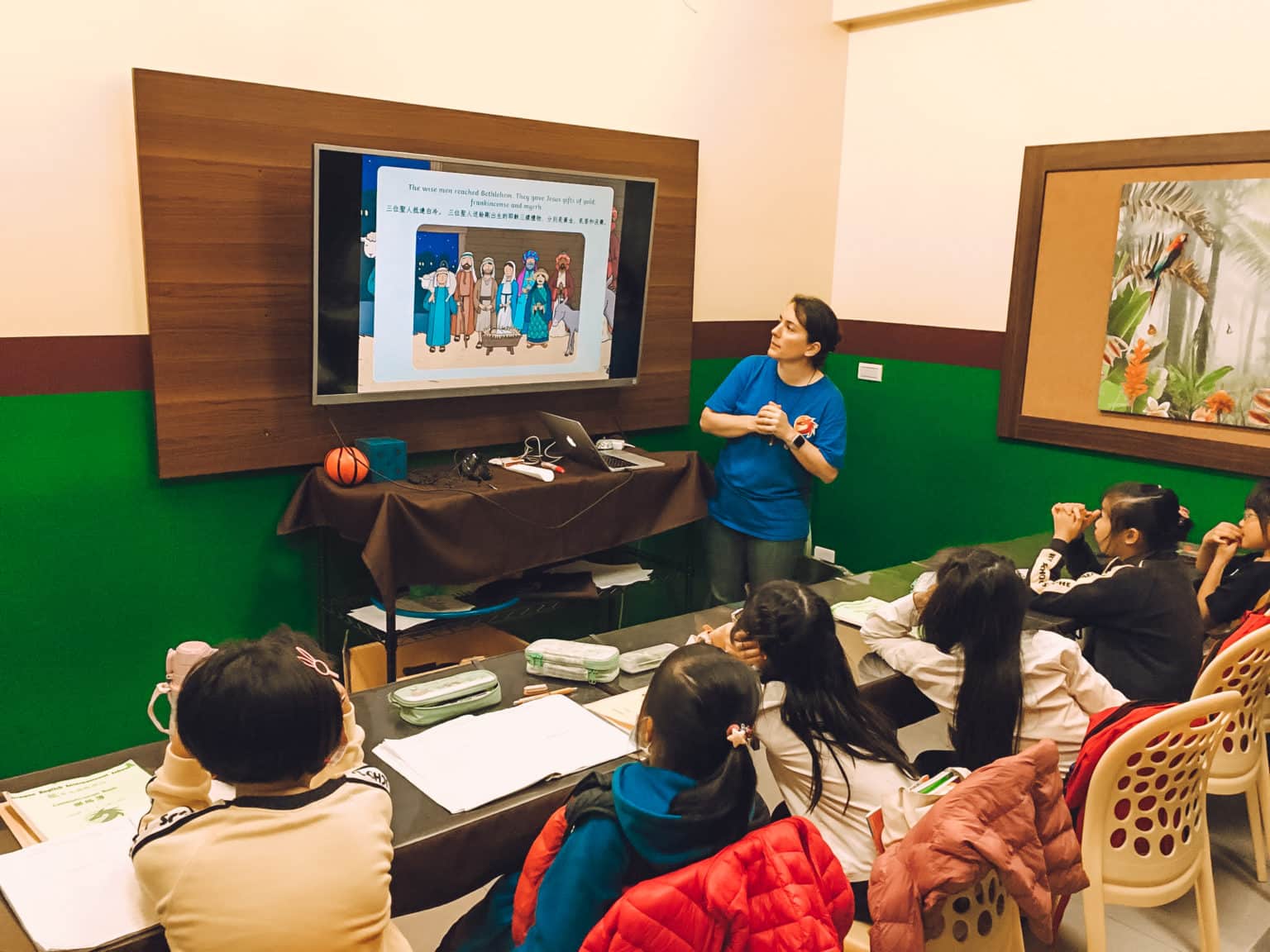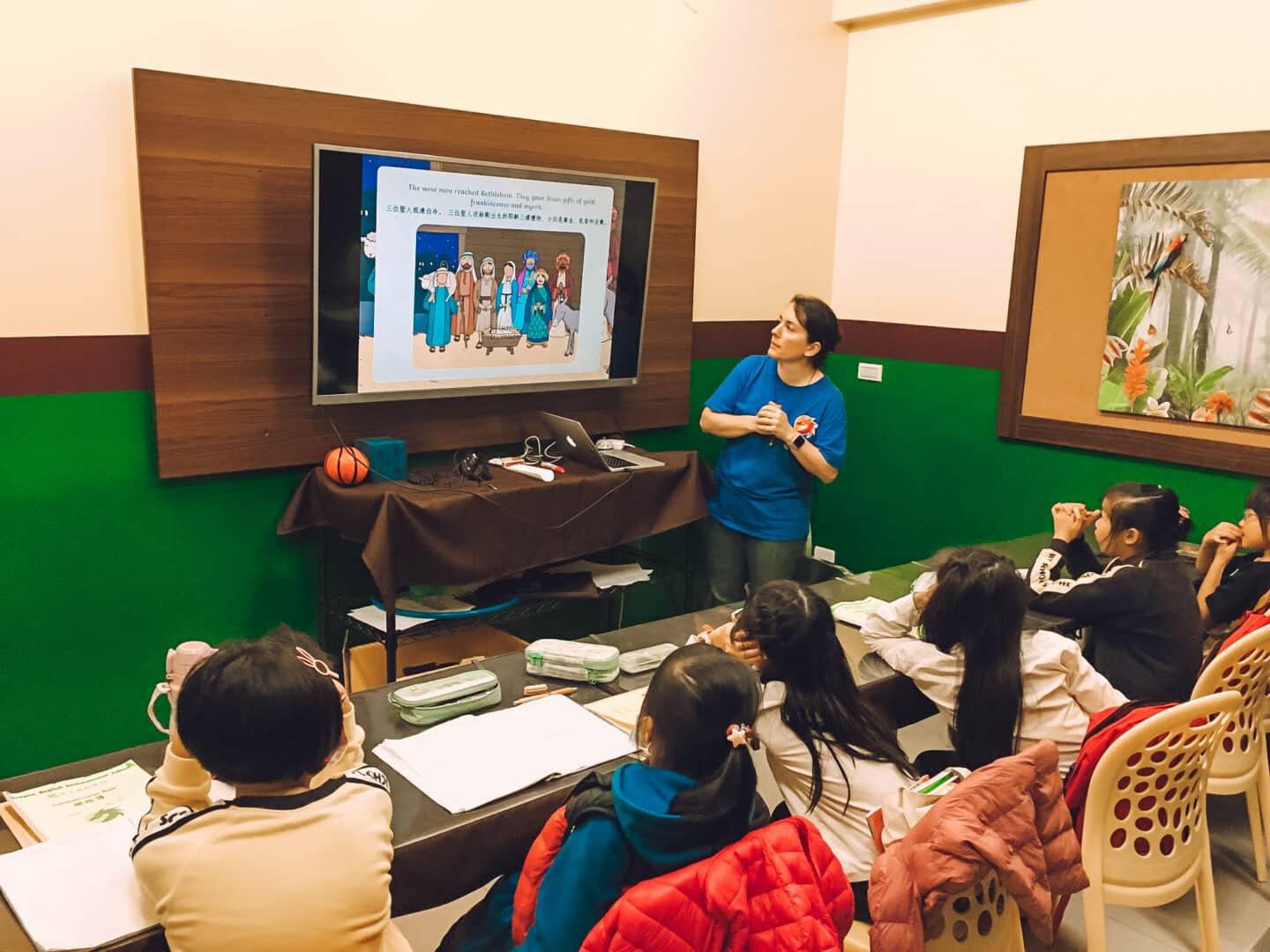 We talked about Christmas traditions (decorating a tree, giving gifts, Santa), but that the real meaning of Christmas was the birth of Jesus. A lot of people here think that at Christmas we celebrate the birth of Santa!
Then Kelly read a book we had made about the nativity story. For some of the classes we also had one of the teachers tell it in Chinese, given some of the difficult terms, like Bethlehem. We finished by explaining why Jesus' birth is so important. 
After Mass on Christmas Day, we helped set up for an outdoor Christmas party that the English school was having. It was being held in a parking lot across from one of the biggest temples in our neighborhood. It involved about six hours of setup work for a three-hour event attended by about 200 people.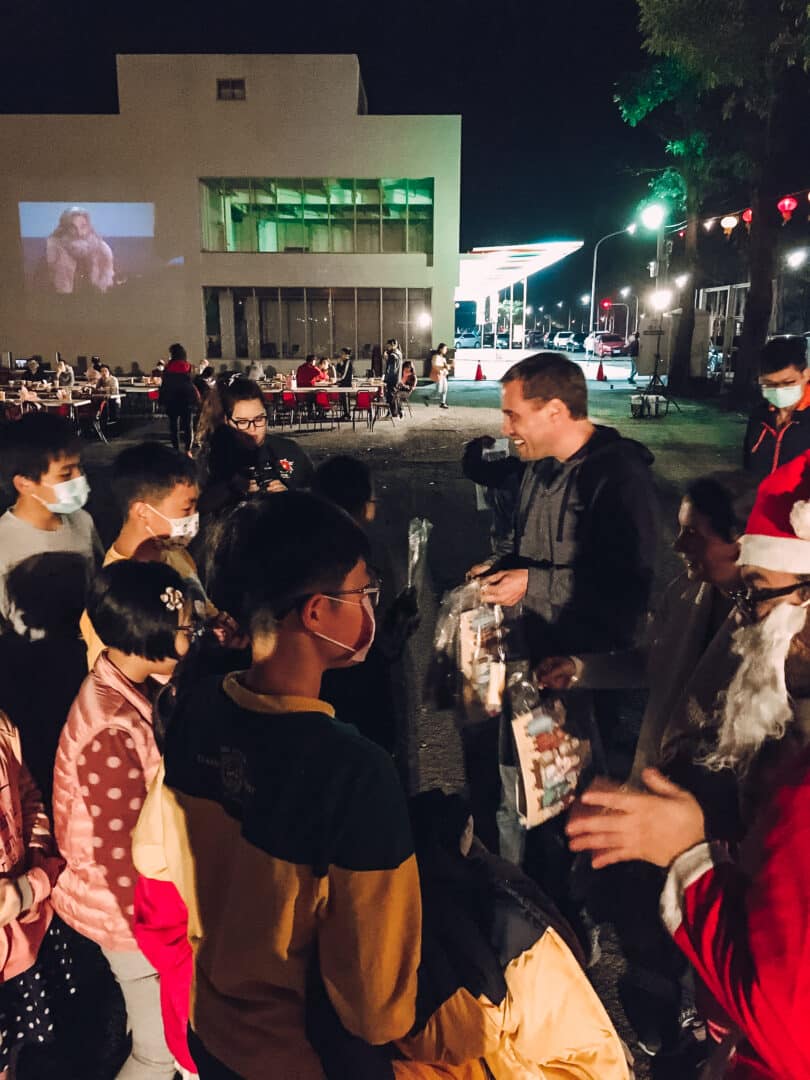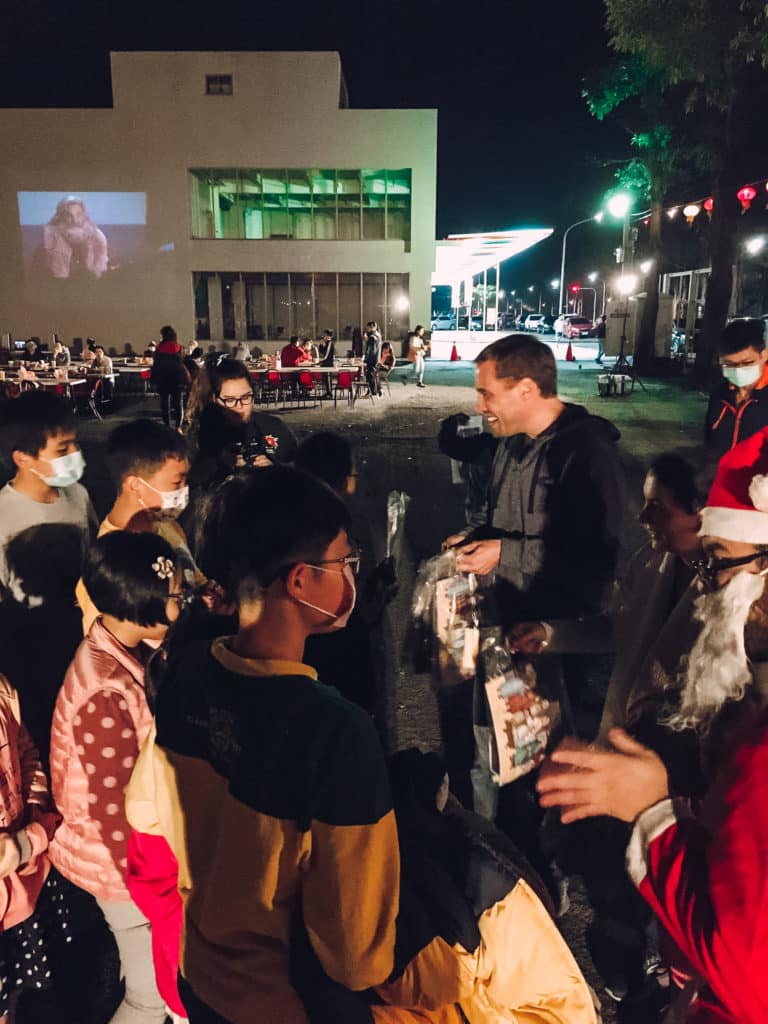 During the event we gave out gift bags we had prepared on behalf of our mission partners. Each bag included the nativity book we had read at the school, a beautiful cookie from a local bakery, and other little items like stickers, bookmarks, and stamps. Handing them out was sort of surreal. I think partially because of the huge temple across the street.
The kids lined up right away for the gift, and of course the parents let them have it because, let's face it, how could they say no to a beautiful-looking gift from Santa? It felt awesome. It's hard to describe the joy of being able to share the message of Jesus' saving love to these kids who have quite simply never heard it before. 
The Sunday after Christmas we spent time at one of the orphanages near us. We prepared gifts for them on behalf of our mission partners which included socks and cookies. Again, this was an incredibly joyful experience for us.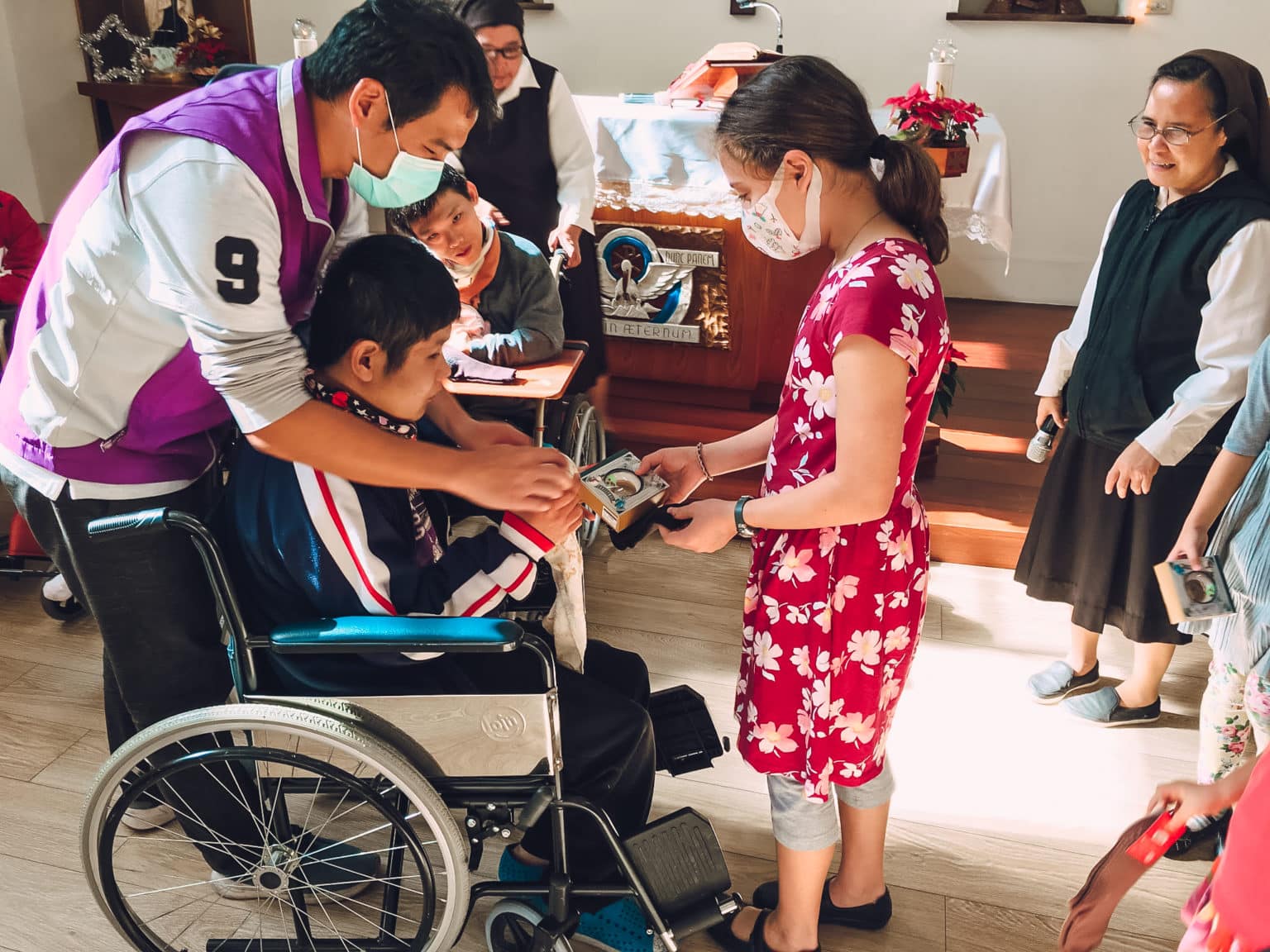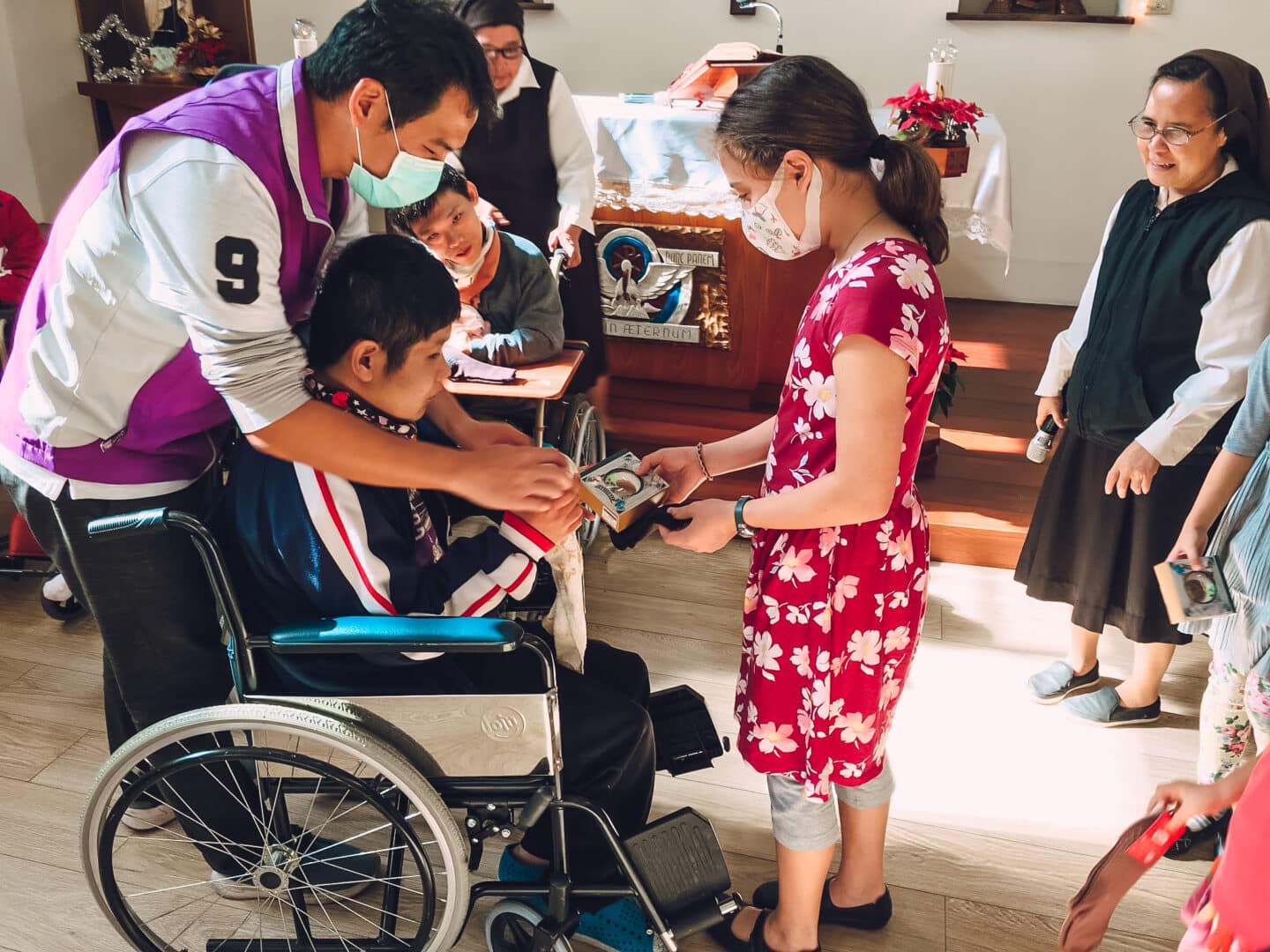 Many of the folks there have severe handicaps. They rarely have visitors or get out to go anywhere, so being able to give them both practical Christmas gifts as well as treats like cookies was very special to them. (Believe it or not, winters "feel" cold here in Taiwan, so socks are very useful!)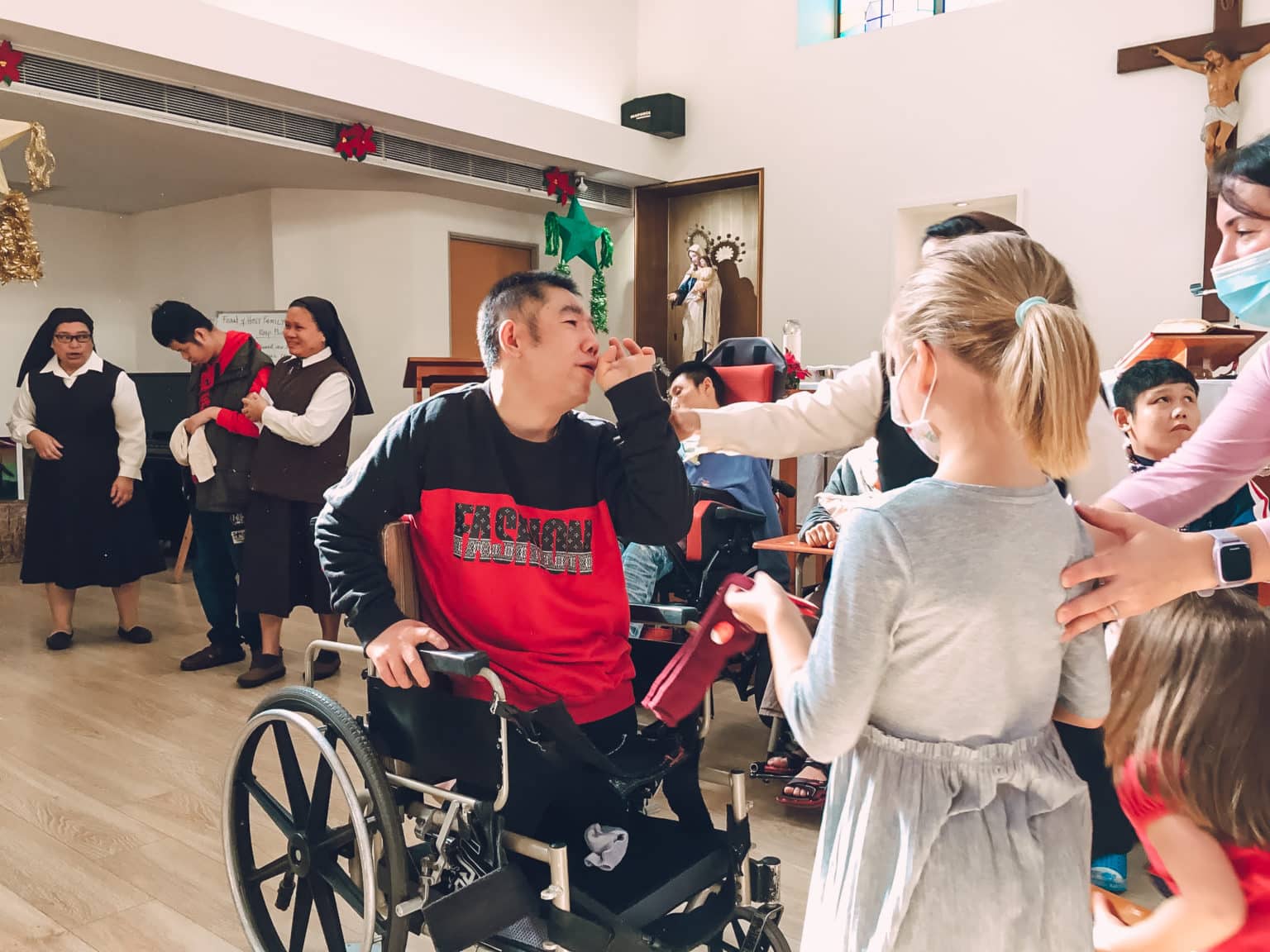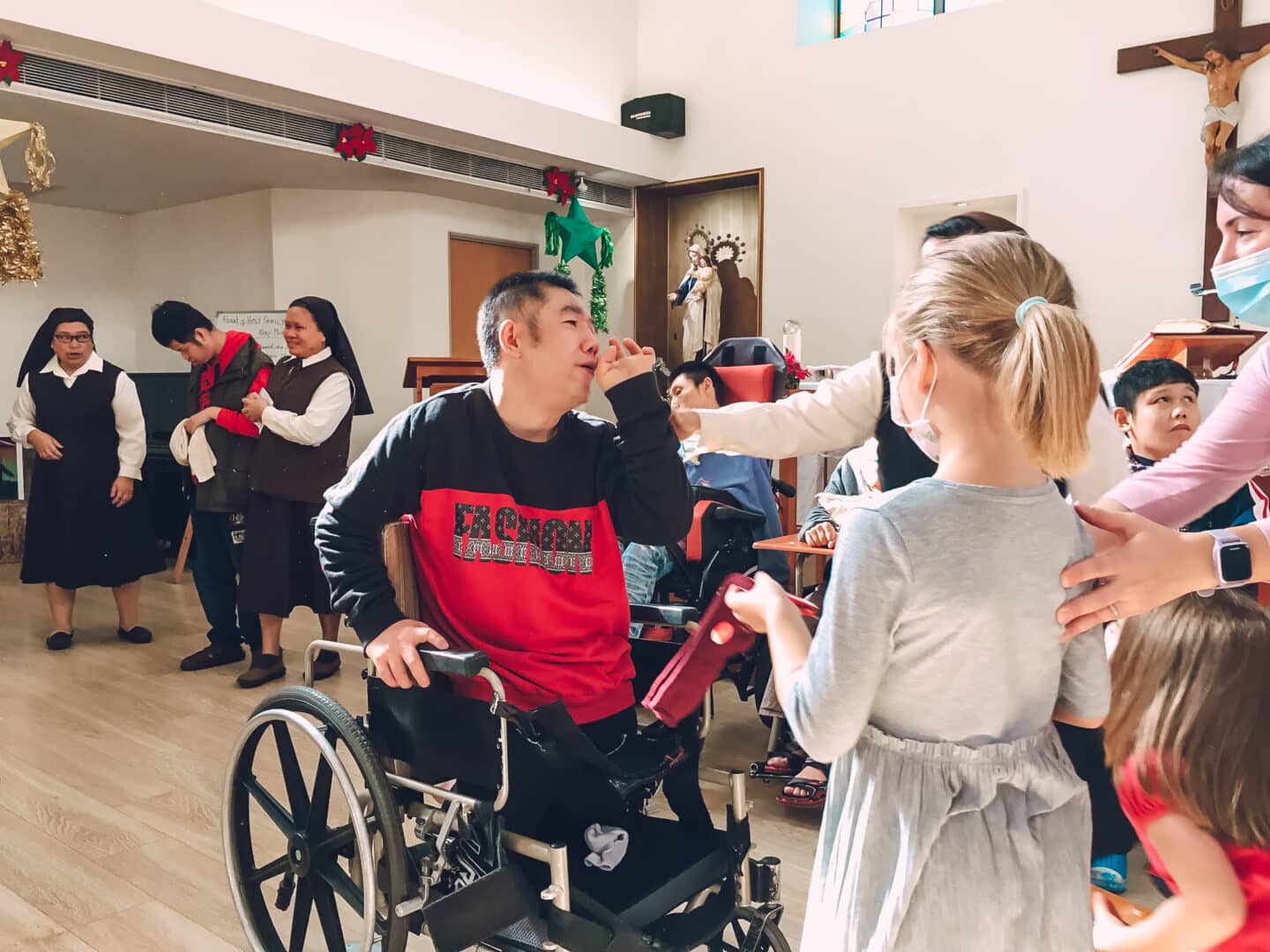 This Christmas was quite different for us than any other before. We certainly felt the sacrifice in some ways – like the busyness of it all, and not spending a lot of time together on Christmas itself. But the joy of being on mission during Christmas in a place like Taiwan is hard to beat!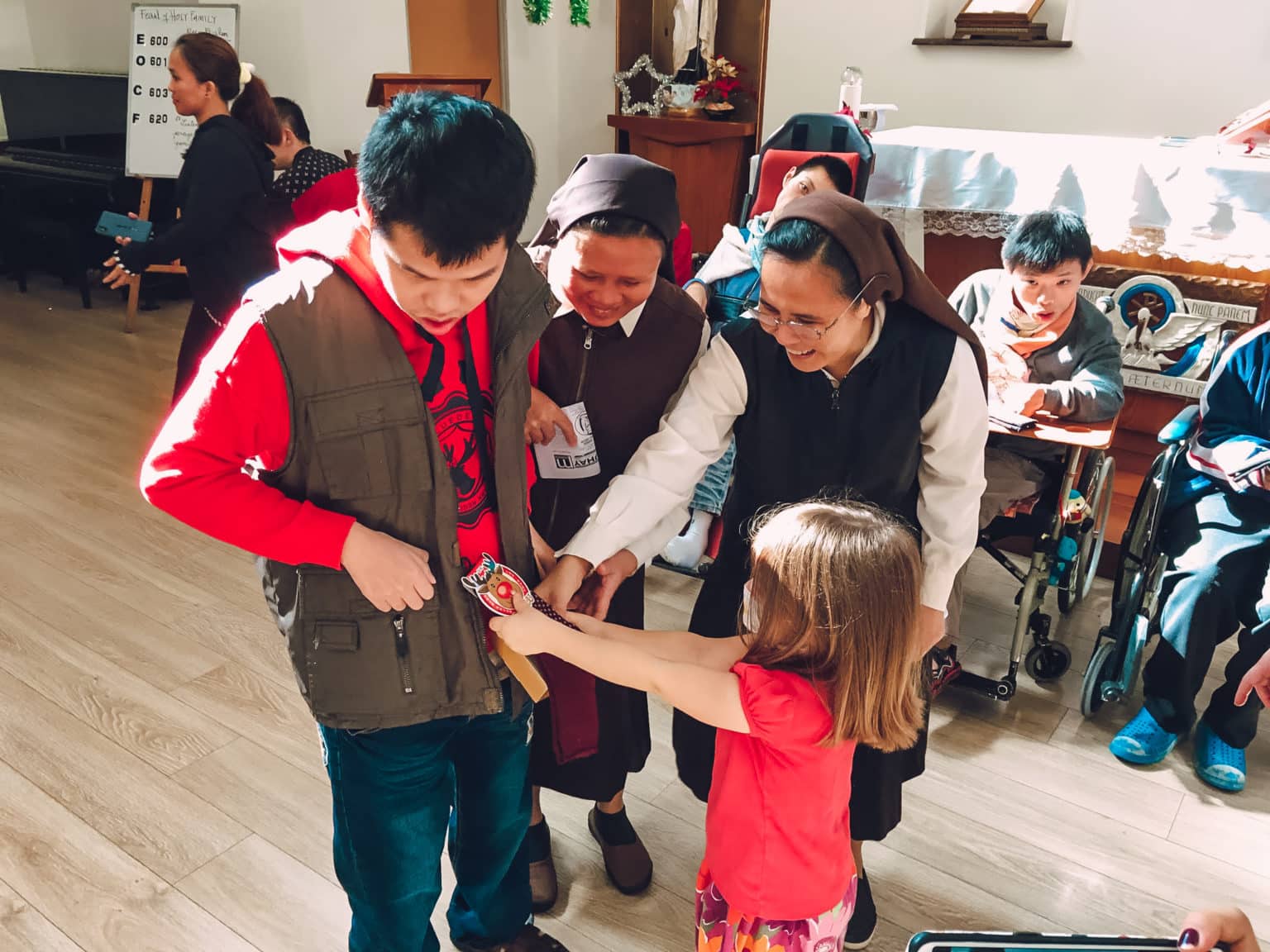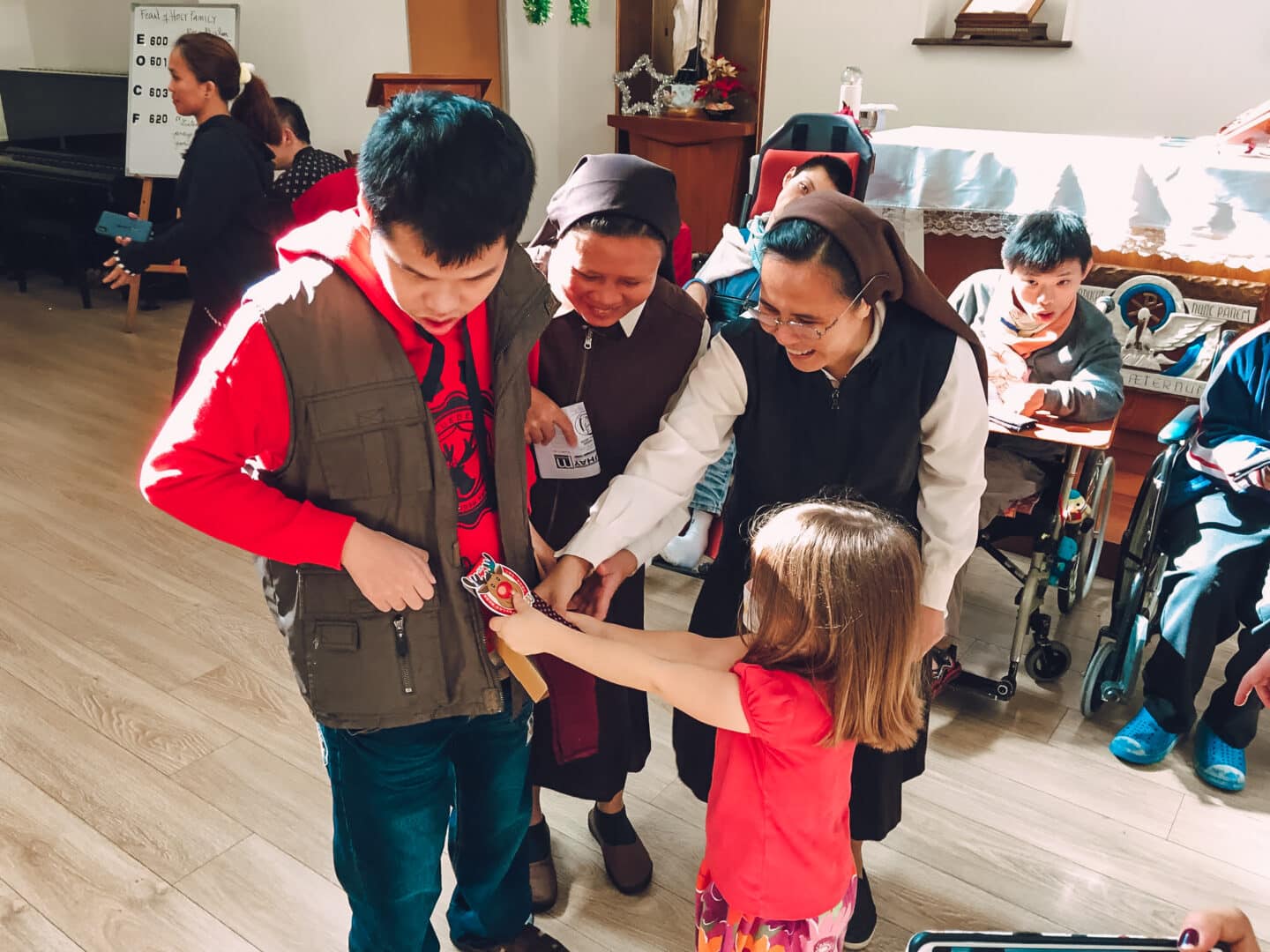 Our pastor had a beautiful homily on Christmas. Some of the Chinese was a little difficult for me, but I got most of it, and the part that really touched me was about how to make the joy of Christmas last. As he reflected on the first reading from the prophet Isaiah, he pointed out a pretty cool thing to illustrate just how you do that. In Chinese, Christmas is pronounced 聖誕 (shèngdàn) with the first character having a few different "radicals" in it – one of which represents ear and another one mouth. His point was simply that the Christmas message should be heard and then spoken. That is how the joy of Christmas continues beyond that day for all of us who have heard the message of salvation. 
How beautiful upon the mountains are the feet of him who brings glad tidings, announcing peace, bearing good news, announcing salvation, and saying to Zion, "Your God is King!" (Isaiah 52:7)