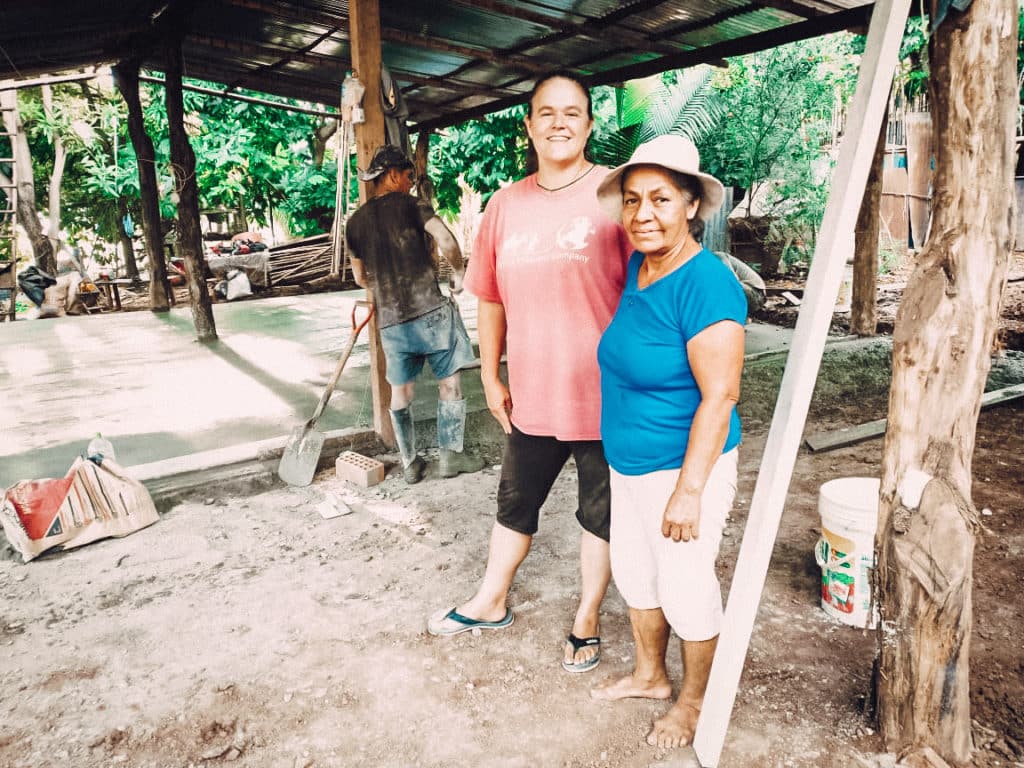 Unexpected Joy in an Uncertain Year
It is undeniable that 2020 was a year to remember, full of uncertainty and suffering. 
We are reminded in the Gospel of Matthew that our certainty is found in Christ, the Rock: 
"Everyone then who hears these words of mine and does them will be like a wise man who built his house on the rock. And the rain fell, and the floods came, and the winds blew and beat on that house, but it did not fall, because it had been founded on the rock" (Mt. 7:24-25)
Despite the rains that come and the winds that blow, we can take courage in the words of our Lord when we have built our home upon the rock.  We can find encouragement to do the unthinkable, the undesirable, the unfathomable in times of darkness, and the strength to fulfill our mission. 
Despite the many opinions about the COVID-19 pandemic and the discomfort it has caused, it is not the desire of my family to tell you about the negative. We only want to share the WONDERFUL JOYS it has brought to us as a missionary family and to the poor among us. 
Our Plans vs. His Plans
Only five months after our family's arrival at our new post, we found ourselves in the middle of the COVID-19 pandemic, locked away from those we were sent to serve. Jesus, being who He is, still led us to the poorest of the poor. He opened so many closed doors—both literally and figuratively—for new ministries to flourish, despite the repercussions of the virus. 
WE had created the most perfect missionary schedule pre-COVID and had planned out what our ministries in this new mission post would look like. We were quickly reminded that those were OUR plans and not HIS. It was remarkable to see how His perfect plan unfolded. 
The Gift of Food 
There was a dire need to reach out to communities that we began to serve prior to the pandemic. We helped more than 500 hungry people with food and supplies, as well as huge doses of love and joy in a time of great darkness. It was almost unbelievable to see the harsh effects of Peru's strict quarantine, which was put in place in hopes of protecting its citizens. There were major roadblocks that disrupted the food supply to remote towns. This was done with good intentions, in an effort to stop the spread of the virus; however, as weeks went by there was a great need to reach these people with the basics. It was a privilege to be able to serve in this way.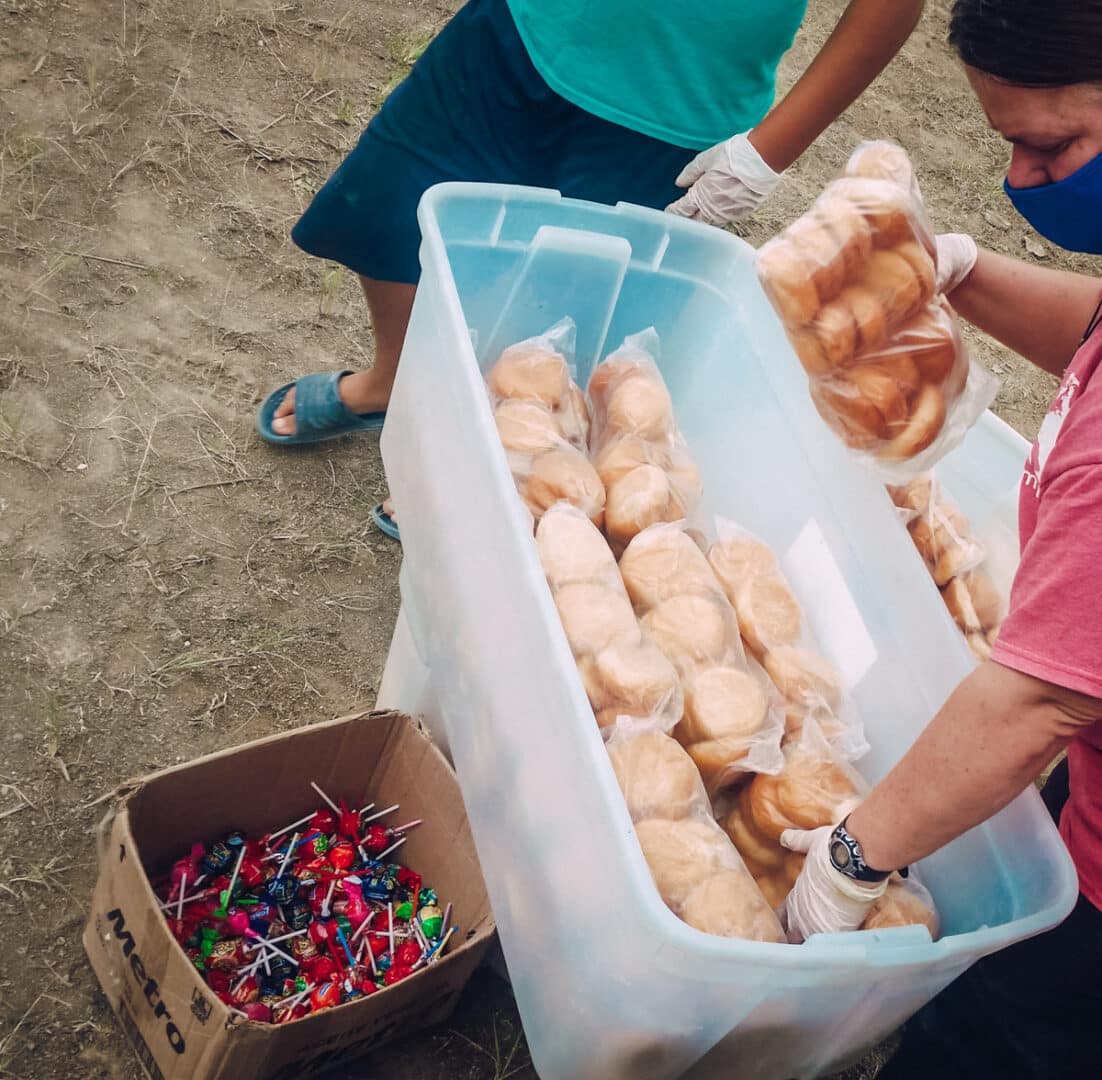 Visiting the Sick
We were given special permission by our priest and the military to visit the sick and elderly in our small pueblo of Cajaruaro. The military commander strictly warned us not to go beyond the borders of our pueblo and to be discreet about what we were doing, as no one was supposed to be outside of their homes. During this time we were given so many opportunities to bring Jesus to the poor. It was an amazing experience knowing that we were trusted with such holy work to perform.
We felt a bit like a team of rescue workers, responding to the calls of those who had fallen ill, isolated in their homes and in need of prayers. Sometimes we were even able to bring along the Holy Eucharist to offer them this source of strength and healing.
I am grateful that God has stretched my heart over time in ways I couldn't have imagined. I have truly grown to love the ministry of home visits, which creates opportunities of profound witnessing and lasting relationships.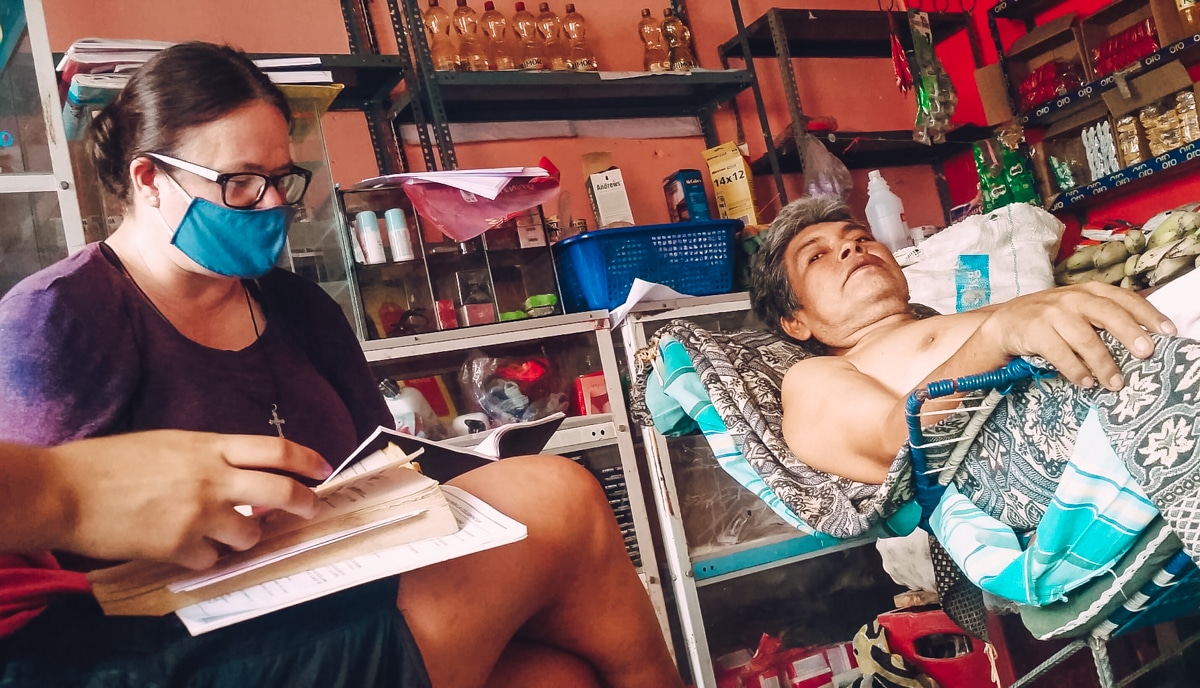 Multiplication 
I must share with you one of our many answered prayers—the multiplication of the Eucharist that was reserved in our little church's tabernacle. Though the church doors were closed due to the government's restrictions, each week we would visit church members in their homes, taking the Body of Christ to them.
Each Sunday my children and I would privately hold a Celebration of the Word and Communion Service, where we received the Body of Christ that had been consecrated by Father Robert prior to the virus. It was a miracle that the consecrated hosts never seemed to dwindle. 
It was with great joy and praises of thanksgiving that my family was able to receive such a gift during the worst part of the lockdown, and that we could also share with others the Bread of Life during our home visits.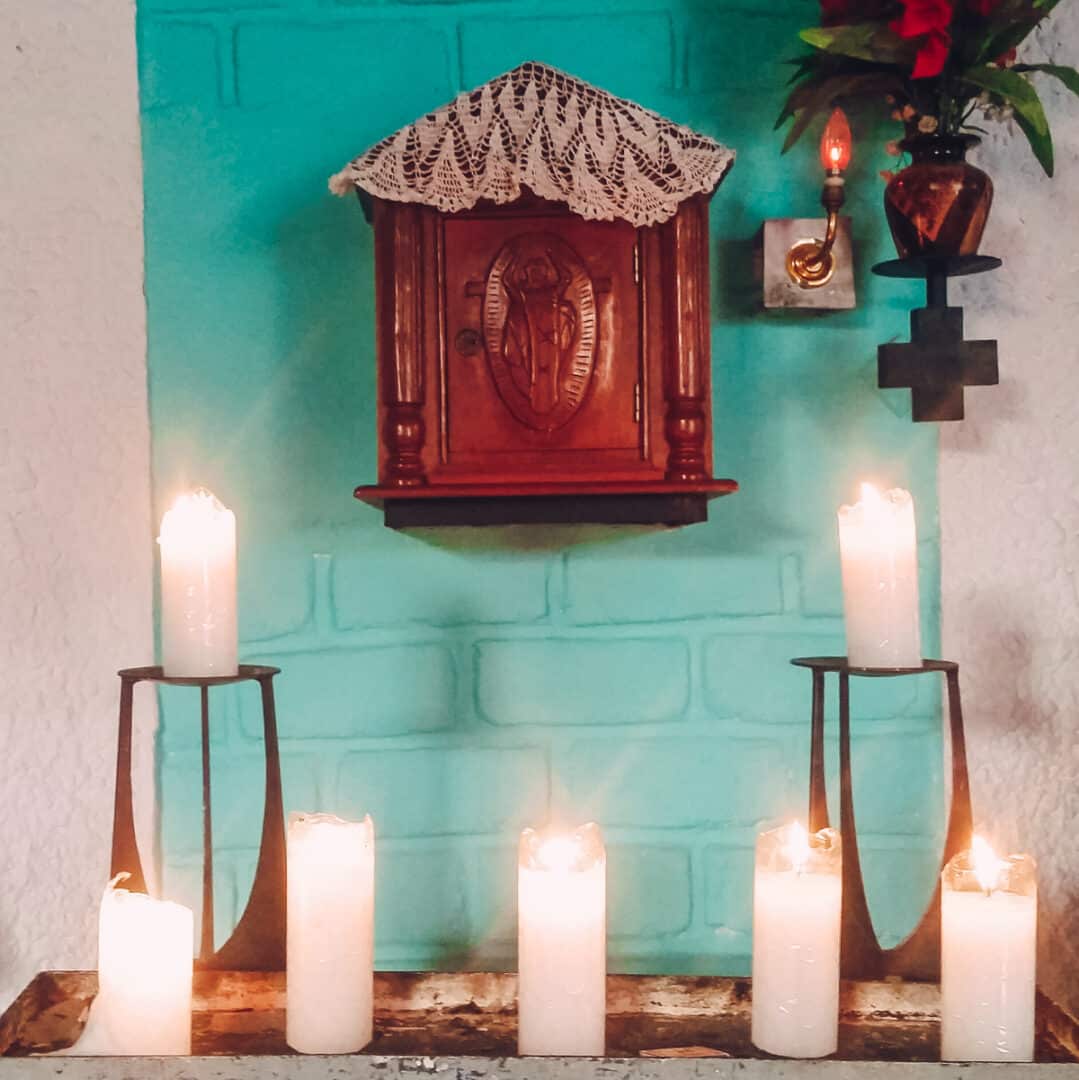 Dirt to Concrete Project 
The miracles did not stop with food supplies or multiplications. We also have the Dirt to Concrete project to be grateful for.  
This amazing project was stirred into existence by the Holy Spirit. I was a bit skeptical due to the state of the world, anticipating that due to the virus many would not be able to give financially to the project. When the Holy Spirit laid the request on our hearts, my first thought was that the timing was a bit off. But He assured us that He would prepare the way. 
We cannot tell you enough about the joy of watching the Holy Spirit move. We started receiving funds for the concrete floors in the month of August. We have to date collected over $4,000.00 for the project. We have already transformed 8 of the 13 dirt floors to concrete. The families are so very grateful for such a gift. Can you imagine the improvement made in the lives of these families, going from dirt floors to those of concrete?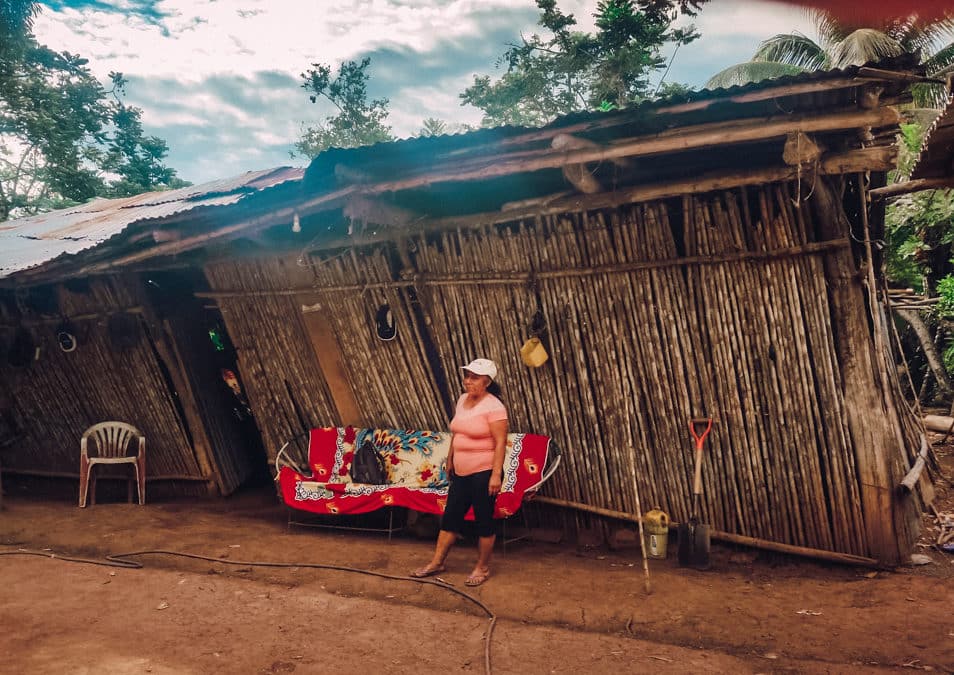 Not Only Floors but an Entire Home 
When the Holy Spirit nudged us to provide concrete floors for the poor, that was not all he was asking. Can you believe that Jesus provided funds for us to build a home as well, for a mother and her three small children? 
Our friend Maritza, whom we were blessed to start a relationship with upon arriving at our new post, had made a life-changing decision during the middle of the pandemic. She and her children fled their home in the middle of the night to escape from domestic abuse and violence. She began living in a small home made of tarps. She made a courageous decision for the wellbeing of her children. After years of living in a toxic relationship, she felt a tarp home was safer than a real house filled with abuse. 
One night I received a phone call from Maritza humbly asking us for help to buy food for her children. When we went to deliver food the next day, we were overwhelmed by the inadequacy of the home she had made for herself and her children. We knew that the Holy Spirit was prompting us not to just help with food or with a concrete floor. I heard the Holy Spirit say, "this beloved family of Jesus needs a home."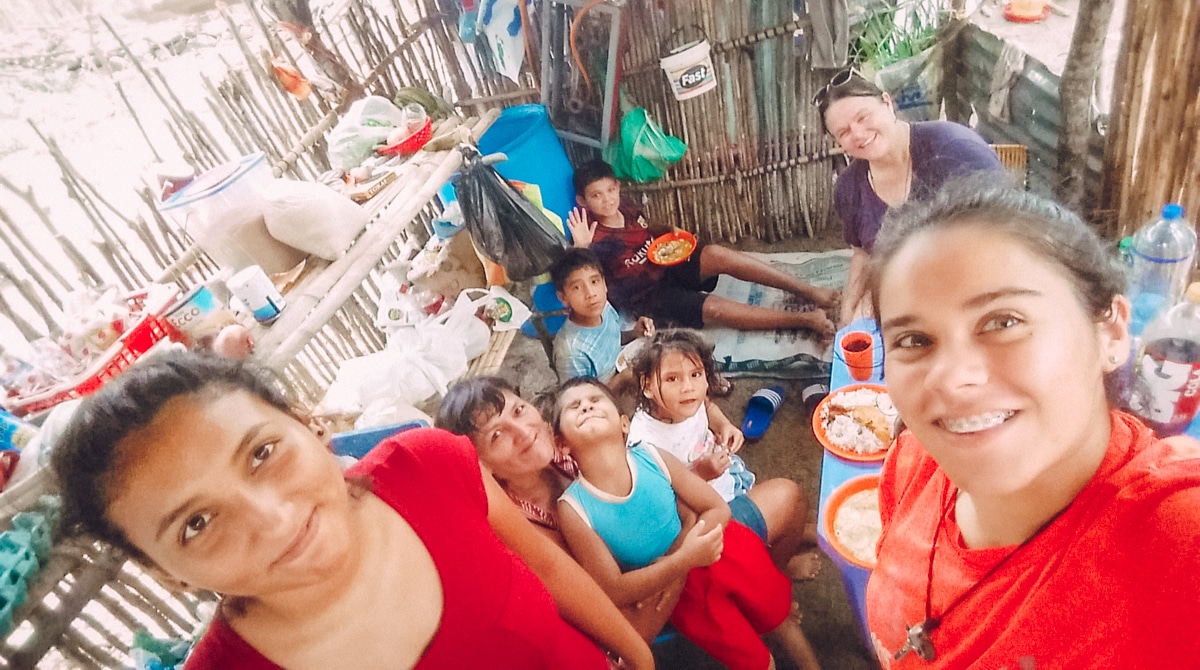 That very minute I said YES to the call of the Holy Spirit. Before I knew it, I was telling Maritza that we would build a home. I wasn't in control of my own words, nor did I know where we would come up with the funds to do such a thing.
Had I been left to my own reasoning, I would have said that it was impossible. I would have thought the whole idea was a bit crazy, considering that she was only asking for food, not a house. But I kept hearing those same words: "this beloved family of Jesus needs a home."
His plans are always so much greater than ours. What I had thought would be a service project of just a few concrete floors turned out to be much, much more. 
The funds came in like a gust of wind. The Holy Spirit was already moving the heart of one of our mission partners. They had thought of donating towards the floor project, but instead they were moved to make a sizable donation to build our sweet friend and her children a small home!
It was all hands on deck to help build the home, including making the adobe bricks ourselves. Finally, we were blessed to have more help come in to make the walls. We almost cried as we watched the walls go up. 
The paint is still drying, but at last Maritza and her children have a safe home to live in! 
We are also helping to equip the family with the basic necessities to live, praying that the chain of abuse may be broken, and that the children may one day grow into loving and merciful adults.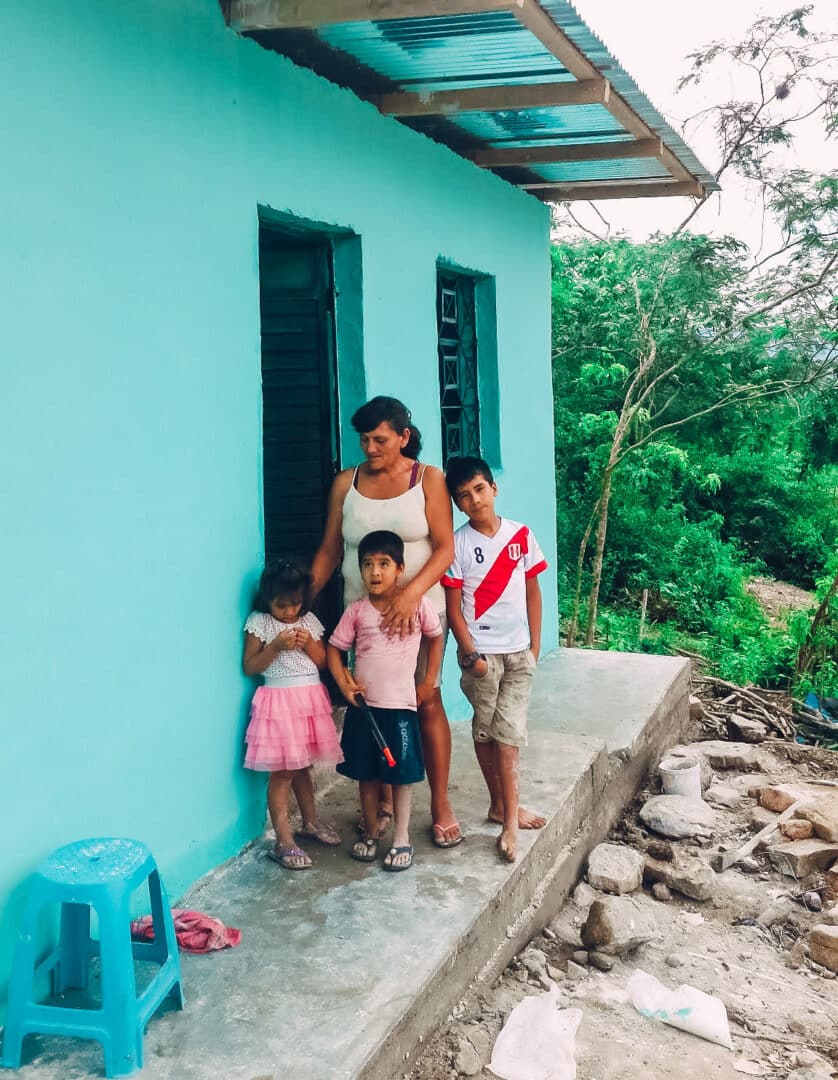 Just over a year ago, when I met Maritza and her children for the first time, the four of them barely talked or smiled. Today that has changed. The family is slowly healing, both physically and spiritually. They are now so full of JOY!
We are grateful for the generosity of so many, without which our work here would cease to exist. The year 2020 brought us so many wonderful opportunities to give the love of Jesus to the poor. In spite of all the uncertainty and suffering, this has turned out to be an unexpectedly amazing year.