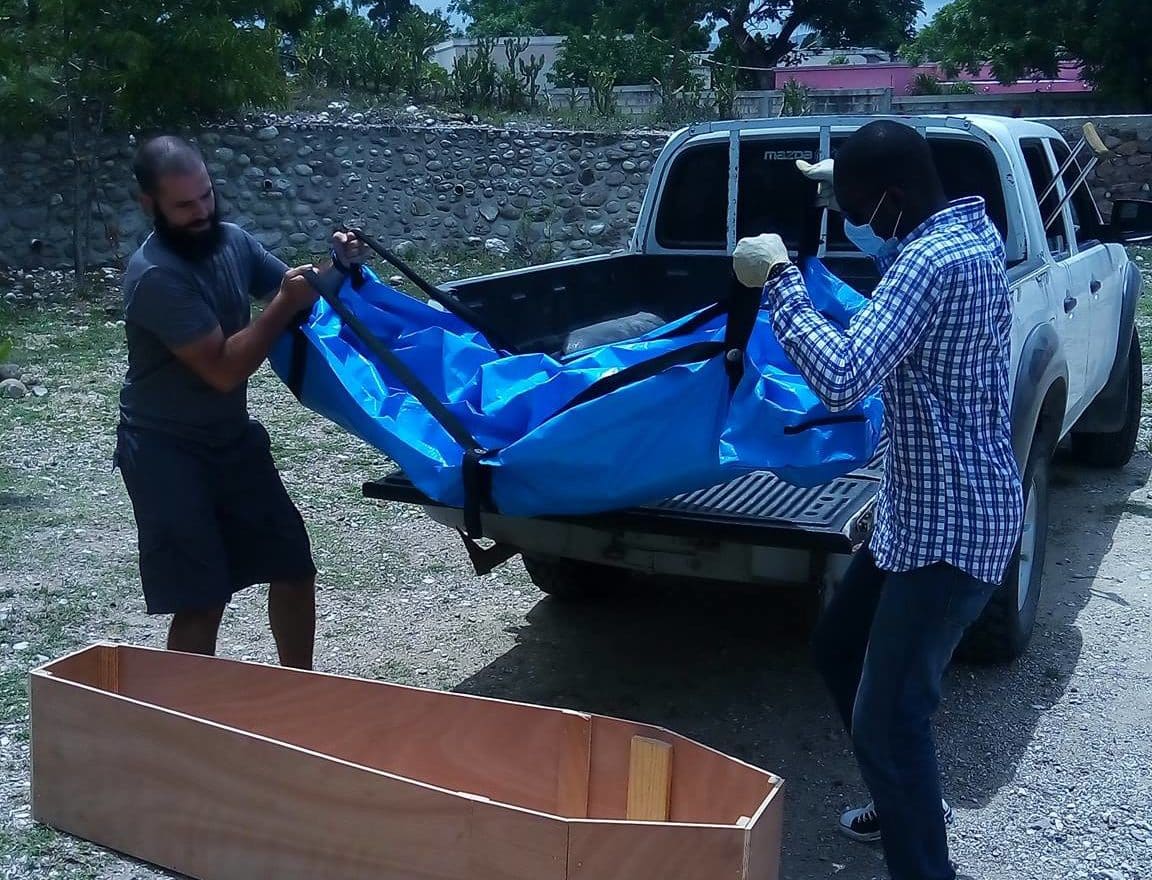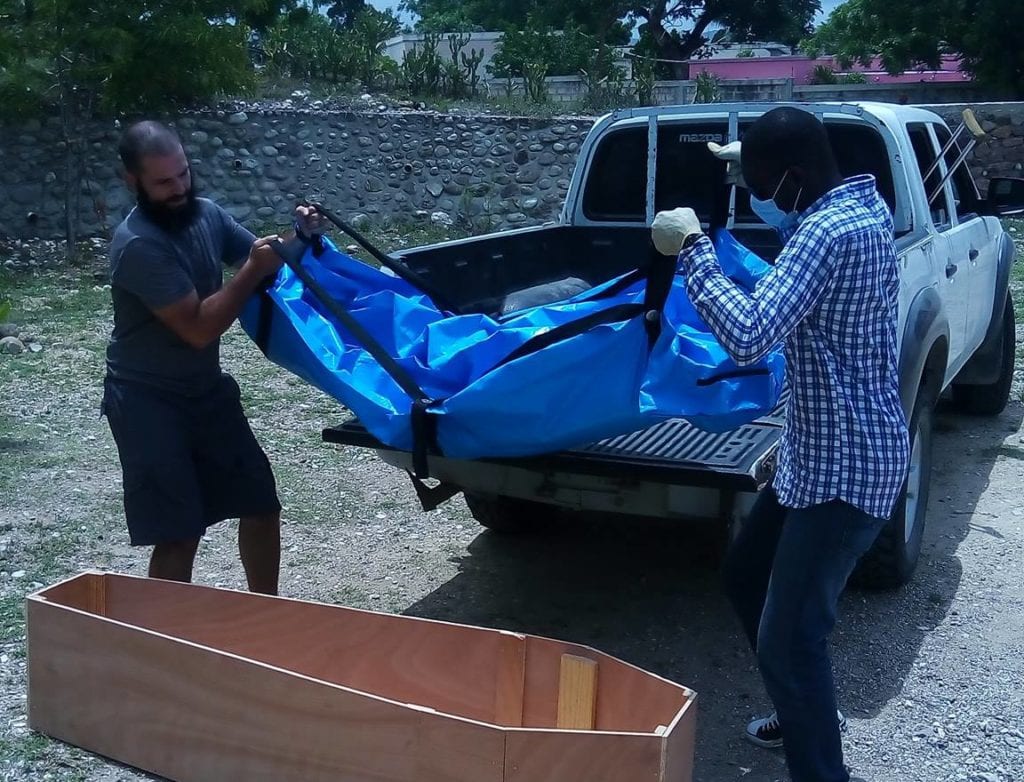 Juanes Antiego
We first heard about Juanes Antiego through a friend who came by the house asking for food for a man whose "foot was bad." Grabbing the last of the rice we had and my Combat Medical Kit, I hopped on my moto and drove the long ride to his house.
I was directed to a lakou (a small collection of houses) where Juanes lived. It was a typical scene of thatched roofs, mud and plaster walls, the smell of charcoal burning, a rotting chicken somewhere, a clean-swept dirt yard, and half-dressed kids running around and gathering to see the white guy.
I entered his two-room hut to find him lying on soiled sheets on the dirt floor. I asked his name and talked a bit, then asked to see his foot. His daughter pulled the sheet back. That dead chicken I smelled earlier was not a chicken, it was his foot. He clearly had dry gangrene from his toes to about his knee. His foot was completely dead and now rotting. When I asked how long his foot had been like that the answer was, "His foot died when his mom died." After further prodding, I discovered there was a lot of Voodou involved in this situation. The demons in his life had convinced him that his leg dying was of spiritual origin and so medical intervention would not work. Juanes and his family bought the lie and his foot then died.
I prayed with him and begged God for a miracle, something crazy to help the family see the love and power God has over Satan. After I prayed, I informed them that until we see a miracle he needs an amputation. I used Mark 9:43-47 to explain that it is better to remove the dead limb so the rest of the body can live. It also helped me explain that they need to stop sinning, such as Voodou, or they will perish into hell. Then I left to plan a trip to a surgeon.
On the long ride back down the mountain, I had a good talk with God. He told me that my sins smell like that dead foot to him. I saw in my own life where I bought the lie that it's not that bad of a sin or I can't stop doing that sin. It was a wake up call to kill, violently if necessary, the sins in my life so I don't end up like Juanes's foot.
Since we don't own our own truck, getting Juanes to a hospital was going to be difficult. We would have to rely on someone else's vehicle. The next day I was able to get the Cuban ambulance to pick him up and take him to the Cuban doctors. I went with the ambulance driver to Juanes's house. When I showed up Juanes was sleeping and ants were eating his foot. I helped brush off as many ants as I could and get him dressed. Then I had to pick him up and carry him to the ambulance. I sat in the back with him holding his hand and trying to comfort him as we bounced back down the mountain to the hospital. But the smell of rotting flesh is overwhelming. I threw up behind a tree once we arrived at the hospital, then carried him in my arms to the ER.
It took two minutes for the doctors to say he needed an amputation. While we waited on his daughter and ambulance driver to get ready to go to Port-au-Prince, I was able to get in contact with the Missionaries of Charity. The sisters said they would take him and get him the medical care he needed. I gave directions and an "address" to the ambulance drive and payed the fee. It was finally time to go.
I went back to the room which was now filled with the smell of his rotting foot in tropical heat. I picked him up and carried him one last time to the ambulance. As I was carrying him he lost control of his bladder and peed all over me. Praise God. Then as I was stepping up into the ambulance his leg ruptured and a foul green/yellow fluid rolled down my arm and onto my shorts. Praise God. I prayed with him one last time, begging God for a miracle. Juanes and his daughter left for Port-au-Prince for a routine amputation with the Missionaries of Charity.
Fast forward six days. Alix learns from the friend that first told us of this situation that Juanes died. I called the Sisters to confirm. He had AIDS and other internal organs had died as well; It was just a matter of time. This was not the plan. I still don't have a car. The ambulance was to bring him back after he was done. But the ambulance is for the sick, not the dead. I had to scramble to find a truck to bring him home, and fast. The Missionaries of Charity don't have a freezer to put him in. And Tropical heat in July is unmercifully brutal to the dead.
I finally procured a vehicle at a cost equivalent to $120 USD. Attache and I left the next day at 4 a.m. to pick up Juanes and his daughter. We found Juanes on a stretcher in the morgue wrapped in a white sheet. We transferred him to the body bag I brought and loaded him into the bed of the truck for the four-hour ride back to L'Asile through several police check points. The Sisters were very helpful. As we were pulling out, Sister Niha told me that moments before he died he asked for a priest to say confession. The priest was called and he literally sprinted across the compound to hear Juanes's confession and administer Last Rites!
"I tell you, there will be more joy in heaven over one sinner who repents than over 99 righteous persons who need no repentance." – Luke 15:7
I cried and shouted out praise to God. With tears of joy in my eyes I hugged Sister Niha and thanked her.
Juanes died in a state of grace and with dignity. I was discouraged many times on how difficult it was to plan logistics. But if I did nothing, Juanes would have died as ants ate him with a Voodou priestess praying over him as he laid in soiled sheets in the dirt. Instead, Juanes died in clean clothes, on a fresh bed, with his daughter, and IN A STATE OF GRACE!!!
Juanes Antiego, pray for us.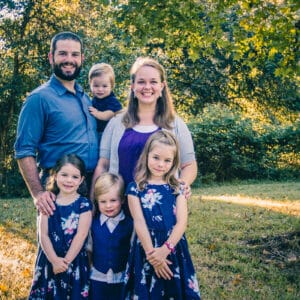 Comments are closed