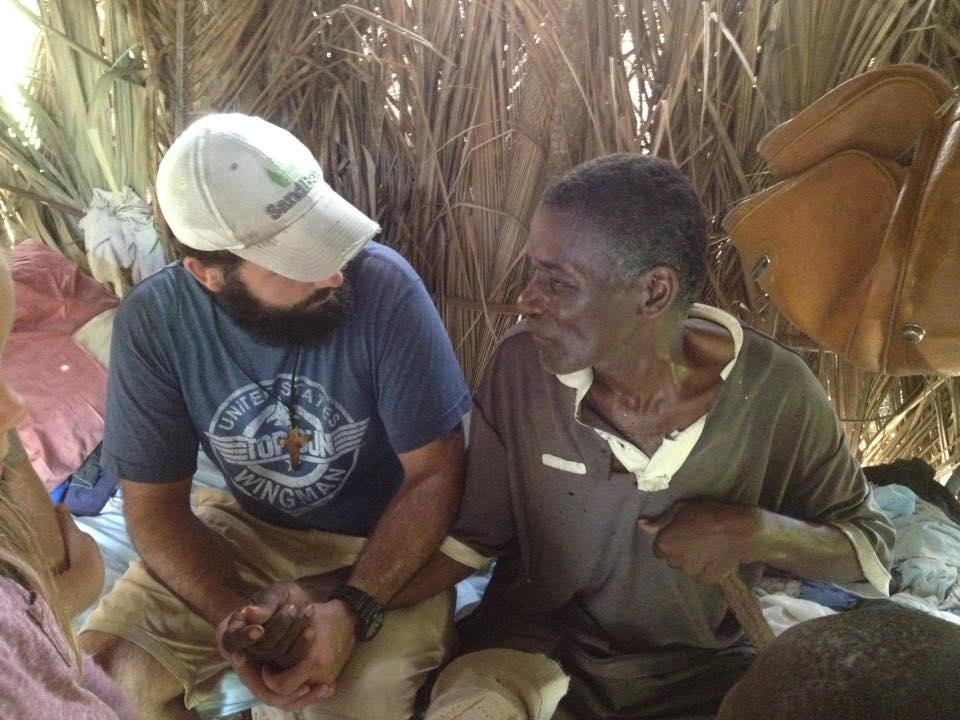 Love Is Uncomfortable
Many times when I think of love and what love is in practice, I think of when I was dating my wife and our first kiss, or playing with my kids so hard we collapse in a fit of laughter, or hanging out with my best friend over a glass of whiskey. But love is not always that romantic or easy. Most of the time love is messy. Love is uncomfortable.
Many married couples realize this truth of love after the first major fight within the marriage. Parents learn that love is messy when they change their kids' diapers time after time. But as a missionary, I've learned how uncomfortable love can really be when you are serving Jesus in the poor and suffering.
Estaban is a dear friend of ours who is blind and partially paralyzed in his legs and left hand. His family, and many neighbors and friends, believe that his blindness and paralysis is a direct result of a Voodoo persecution (curse). As a result, they have abandoned him to the jungle in a poorly constructed hut made of palm fronds and sticks that leaks and is infested with termites. The family is his only hope of getting food or water, so he often goes days without anything – let alone talking with another human.
Since we found him five months ago, we have been visiting him. In these visits, we bring him food, pray with him, and read him scripture. He is always delighted to hear us and talk with us. About three weeks ago he asked if we could have the priest come out to hear his first confession. Estaban is a huge blessing to our family. He makes it easy to love him.
On our most recent visit he told us he was sick and needed to go to the hospital. Since it was late he wanted to go the next morning. We said yes because he needed to go. But taking a blind paralyzed man to the hospital was going to be interesting. First off, his house is a ten-minute walk into the jungle; we cannot simply drive up to his house and load him up. Through the help of a local taxi driver and his motorcycle, we were able to get him out of the jungle and to the truck.
At the hospital, we spent hours in one line or another. I was running around trying to get his medical record, paying for the visit, and making sure he was in line to get his vitals. As I was running around or waiting, I kept thinking, "I'm doing this because I love him. Jesus loves him, therefore I love him." It's easy to love an old man who is blind and fun to talk with.
Then we get to the laboratory. They needed to run some tests to find the cause of his pain and nausea. All they needed was blood and urine. Now imagine the difficulty a blind paralyzed man might have filling up a cup to "this line" when he can't see or use his left hand. In the States, you would assume that the nursing staff would help out in a situation like this. But this is not America: we are at a Cuban-run mission hospital in Haiti. The nursing staff didn't want to do it, which meant I had to. And to make matters a little bit more interesting, there was no private bathroom to go to. We were directed to the side of the building to get the urine sample.
Love is uncomfortable. I didn't want to be doing this.
As we both worked and attempted to get a urine sample underneath a "DO NOT PEE HERE" sign, it dawned on me. How many times has Jesus been there for me when I was at my lowest, completely exposed, and I needed him to get through whatever situation I was facing? (Answer: More times than I want to share). Christ then charges me to "love one another; even as I have loved you." (John 13:34). Which is a really tall order because Jesus loves me at my worst. Therefore, I must love Estaban in my actions and heart now in this moment.
But why? Why should I love like Christ? Jesus continues to inform his disciples (that's us) that by loving as He loves us then "all men will know that you are my disciples, if you have love for one another." As a missionary, or baptized Christian for that matter, that is my ultimate goal: to show the love of Christ.
Even if it is really, really uncomfortable.