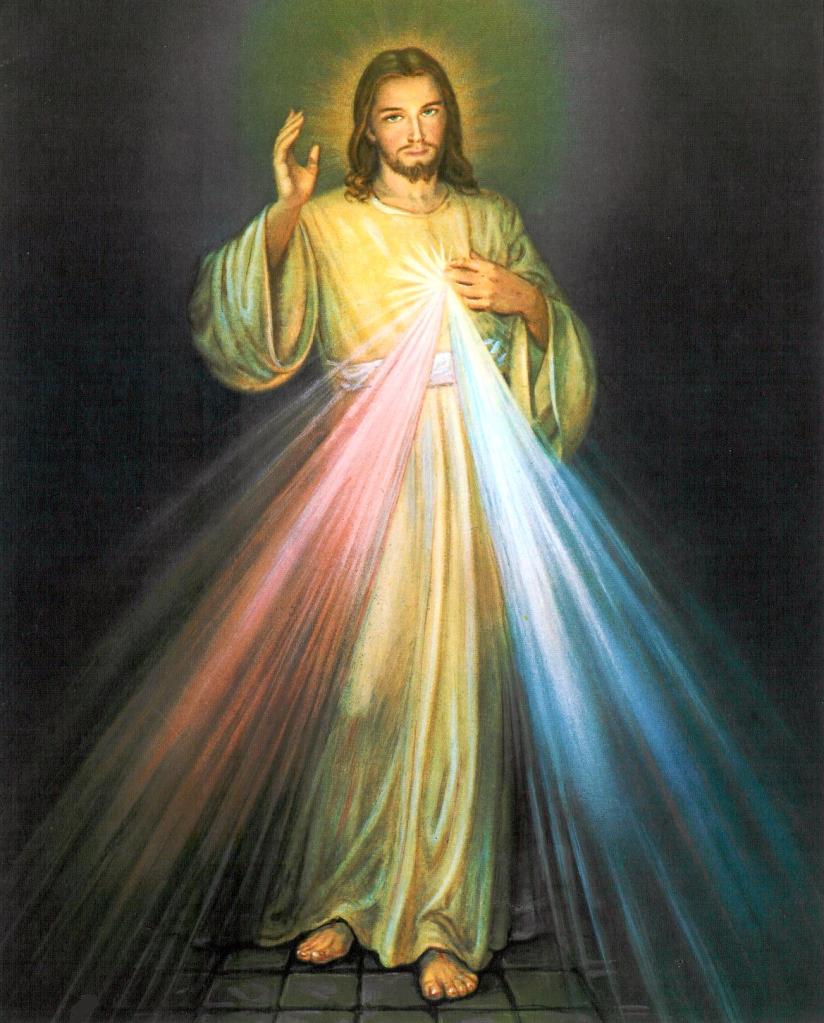 His Abundant Mercy
"Everything begins with Your mercy and ends with Your mercy." – St. Faustina
On Divine Mercy Sunday (April 28) our very own Triangle of Mercy (Madison, Rebekah, and I) here in Taiwan hosted an event for around 200 Christians which included a presentation given by our dear friend Bernadette who is from Hong Kong. She and many others from the Hong Kong community work closely with our mission here in Taiwan. Bernadette is a friend of the sisters of Our Lady of Mercy in Poland, and her mission is to spread the message of Divine Mercy throughout Asia. We also were able to welcome our Bishop for Mass at JingLiao where Michael and Mariam Henderson were confirmed!!!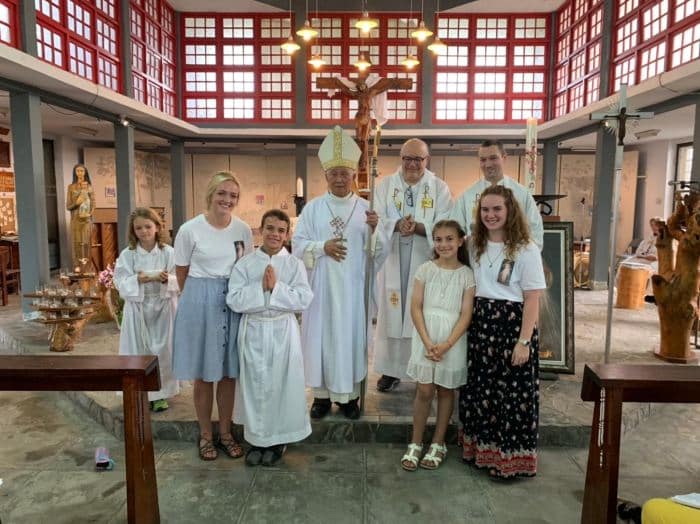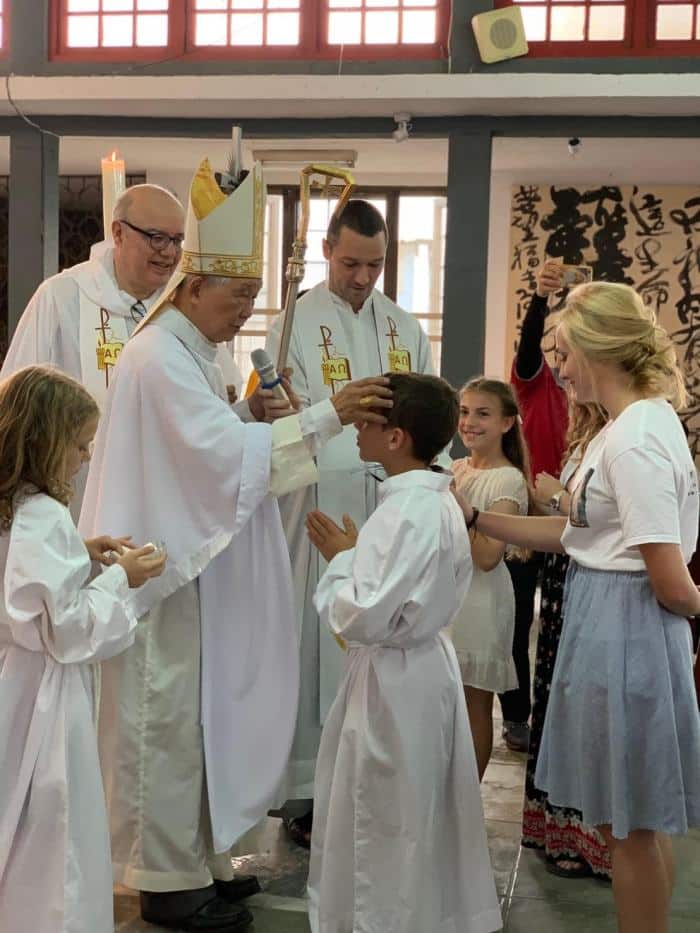 Following Mass everyone came to our home in WuShuLin where we began a 40-minute Eucharistic procession throughout our village before the Bishop blessed our newly remodeled (within the last week) church!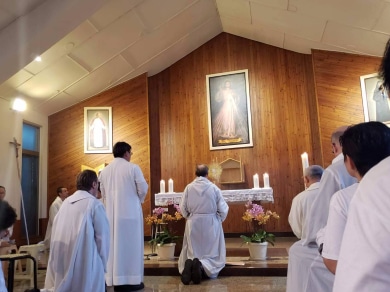 With all the excitement and craziness of the day, I was looking forward to the procession as a time to really reflect on this truly incredibly mercy which the Lord has given to me throughout my life, but as we walked I felt this flood of mercy and love radiating from the Body of Christ, piercing my own heart in a way that was not me reflecting on His mercy in the past, but rather receiving it for what felt like the first time.
After going to World Youth Day in Poland in the Year of Mercy and being sent to Taiwan to serve at the Center of Mercy, you would think maybe I would understand this message of Mercy a little more clearly; but as I gazed upon the beauty of our Lord I was struck by how often I am reminded of this knowledge of mercy but fail to really be transformed by it. Each and every day the Lord meets me with new mercy and I think there is no better reminder of this than the Eucharist.
In Exodus 33 God calls Moses His "intimate friend." Yet, knowing how unworthy we are, He goes on to say, "I will grant mercy to whom I will. But you cannot see my face, for no one can see me and live." And so, God tells Moses that although He cannot see His face, as His intimate friend, He will pass by him and allow him to see His back (Exodus 33:23).
And then, fast forward a little bit, and God, in His infinite love and mercy, desiring to be as close to us as possible, becomes man. He humbles Himself and hides His glory in the form of one of us, but even then, we recognize that we are unworthy to be close to His glory. We are "unworthy for Him to enter under our roof" ( Luke 7:6). And so, because we are still unworthy in the face of God's glory as man, He continues to humble Himself to the point of taking on the appearance of bread and wine, hiding all His glory so that we are able to welcome Him to under our roof because that is the intimacy He desires to have with us: to be not only the one thing our souls need to live but also taking the form of what our flesh is reliant on.
"The bread that I will give is my flesh for the life of the world." – John 6:51
And when many left Him for this hard saying (Jn 6:60) because of His mercy and love and His desire to give Himself to us He holds fast to the words He has spoken because to Him we are more than an intimate friend. What kind of mercy and love must He have for us to allow us to look upon not His back but His heart in the Holy Eucharist? There was a point in my life where I felt so unworthy of this mercy and I would sit in Mass and think that if I truly understood the Eucharist as this incredible gift of love God was trying to give to me, then I would have to die from happiness like Blessed Imelda Lambertini; since that clearly wasn't happening, I was obviously unworthy to approach our Lord, let alone receive Him into the mess that I felt like I was. It didn't take long for God to remind me that the weakness and inadequacies of my flesh were exactly why He must humble Himself in hiding His glory because He wants to be welcomed into my mess.
Recently I have fallen in love with the song "To the Cross I Cling" because truly most of the time, I feel like every single part of who I am is calling for my rejection. "What I do, I do not understand. For I do not do what I want, but I do what I hate" (Romans 7:15). But every single thing God has done is pleading for my acceptance. His death on a cross and His victory over death is the mercy He wants to share with us and so He continues to give Himself away, He calls us to Himself, and He pours out His Holy Spirit into our very being with just as much love as His first act of mercy towards us. This is the mercy He desires for Asia to know and to be transformed by so I cannot think of any other way I would have rather spent this day of celebration than sharing the love of our God with our brothers and sisters here in Taiwan.
I pray that as you celebrate this gift of His goodness and the message of Mercy that you might pray for our Triangle of Mercy here in Taiwan as we will be praying for you.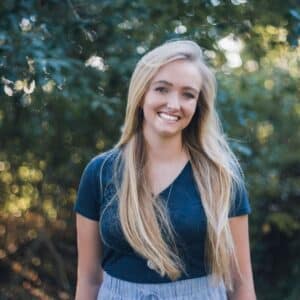 Comments are closed