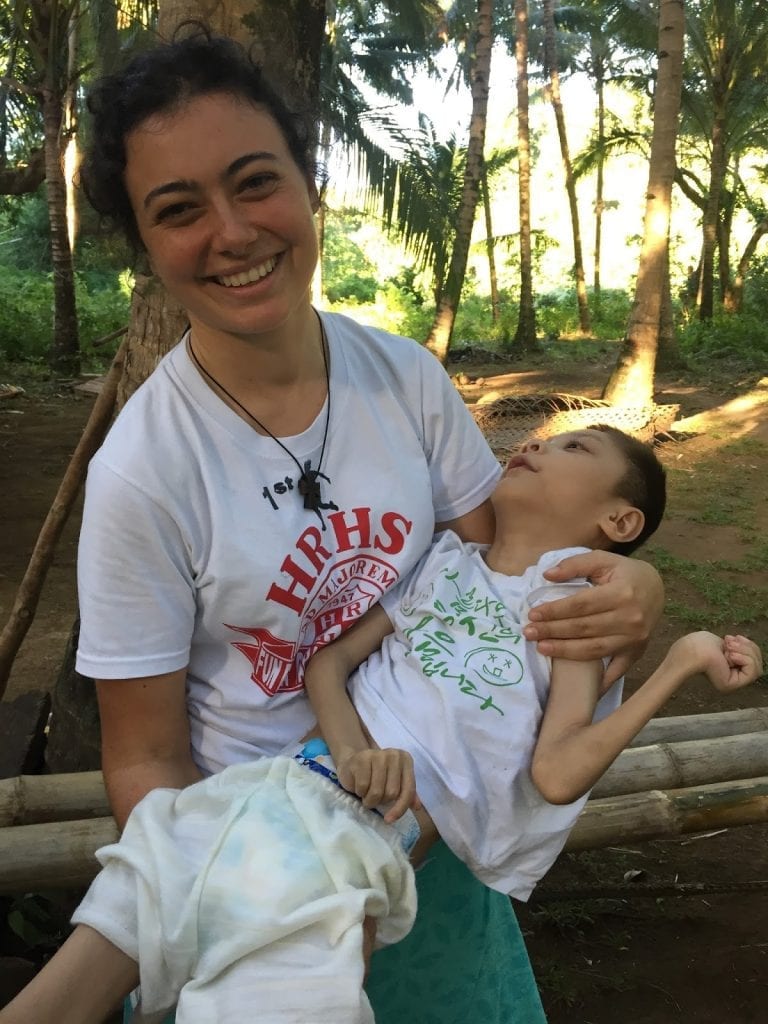 Remembering Louie
This time is the only time you have to love. I realize that now because of Louie.
When I met him in Camiguin, I thought he was just another boy: dirty, not the most lovable. Louie and his sister Fe had cerebral palsy, and while Fe was sweet and loved to laugh, Louie was rather stoic. He wouldn't talk or smile at us. I remember holding Louie and just comparing him to his sister, wondering why he was the way he was. Now looking back, I'm grateful for who Louie was – who God made Louie to be – and grateful for how Louie's uniqueness blessed me in so many ways.
Something about missions makes you a little stiff towards death. When I heard this spring that Louie had passed away, I immediately began thinking about the practicals: the money his family would need for the viewing and the funeral, and the people who would volunteer to clean the family's house before the traditional in-home wake could take place.
But when the Lord gave me the time and the grace to mourn his death, I realized that what came flooding back to my memory were all of my own imperfections, the imperfect ways that I had loved Louie.
I can remember the first time we took him with his whole family in tow to the hospital, and multiple family members were admitted for their terrible health. Louie had some complicated form of pneumonia and asthma, or perhaps it was bronchitis; maybe we'll never really know. He had to be hospitalized for a few days, nebulized, and put on antibiotics. I can remember how I held him to feed him, supported his head, and spooned little bits of food into his mouth. After his discharge, I remember mixing drops of medicine into Pediasure so that he could consume it.
I recall his fourteenth birthday: the first birthday party he ever had, a gathering of the missionaries, our friends, and our students…anyone who had helped care for him since we met him. It was a joyful gathering.
I remember with sadness how in recent months I saw a picture posted online of Fe and Louie and knew without a doubt that they were declining, that the state of their hygiene, their health, and their nutrition was poor, but that there was nothing I could do. Since no missionaries were living in Camiguin during that season, we depended solely on our local friends there to help – and they did a phenomenal job – but the task of caring full-time for Louie and his family was more than any one person or family could handle.
I know theologically that Louie is happier now. I know that he is with the Lord, dancing and singing in a way that he never could here on earth, and I'm happy for him. But there's a deep sadness welling up in me too because I'll never see Louie again this side of heaven, and somehow that really hurts. It hurts that I didn't love him better, that it was my own pride that wanted to care for him, to be a "good" missionary caring for a disabled child. It hurts that I allowed my human blinders and judgments to view him as somehow less lovable than his sister.
But mostly, I'm grateful. I'm grateful for the time that I had with him and for the grace that God gave me to mourn his passing. I'm grateful for the many people who donated to support him and his family throughout the past year and a half. We love you, Louie, and we'll miss you.